It takes real life heroes to stay away from the limelight and to still show benevolence to the poor and the needy. That's what a few actors have committed themselves to. Let us have a look at two Marathi actors who showed strength and commitment to helping the farmers in the Vidarbha and the Marathwada regions of Maharashtra. With great determination, they ventured into the parched lands of Maharashtra and extended all the help that they could, to the farmers and their families. The two actors are Makarand Anaspure Makarand Anaspure is an actor who works majorly in >> Read More... and Nana Patekar Nana Patekar is a popular Indian actor who was bor >> Read More... . Their initiative made it possible for other actors and well-wishers to extend help to the farmers in Vidarbha and Marathwada.
Let us have a look at each of their contribution and act of generosity:
1. 'Nana Patekar'
Nana Patekar (Vishwanath Patekar) is a well-known writer, actor and film-maker from India. He debuted in the 1970's and has acclaimed much fame since then. He has worked in many Bollywood movies. Some of the films which shot him to fame were 'Ab Tak Chappan' (2004), ' Rajneeti Story soon >> Read More... ' (2010) and ' Parinda Click to look into! >> Read More... ' (1989). He also got the Filmfare and National Film Awards The National Film Awards gets presented every year >> Read More... for his role in Parinda, and the Best Villain award for 'Angaar' (1992). In 1995, he got the Best Actor Award at the National Film Award, the Screen Award and the Filmfare Award for the movie 'Krantiveer' (1994). He has also acted in the Marathi Theatre and Cinema world. He was awarded the Padma Shri award, the highest honour, in 2013 for his work in Films and Arts. Fame apart, Nana Patekar has also been a generous soul. He lives a simple lifestyle yet has a big heart for the poor and the needy.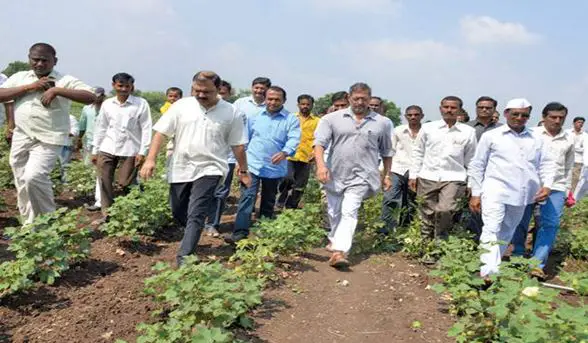 ...
During the floods that caught Bihar unawares, Nana Patekar made generous contributions toward the rebuilding of the destroyed villages in Bihar through the NGO 'Anubhuthi'. He also donated his earnings from the shooting of the movie ' Paathshaala Click to look into! >> Read More... ' to various organizations. He distributed the entire amount earned as a Raj Kapoor Raj Kapoor was a renowned actor, director, and pro >> Read More... prize for the relief work of the Maharashtra drought victims. He even provided personal financial aid to farmers' families who committed suicide during the drought in Maharashtra. In September 2015, Nana Patekar established an organization, Naam Foundation, along with another actor Makarand Anaspure from Maharashtra. This organization aims to provide relief to the farmers to help them in overcoming the drought in Maharashtra, India. Another actor who made great contributions toward the farmers in Marathwada and Vidarbha is Makarand Anaspure.

2. 'Makarand Anaspure'
...
Makarand Anaspure is an Indian actor, popular in Marathi serials and movies. He is especially known for his comedy roles and his unique Marathwada accent. He also directed the Marathi film 'Dambis' in 2011. Since then he has produced a couple of movies. He is highly influenced by the senior actor and friend Nana Patekar. Both Nana Patekar and Makarand Anaspure have contributed greatly toward the debt-ridden farmers facing dire situations in the drought affected areas of Marathwada and Vidarbha. Together they initiated the Naam Foundation.
The Naam Foundation was inaugurated in Pune in September 2015 and it aims at helping the farmers in the areas of Marathwada and Vidarbha. Both the actors had been helping the affected farmers' families on a personally by donating fifteen thousand rupees, some clothes, and medical supplies and blankets. To enlarge this scope, both the actors concluded to open a foundation for carrying out such helpful undertakings forward. The organisation thus set up plans to help farmers in such areas of drought. The organisation provides financial help. Additionally, the foundation has initiated the planting of one crore trees, guiding and training the farmers, farming and employment centres etc. They have taken over Dhondalgaon in Aurangabad district and Aamala in Vardha district. In addition, they hope to provide employment for 30 women and 500 youths.

The Bollywood Connection:

Bollywood superstars like Aamir Khan Aamir Khan or Mohammed Aamir Hussain Khan is Bolly >> Read More... and Akshay Kumar Akshay Kumar was born on 9th September 1967 and hi >> Read More... and Satyajit Bhatkal Born in Mumbai, creative genius Satyajit Bhatkal i >> Read More... have supported the cause of the farmers. They have connected themselves to the Naam Foundation for the same.

1. 'Aamir Khan' and 'Satyajit Bhatkal'
...
Aamir Khan along with his team from Satyamev Jayate founded the `Paani Foundation'. Aamir Khan takes care of official meetings and other procedures.
...
Satyajit Bhatkal is the convenor of the project. They both have also made monetary contributions toward the Naam Foundation in order to help the farmers in Marathwada and Vidarbha.

2. 'Akshay Kumar'
...
Akshay Kumar has reached out to around 180 families of farmers who committed suicide. He gave 50 lakhs for the Jalyukt Shivar campaign. He also worked with ' Riteish Deshmukh Riteish Deshmukh is the son of a politician, late >> Read More... ' in a show in Latur to raise funds.

Actors from the Marathi Cinema join hands:

Actress ' Renuka Shahane Intro: Renuka Shahane is a veteran television star >> Read More... ', ' Jitendra Joshi Jitendra Joshi is a renowned Marathi theater artis >> Read More... ', 'Dilip Prabhawalkar', ' Girija Oak Born in the year 1987, Girija Oak has worked in Ma >> Read More... ', ' Purushottam Berde Purushottam Berde is an Indian actor who worked fo >> Read More... ', ' Sayaji Shinde He is one of the most famous Tollywood and Bollywo >> Read More... ' as well as many others have also pitched in their bit for the cause.
...
They have managed to raise around 30-35 crores in under 7 months. It is indeed a pleasure to see the gracious side of our actors who have stepped up to help the farmers in Maharashtra.