1. Suicide Squad Click to look into! >> Read More... This movie has been doing the rounds since its trailer was first introduced in July last year. It has the really talented Jared Leto American actor, singer, and lyricist Jared Joseph >> Read More... playing the part of the psychotic supervillain, the Joker. It has also got as Deadshot, Margot Robbie Margot Elise Robbie is an actress who was born in >> Read More... as Harley Quinn, Viola Davis Black is just the shade of jubilation "Lived in ob >> Read More... as Amanda Waller among many others. Directed by David Ayer David Ayer is an America based director, producer >> Read More... , Suicide Squad seems to have a very dark premise where a group of supervisions are gathered to execute some dangerous tasks in exchange for clemency. However, the exact plot of the movie has not been revealed as yet. This is unlike other DC Universe movies where the focus in on the bad guys rather than the superheroes.
2. Batman v Superman: Dawn of Justice
...
Yet another movie from the DC Cinematic Universe has brought together the two most loved superheroes, Batman and Superman. plays Batman and Henry Cavill Henry Cavill, a Britisher, was born in Jersey on 5 >> Read More... plays Superman. Also starring as Wonder Woman Click to look into! >> Read More... and Amy Adams Amy Lou Adams was born on August 20, 1974 in Vince >> Read More... as Lois Lane. What looks like an epic clash between two of the most iconic superheroes in the comic book world, this movie will definitely enthrall all the fans. Directed by Zack Snyder Zachary Edward Snyder is also known as Zack was bo >> Read More... , Dawn of Justice is expected to be a blockbuster.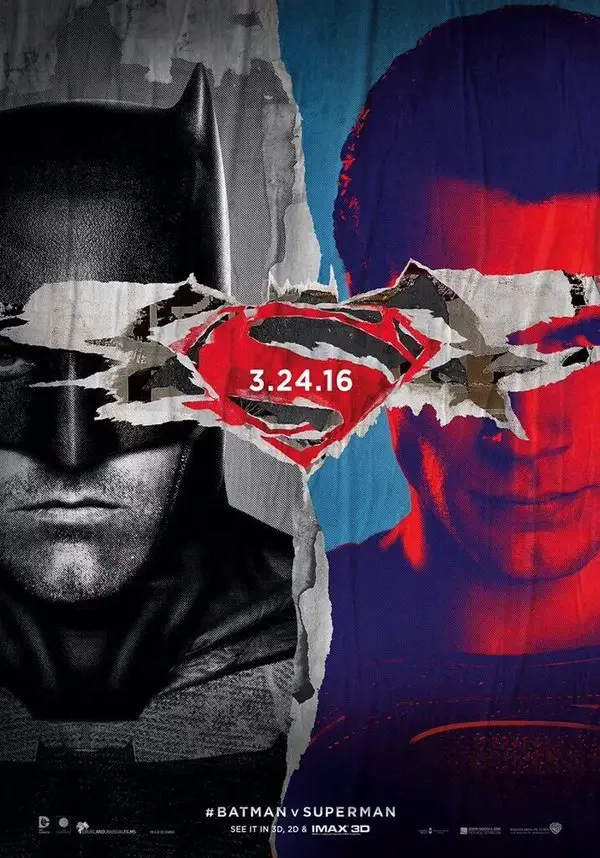 3. Rogue One: A story
...
After the immense popularity of Star Wars: The Force Awakens, fans can rejoice over another film coming out this year end as well. Rogue One is directed by Gareth Edwards Gareth Edwards is a British film producer, directo >> Read More... and has Felicity Jones Born and brought up in Bournville, Felicity Jones >> Read More... in the lead. This will be the first movie in the Star Wars Anthology Series. Very little has been revealed about the plot as of now. The makers have hinted that it revolves around a rogue band of fighters who unite for a daring mission to steal the Death Star plans and bring new hope to the galaxy.
...
4. Fantastic Beasts and Where to Find Them
From J.K. Rowling's wizarding world here comes another spectacular movie about Newt Scamander who we all remember appeared on the Marauder's map. This film directed by David Yates David Yates is a British short film, movie and TV >> Read More... , the director of the last four Harry Potter movies has Eddie Redmayne Eddie Redmayne, whose full name is Edward John Dav >> Read More... playing the role of Newt. The movie is about the adventures of Scamander in New York Click to look into! >> Read More... , seventy years before Harry started schooling at Hogwarts. What seems like a spin-off of the Harry Potter film series has got its fans excited for months now. Catch it in the theaters on 11 November 2016.
...
5. Captain America: Civil War
The number of superhero movies lined up for this year seems to be endless. Here's the sequel to the hugely successful Captain America: The Winter Soldier. A breach is seemed to have arisen between the two former allies, Steve Rogers and Tony Stark over the political interference in the Avengers' activities. Directed by Anthony Russo Anthony Russo is an American director and producer >> Read More... and Joe Russo Joseph Joe Russo is an American director and produ >> Read More... , the movie has Chris Evans Christopher Robert Evans (Chris Evans) is a promin >> Read More... , , . and Elizabeth Olsen Born in Sherman Oaks, a city in California on Febr >> Read More... among the main cast. Some interesting dialogues in the trailer have increased the excitement surrounding the movie. So, who's side are you on?
...
6. X-men: Apocalyse
...
Fans are eagerly waiting for this movie ever since the after credits scene of Days of Future Past. Apocalypse, played by Oscar Issac is the most powerful and invincible mutant according to Marvel's X-Men universe. In this movie, the X-Men unite to save the world from destruction and stop their greatest nemesis. As in the previous few movies in the series, plays Mystique, Michael Fassbender Michael Fassbender is a London based actor of Germ >> Read More... as Magneto, James McAvoy James Mcavoy was born on 21 April 1979, in Glasgow >> Read More... as Charles Xavier among many others. Releasing on the 18 May, this movie has got a lot to look forward to.
...
7. Star Trek Click to look into! >> Read More...
Beyond Coming in nearly two and a half years after its prequel, Star Trek Beyond will be directed by Justin Lin Justin Lin is a Taiwanese origin American filmmake >> Read More... and has got Chris Pine He is known to be one of the most talented new bor >> Read More... playing Kirk and playing Spock. The plot of the film is unknown at this time. So all you Star Trek fans get ready for some Kirk-Spock adventure coming your way.
8. The Jungle Book Click to look into! >> Read More...
A childhood classic comes to the big screen in a never seen before avatar. This 3D live animation film is directed by starring Neel Sethi Neel, born on December 22, 2003, in New York, is n >> Read More... as Mowgli with the voices of Bill Murray He is known to be one of the legendary actors in H >> Read More... for Baloo, Ben Kingsley Ben Kingsley born in Snainton village of England a >> Read More... for Bagheera, Idris Elba Idrissa Akuna Elba, most widely known as Idris Elb >> Read More... for Share Khan, Lupita Nyong'o for Raksha and so on. Get ready for an adventure with an orphan boy, a bear, a pack of wolves and a black panther.
9. Doctor Strange Click to look into! >> Read More...
Doctor Strange is yet another superhero from the Marvel Cinematic Universe. Starring Benedict Cumberbatch as Doctor Strange, the movie is directed by Scott Derrickson Scott Derrickson is an American screenwriter, dire >> Read More... . Doctor Strange is a brilliant but a smug and conceited surgeon who gets trained by a sorcerer to defend the world against evil.
10. Hail, Caesar!
The only comedy/musical in the list so far is this movie directed by Ethan Coen Ethan Coen is an American Film Director, Writer, F >> Read More... and Joel Coen Joel Coen is an American Producer. He is the elder >> Read More... . Hail, Caesar! Is about Eddie Mannix, a Hollywood fixer in the 1950s who goes about solving problems for big stars in the industry. But when star Baird Whitlock suddenly disappears, Mannix has got a lot to fix. The tagline, Lights, Camera, Abduction pretty much summarises this plot.