1. The Notebook
Among the romance movies of all time, when we try to think of the best, The Notebook still comes in our mind the first. We believe that the timeless romance between Allie and Noah is keeping alive the love that we feel around us. The chemistry that sparked between the lead actors, Ryan Gosling and Rachel McAdams, was like gold that must be treasured. They brought life to those characters the way no one else could have. The movie gained mixed reviews, but it will always be in a particular corner of our heart.
2. A Walk to Remember
That walk at the end will be remembered by all who watched the movie. It a romance between two young people who are like the opposite ends of a same bar magnet. Landon, played by Shane West, was the bad boy in the sought-after school group and Jamie, played by the gorgeous Mandy Moore, was an ideal girl one can ever come across. Well, someone rightly said, "Opposites attract." The movie is about being a pillar of strength when weakness seeps in. Teenagers of this generation will also be left with tears for sure when they watch this movie. The main point of this movie is that it makes you start believing and having faith.
3. Safe Haven
When a spell of suspense covers the romance between two people, it gets all the way more interesting for us. This movie has a brilliant start which instantly glues us to the screen and proceeds with a steady tension to feed our souls. The exact proportion of romance and freshness makes the movie outshine all other Nicholas Sparks movies that we have till day. The actors, Julianne Hough and Josh Duhamel, were more than perfect to fit the roles of the enigmatic Katie and the caring father of two, Alex.
4. The Best of Me
It can come as a shock when you see the younger versions and then the older versions of the characters, Amanda and Dawson, but when the story starts unfolding, and you grow a little care for the both of them, you just cannot stop hoping that the best happens to them. But of course, the world is not such a nice place. Lovers never have it easy, do they? There are always some people who keep tearing them apart and then there are some astounding things that manage to keep them apart just to leave the love hanging behind. Actors Michelle Monaghan and James Marsden was an unusual pair onscreen, but the magic of love did what it does accurately. Even Luke Bracey and Liana Liberto did a wonderful job playing the roles of young Dawson and Amanda just too perfectly.
Four awards and many nominations under its name, this one movie revolves around the main theme of a Sparksian novel, which is steamy romance and surprizes of course. Adding to the striking storyline, the cast ( Zac Efron and Taylor Schilling) charmed our minds with their unparalleled chemistry between them. A must watch for romance lovers and Zac Efron fans.
As we know, falling in love is easy but what is important is staying in love. This particular movie circles the concept of making the love work through all the adversities that are thrown at them. And obviously, some help from an elderly care-giver is always welcomed. We see Scott Eastwood and Britt Robertson play the lead roles and give magical wings to the love that blooms between the characters. Even though it has attracted negative reviews from critics, it did quite well at the box office.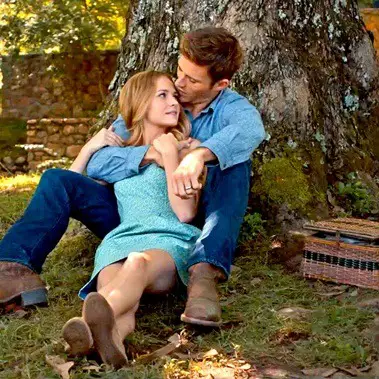 7. Dear John
A Nicholas Sparks story, romance and Channing Tatum and Amanda Seyfried is a great combination if you ask me. This movie will surely show you how. A soldier on vacation falls in love with a young woman, but he has to go back to war. The love grows, and they stay connected through letters over a long distance. The movie is a beautiful one to watch when relaxing. Over time, their love has been tested a number of times, and it grew stronger to prove their level of endurance.
Troubled and cranky high school graduated Ronnie (played by Miley Cyrus) and her brother are forced to spend the summer with their father. She cut all contact with him three years ago when he moved out but during her stay at her father's place, she reconnects with him gradually because of their love of music. In the meantime, she meets Will (played by Liam Hemsworth) and falls for him soon. But that doesn't work quite smoothly as well. The movie is beautiful with all the music and tugs at our heartstrings producing a soulful melody.
9. Nights in Rodanthe
Imperfections in a family are permanent points in Nicholas Sparks's novels, and this one has them too. The evolution of relationships between a daughter and a mother and a son and his father is what lies as a background support for this movie. Stars like Richard Gere and Diane Lane did not fail to portray the role of characters at all and the love that was generated through them still stays alive in everyone's heart.
10. The Choice
The most recent film from the treasure of Nicholas Sparks involves less emotional trauma than the others. The story was written in 2007 and the movie released this year. The cast did a marvelous job, but the movie failed to fetch positive reviews from the critics. But a Nicholas Sparks story is always worth a watch if one enjoys romance very much. After all, the choice of liking a movie is one individual's own and not anyone else's.