Singing is the most loved and practiced profession in the world today and is appreciated by everyone. There are always new and new people getting famous and doing more and more great performances. These are those emerging singers who always have a dream to perform on an extensive and live show in front of the whole set crowd and enlighten their mood. So here we present the list of the top emerging singers of the year 2021.
1. Arooj Aftab
She is a Lahore, Pakistan-born Berklee College of Music graduate who is now well-known in composition, singing, and songwriting. She made her first sight in the music industry in the year 2015. Her famous hits are Mohabbat, Baghon central, Last night, Saans lo, Surror, Na Ja Balam, and many more. Her latest hit was Vulture Prince.
...
2. Caroline Polachek
Caroline Polachek is an American-based singer and songwriter. Polachek was born in Manhattan town of  New York City, in 1985. Her songs are now available on every musical platform like Youtube, Spotify, Apple Music, Ganna, Jio Saavn, Hungama, and many more. A few of her best hits are Bunny is a rider, Billions, Door, Hey big eyes, The gate, and many more.
3. Claudia Valentina
Claudia Valentina was born and raised in Guernsey, between England and France, and she has always loved the practice of singing and dance. She started learning music and dance at a very young age and participated in various school-level events. When she entered Billy Elliot's musical team, she was just ten years old.   
...
4. Enumclaw
Enumclaw is very famous and has made many great hit albums: Painted Valley of the Mineral Monks,  Holographic Headdress, Opening Of The Dawn, Save the Baby, and Jimbo Demo. He started doing this when he came to America and first started singing for a band. Later gaining experience, he began performing his songs, and his best hit among them till now is Fast N all.
...
5. Gustaf
Gustaf, also more overly recognized by the name of Brooklyn punk band, is a band of 5 individuals who started it with the theme of revoking the actual music. In the early stage, they were performing in local events and series, but when their song The motions got famous, they started familiarizing the band on a bigger scale.
...
6. Flo Milli
Famous Flo Milli's original name is Tamia Monique Carter, and She is a singer, songwriter, and rapper native to America. She is said to be the emerging singer after the Beef FloMix and In the Party got famous on all music platforms. She also generally makes songs in the context of Hip hop, rap, and trap.
...
7. Girl In Red
Girl in red is the artist famous for her If I Could Make It Go Quiet album, and the songs in this album were published on various music/ songs showcasing sites like Apple Music, Spotify, and youtube music Jio Saavn, and many other regional areas. She is also well known for her best song, summer depression.
...
8. Joyce Wrice
She has, till now, made around 25 plus songs, among which are I Want You, Good Morning Raj Music Tamil Tv is a musical channel which incl >> Read More... , On One, Iced Tea, Addicted, You, Hot Minute Interlude, Westside Gunn's Interlude, Losing, That's on you, So So Sick. She did not have experience at an early age, but she started practicing and doing hard work, which is why she is so famous now.
...
9. Savannah Ré
Canadian rhythm and blues singer Savannah Ré Simpson, also known as Savannah Ré, is from Ontario. She had her stage debut in 2022 for the song EP Opia. She has also won many awards, like Juno awards for best recording of the year and showcasing of the song.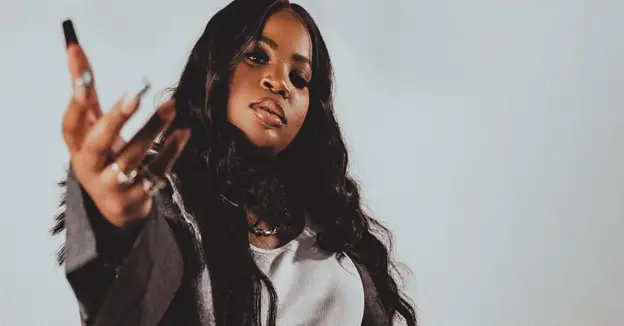 10. UMI
Tierra Umi Wilson is a singer and songwriter from the United States. She loved music and was a resident of Washington when she decided to pursue a career in it while seeking her graduation. Her most famous song, " Remember Me Click to look into! >> Read More... ," has over 116 million Spotify plays.