Wonder how these stars get sparkly gnashes? Well, it's no hidden secret. From veneers to teeth whitening products, these celebrities use everything to flash that pearly smile.
1.
He makes the women go weak on their knees with his charming looks and perfect smile. But not many people know that Tom Cruise undergoes special dental work to get that perfect smile. His teeth were not always symmetrical and were not always that white as we see now. The actor sports veneers to flash that incredible smile.
...
2.
His pearly smile wasn't as pearly as it appears to be now. George is said to have a habit of grinding his teeth at night. To protect his teeth from further extermination, George got veneers. Now we know the secret of a beautiful white smile.
...
3. Catherine Zeta Jones She is one the sexiest and desirable women in Holl >> Read More...
...
One of the most beautiful ladies, Catherine not always had an award-winning smile. The actress was booed by other children during her childhood days because of her flat nose and not so even teeth, Catherine self-confessed, "I was teased because I had a flat-looking nose, and before I got braces, my teeth used to stick out a bit." With age, Catherine is getting more beautiful day by day. The actress looks impeccable with those veneers.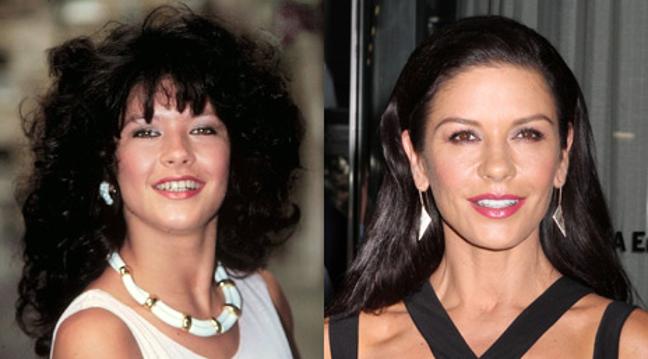 4. Nicholas Cage
...
The Ghost Rider star is quite a dedicated actor. Not many people are brave enough to pull out their two front teeth for a role in the movie. But this versatile actor didn't hesitate for once and got his two front teeth pulled for the film 'Birdy'. To feel the real pain, he got them pulled without injecting an anesthesia. After the movie, Nicholas got new teeth implanted.
...
5. Lindsay Lohan Lindsay Dee Lohan is a multitalented American. Act >> Read More...
Lindsay has been in almost all kind of addictions. Due to high drug consumption, Lindsay's teeth got rotten. The girl with a Million dollar smile self-confessed, "My teeth are rotting! Some are chipped; others are turning brown- and I don't have money to fix them!" well Lindsay has finally got her teeth fixed with those veneers and teeth whitening products.
...
6. Cristiano Ronaldo Anyone who follows football must be well aware of >> Read More...
...
Soccer-player, Cristiano Ronaldo is one of the most pair men in the world. But Cristiano not always had those perfect teeth. After joining the Manchester United in 2003, Cristiano had several sessions of orthodontic work on his teeth.
7. Hilary Duff Hilary Erhard Duff is a versatile American artist, >> Read More...
The sensational singer chipped one of her teeth on a microphone during one of her concerts. Hilary underwent immediate dental care. Though only a tooth is chipped Hilary got veneers all over her teeth to get a uniform color.
8. Miley Cyrus Miley Cyrus is a popular name amongst youngsters. >> Read More...
She got her hall of fame with the show Hannah Montana Hannah Montana is an American Musical Comedy TV sh >> Read More... . But grown up Miley isn't the same simple girl. With conventional drugs and parties, her teeth got crooked. And the pop star now has extensive dental work, including teeth whitening and altering gums.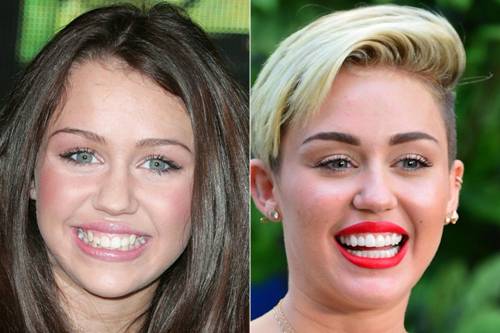 9. Jennifer Garner Jennifer Garner took birth on 17th April 1972 in T >> Read More...
Jennifer was all over in news because of her split with , who is rumored to have cheated Jennifer with his children nanny. The gorgeous lady uses veneers to hide those gums of her, a hindrance to her otherwise beautiful features.
10. Bruce Springsteen Bruce Frederick Joseph Springsteen is an American >> Read More...
He might be aging, but women still fawn over him because of his good looks. Just like other singers the ' Boss Click to look into! >> Read More... ' too got his few teeth chipped which is why he got dental surgery to flash that potent smile of his.