Crime thriller movies are becoming more popular and attracting a large crowd. Many people love suspense and thrill, which become the main attraction of crime thriller movies. Filmmakers are now coming with breath-taking suspense and thrill that gives us goosebumps. Bengali filmmakers are not far behind in creating good crime thriller movies that leave the audience stunned. Bengali cinema has become one of the prime regional cinemas offering some good movies that we cannot skip. Here we are introducing 10 of the best Bengali crime thriller movies ever.
1. Baishe Srabon
Baishe Srabon is one of the best thriller movies in Bengali written and directed by . It is a neo-noir psychological thriller film featuring Prosenjit Chatterjee The only son of Biswajit Ranjitkumar Chatterjee wa >> Read More... , Raima Sen Raima Sen is a renowned Indian film actress, who m >> Read More... , Parambrata Chatterjee Parambrata Chatterjee, born on 27th June 1980, is >> Read More... ,, and Gautam Ghose. The plot revolves around a serial killer chased by two police officers and two journalists with of help of Bengali poems.
...
2. Chotushkone
Chotushkone is a Bengali thriller movie written and directed by Srijit Mukherji, which became critically successful. The plot follows four famous directors reunited by an unknown producer to make a film containing four short stories on death. The film features Aparna Sen A vetern filmmaker and actress, Aparna Sen has bee >> Read More... , Chiranjeet Chakraborty Chiranjeet Chakraborty, whose real name is Deepak >> Read More... , Goutam Ghose Gautam Ghose is a special man. He has won numerous >> Read More... , Parambrata Chatterjee, and Payel Sarkar Payel Sarkar is an Indian Bengali actress who has >> Read More... as the main cast.
3. Dwitiyo Purush
Dwitiyo Purush is a mystery thriller Bengali movie starring Parambrata Chatterjee, Raima Sen, and Anirban Bhattacharya Anirban Bhattacharya is an Indian-actor. He is a s >> Read More... as the main characters. The plot revolves around DCDD Abhijit Pakrashi and a killer Khoka. Directed by Srijit Mukherjee, it is the sequel to the 2011 massive hit film Baishe Srabon.
...
4. Vinci Da
Vinci Da is a psychological crime thriller Bengali film that follows a gifted make-up artist who struggles to earn a living. He becomes the target of Adi Bose, an ex-convict, because of his skills. The film has Rudranil Ghosh Rudranil Ghosh was born on 6th January in the year >> Read More... , Ritwick Chakraborty Ritwick Chakraborty is an Indian actor. He works i >> Read More... , Riddhi Sen Riddhi is an Indian Bengali actor. He masters in t >> Read More... , Anirban Bhattacharya, and Gautam Moitra Bio coming soon... >> Read More... as the main cast. It is one of the best crime thriller movies that show how the weak can gets manipulated by the strong.
...
5. Dracula Sir
Directed by Debaloy Bhattacharya Debaloy Bhattacharya is an Indian director who wor >> Read More... , Dracula Sir is a Film Noir psychological thriller film revolves around a school teacher being called Dracula for his protruding canine teeth. The film features Anirban Bhattacharya, Mimi Chakraborty Mimi Chakraborty, born in 1989 is a Bengali film a >> Read More... , Bidipta Chakraborty Bidipta Chakraborty is a Bengali Film actress born >> Read More... , Rudranil Ghosh, and more as the main cast. The film has received a mixed response from critics, with praise for the cast performance and storyline.
...
6. Ebar Shabor
Ebar Shabor is a Bengali mystery-thriller film starring Saswata Chatterjee Saswata Chatterjee is an actor of Bengali origin. >> Read More... , Swastika Mukherjee Swastika Mukherjee is an Indian actress who was bo >> Read More... , and Abir Chatterjee as the main cast. The plot revolves around a detective named Shabor Dasgupta, who is assigned to solve the mystery behind the murder of Mitali Ghosh, a woman killed on the day she hosted a party. Directed by Arindam Sil Born on 12th March 1958, Arindam Sil is an Indian >> Read More... , the film became critically acclaimed at the box office.
...
7. Aschhe Abar Shabor
Aschhe Abar Shabor is the third installment in the Goenda Shabor franchise and a sequel to the film Eagoler Chokh. Directed by Arindam Sil, it is a crime thriller film has Saswata Chatterjee, , and Gaurav Chakrabarty Gaurav Chakrabarty is a television and movie actor >> Read More... as the main cast. The plot follows officer Shabor assigned a task to find a serial killer targeting the modest women of Kolkata.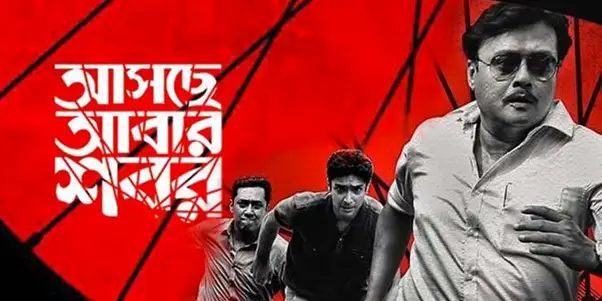 ...
8. Janowar
Janowar is a Bengali crime thriller movie written, screenplay, and directed by Raihan Rafi. The film stars Taskeen Rahman, Rashed Mamun Apu, Jamshed Shamim, Elina Shammi, Farhad Limon, and more as the main cast. The plot revolves around robbery, murder, and gang rap inspired by the incident of 23 April 2020.
...
9. Byomkesh Gotro
Byomkesh Gotro is a Bengali crime thriller film starring Abir Chatterjee, Rahul Banerjee Rahul Banerjee also known as Arunoday Banerjee is >> Read More... , Sohini Sarkar Sohini Sarkar is a recognized Indian Bengali film >> Read More... , and Priyanka Sarkar Priyanka Sarkar is a renowned Bengali actress who >> Read More... as the main cast. The film follows Byomkesh Bakshi Indian television industry has many detective seri >> Read More... , a renowned detective who gets approached by a boy, later murdered mysteriously. Boymkesh uncovers the truth behind the boy's mysterious death and reveals some dark secrets.
10. Bornoporichoy
Bornoporichoy is a neo-noir crime thriller film that follows an optimistic police officer Dhananjoy is on a trail to find a serial killer named Arko Bhattacharya. However, this led to putting his life in danger. Directed by Mainak Bhowmick, the film features Jisshu Sengupta Jisshu Sengupta is an artist who is known for his >> Read More... , Abir Chatterjee, and Priyanka Sarkar as the main cast.
Conclusion
These are 10 of the best crime thriller Bengali movies you cannot miss.