A movie's "look" is something very important. Creation of sets, which seems to be a mammoth task to the audiences, is done by these art directors only. They give attention to even the minute details. Art direction has been recognized in Indian film industry for more than three decades. Now let's take a look at the art directors of Kollywood.
''
...
Thotta Tharani is one of the most sought after art directors of Kollywood. He has also won National Award for Best Art Direction. He was associated with art direction since his childhood. The ambiance that he creates is something commendable. One cannot surely forget the transparent bus in Kaadhalan, which was created by this talented artist. His talent is vividly shown in other Kollywood films including Dasavatharam and Sivaji: The Boss Click to look into! >> Read More... . Thotta Tharani has proved his mettle not only in Kollywood but also in Bollywood, Tollywood, and Mollywood.
''
...
Sabu Cyril is an acclaimed art director in Indian cinema. He has carved a niche for himself in Kollywood with movies including Enthiran, which even went on to give him international recognition. He has won both the National Award and Filmfare Awards. He is best known for his grand sets and rightly depicts the director's vision. Baahubali is the current jewel in his crown.
' P Krishnamoorthy P. Krishnamoorthy was born in Poompuhar town of Ta >> Read More... '
...
P Krishnamoorthy is a veteran art director and has won several National Awards for the same. Initially he proved his talent in Kerala and then reinforced it through his Tamil movies including Indira, Bharathi, Imsai Arasan 23d Pulikesi, Naan Kadavul Click to look into! >> Read More... , and Ramanjujan.
' Rajeevan Rajeevan is a prominent Indian Art Director. He wa >> Read More... '
...
Rajeevan is famous in Kollywood for his works including Kaakha Kaakha (remember the wooden house), Mounam Pesiyathey, etc. Rajeevan had worked on most of Gautham Menon's films, and his art direction was also instrumental in a film's success.
...
'T Muthuraj'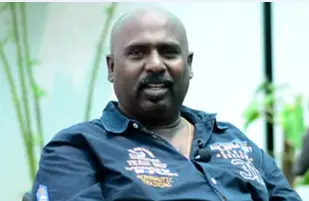 ...
T Muthuraj was initially working as an assistant to Sabu Cyril. Irumbu Kottai Murattu Singham, Avan Ivan, Angaditheru are some of the landmark films in Muthuraj's career. He has also tried his luck in over 180 commercials. He has several awards to his credit, and his recent work Nanban won him many accolades.
' S Raja Mohan S. Raja Mohan is an art director and production de >> Read More... '
...
S Raja Mohan had the passion for art direction since his childhood. He was observed with the Tamil film Maan Karate Click to look into! >> Read More... , through which he debuted. The grand set and the great feel that the movie gave reflects on this talented person's ability
' Videsh Videsh is an Art director who works predominantly >> Read More... '
Saroja, Naan Mahaan Alla, Aaranya Kaandam Click to look into! >> Read More... and Mankatha are some of the works that Videsh is known for. He assisted Sabu Cyril and later tried his luck in serials. After working slowly and steadily, he is now one of the prominent art directors of Kollywood.
K Kathir, Mohanam, B Chalam, S S Moorthy, and D Rajan  are the other art directors of Tamil cinema who have made an identity for themselves.