At some point of a time, we all need a life partner to support, love, care about us. Here are some beautiful South-Indian actor's wives.
1. NITHIIN – SHALINI
...
' Nithiin Nithin Reddy is an actor, playback singer and even >> Read More... ' is a Tollywood famous actor who married Shalini Reddy Kandukuri. Shalini was a secret love of actor Nithiin. Nithiin's wife is not on any social media. Before marriage, they were in relation for almost eight years.
2. SUNNY WAYNE – RENJINI KUNJU
...
Sunny Wayne's wife Renjini Kunju Renjini Kunju, now known as Renjini Kunju Wayne is >> Read More... is a dancer, dance teacher, and Entrepreneur. Both of them know each other right from their childhood. Their love story is most popular in the South and they got married on April 10, 2019.
3. MAHESH BABU – NAMRATA SHIRODKAR
...
Mahesh Babu Born on 9 August 1975 in Chennai, Mahesh Ghattaman >> Read More... and Namrata Shirodkar Namrata Shirodkar clinched the Miss India title in >> Read More... have married almost 13 years and counting more. They were met the first time in the movie Varanasi. It was a love at first sight love story. They are the perfect role model for their followers.
4. PRASANNA – SNEHA
...
' Prasanna Prasanna is a South Indian actor who was born on 2 >> Read More... ' and ' Sneha Suhasini R. Naidu, more popularly known by her scr >> Read More... ' are blessed with two children. It was hard for Sneha to tell her parents about Prasanna and her relationship. It was not the first time when Sneha fell in love with someone but got hurt many times and finally decided to get married to Prasanna.
...
5. SAYYESHAA SAIGAL - ARYA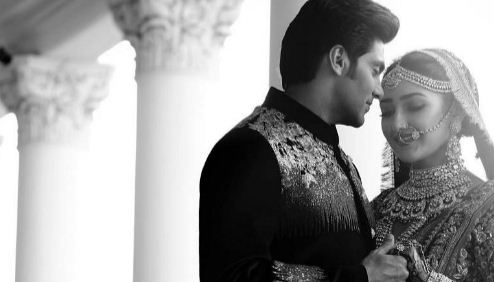 ...
Sayesha Saigal Sayesha Saigal is a gorgeous and beautiful girl wh >> Read More... is a Tamil actress. She appears in South Indian films. She has also worked in the Bollywood industry in the movie ' Shivaay Click to look into! >> Read More... ' with Ajay Devgan Ajay Devgn is an Indian film actor. He is perhaps >> Read More... . Sayyeshaa married well-known actor 'Arya.' They were dating each other for a while.
6. RAM CHARAN – UPASANA KAMINENI
...
Friendship to Marriage - Ram Charan Ram Charan is a famous Tollywood actor and an entr >> Read More... and Upasana was an opposite love attraction. They first met in college and known each other for many long years. Their family had already shared a good bonding and so it was not difficult to make one understand.
7. KARTHI – RANJINI CHINNASWAMY
Karthik Sivakumar Karthik Sivakumar, or popularly known as Karthi, i >> Read More... and Ranjini have a girl child, Umayaal. Theirs was an arranged traditional marriage in Coimbatore. Karthi wore a white silk shirt, and a veshti and his wife wore a color combination of orangish-yellow saree. It was one of the grand weddings of Coimbatore.
8. TOTTEMPUDI GOPICHAND – RESHMA
Gopichand and Reshma married in May 2013, and now they are blessed with two beautiful children Virat Krishna and Viyan. Gopichand's wife, Reshma, is the niece of Tollywood hero Meka Srikanth Meka Srikanth, born in Gangavathi, Karnataka (23 M >> Read More... .
9. NANI – ANJANA YELAVARTHY
' Nani Actor Nani (Naveen Babu Ghanta) is an adorable her >> Read More... ' and Anjana married in a grand ceremony in the year 2012. They dated for five years before getting married. They have a baby boy named Arjun. This couple looks perfect together.
10. JAYAM RAVI – AARTHI
married his girlfriend, Aarthi. The marriage ceremony happened at hotel ITC Park Sheraton, Mowbrays Hall, Chennai. Both were looking gorgeous on that day. Jayam Ravi wore a white silk shirt, and Aarthi wore a pink saree for their marriage.
11. DHANUSH - AISHWARYA R. DHANUSH
' Dhanush This lanky superstar Dhanush is an actor from Tami >> Read More... ' is a popular hero in the Tamil industry. He is an actor, dancer, playback singer, writer, lyricist, screenwriter. He married Rajinikanth's elder daughter Aishwarya. The fact about Aishwariya is that she is two years elder than Dhanush. This couple is blessed with two sons.
12. N.T RAMA RAO JR. - LAXMI PRANATHI
Jr. NTR works in the Tollywood industry; he is a Telugu actor, dancer, playback singer, and Television personality. He married Laxmi Pranathi in 2011. She is the daughter of a businessman. They are blessed with a cute son and a daughter.
13. ALLU ARJUN- SNEHA REDDY
Allu Arjun The actor was born to producer Allu Arvind and Nir >> Read More... is also known as Bunny. He works in the Telugu industry. He is an actor., playback singer, producer, dancer. He is also counted as one of the highest-paid actors in the Tollywood industry. He married Sneha Reddy in 2011. This couple has a son and a daughter.
14. VISHNU MANCHU - VIRANCIA REDDY
Vishnu Manchu Manchu Vishnu is the first son of Veteran Telugu a >> Read More... works in the Telugu industry. He is an actor, producer, and director. He started his career as a child artist. He married Virancia in 2009. This couple has a twin daughter and a son.
15. SRIKANTH - VANDANA SRIKANTH
We know ' Srikanth Srikanth is an Indian cinema actor. He has mainly >> Read More... ' by his stage name Sriram. Hi is a Tamil actor and works for mostly the Tamil industry. Srikanth married Vandana in 2007. Vandana has completed her qualification in Australia. This couple has two children.