1. Chinna Chinna Aasai Chinna Chinna Aasai is a social awareness based re >> Read More...

Chinna Chinna Aasai was an immense hit when it first came out in the Mani Ratnam Mani Ratnam is an Indian filmmaker deeply rooted t >> Read More... film, Roja. The dreamy music and the beautiful scenery portrayed in the song caught the imagination of people not only in Tamil Nadu but across the world, probably why it won Rahman numerous awards!

2. Nila Kaaigiradhu

A combination of little girls in traditional attire, a known talented actor such as Nassar, the heavenly score, and graceful dancing by the beautiful girls makes Nila Kaaigiradhu a phenomenal success! This and several other songs from the 1995 film Indira still remain a favorite among the people of Tamil Nadu.

3. Uyire Uyire Click to look into! >> Read More...

Bombay, another 1995 movie by Mani Ratnam, took the country by storm. One of the most critically acclaimed sound tracks in Indian cinema, a major share of the film's success can be attributed to the songs composed by the maestro A. R. Rahman. Uyire Uyire is among its popular tracks that brilliantly portray the struggle of a girl who must choose between love and her family.

4. Sollamale 

A song by S. A. Rajkumar, this song stood out in a time when scores by A. R. Rahman and Illayaraja dominated the industry. This much-loved melody is from the film Poove Unakkagha, starring Vijay.

5. Kanmani Anbodu

"Kanmani anbodu kadhalan naa ezhudum kadhidame." Every time this line belts out on television, or even the radio, a person can feel goose bumps arising on his or her skin. Such are the powerful emotions it invokes within a person. Ilayaraja, a true genius, conjured up this enchanting tune. The music, combined with the lyrics which plays out in the form of a letter to the hero's lover, leaves the listener spell-bound.

6. Ennavale Adi Ennavale

Ennavale Adi Ennavale is a song from the Prabhu Deva Prabhu Deva is one among the populous cinema perso >> Read More... starrer Kadhalan. Composed by A. R. Rahman and sung mellifluously by Unnikrishnan, this song was such a hit that even today garners immense appreciation.

7. Rosa Poo Chinna Rosa Poo 

Sung by Hariharan, Rosa Poo Chinna Rosa Poo captured the hearts of many when it released in 1997. This is another 90's melody directed by the ultra talented S. A. Rajkumar.

8. Anjali Anjali

A 1994 film directed by the late K.Balachander, it garnered a lot of attention for its music scored by A.R.Rahman. Two of its most popular tracks are En Kadhale and Anjali Anjali, which also happen to be my personal favorites. Besides the music, what I really love about this song are its lyrics penned by lyricist Vairamuthu.

9. Netru Illatha Maatram Ennathu

The vibrant actress ' Revathy Bio coming soon... >> Read More... ' bowls us over yet again in this song, from Puthiya Mugam, with her charm, mesmerizing smile and subtle moves. Her elfin figure framed against breath-taking scenery and the lilting music can take you into a trance.

10. Poovukkul Olinthirukkum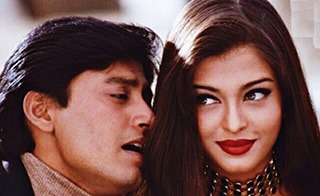 Poovukkul Olinthirukkum was a mega hit at the time of the film's release. From the pleasantly fresh movie by Shankar - Jeans, this song showcases all the wonders of the world in one song. The gorgeous Aishwarya Rai Bachchan Aishwarya Rai Bachchan is a popular Indian actress >> Read More... attired prettily and the handsome Prashant crooning this tune, against the backdrop of the wonders of the world, has a captivating effect on its viewers.