1. Raghuvaran And Rohini
Raghuvaran who was the star of the movie Mass playing in a villain role married actress Rohini, who is also well established in the industry. Raghuvaran lost his life due to illness in the year 2008. The couple separated after eight years of marriage prior to his death.
...
2. Revathi And Suresh Chandra Suresh Chandra is a renowned Public Relations Offi >> Read More... Menon
Revathi who has acted in both Tamil and Bollywood movies married actor Suresh Chandra in the year 1986. Happily married for twenty-seven long years still, they split apart in the year 2003.
...
3. Ramarajan And Nalini
...
Ramarajan and Nalini who are both actors in the Tamil industry got married in the year 1987. They had two children Arun and Aruna. Nalini has done films like Alai Osai and is a very successful actress in South.
4. Sarathkumar And Raadhika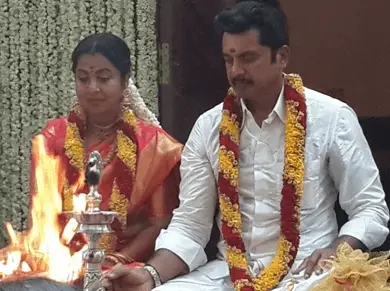 ...
Sarathkumar, a politician, actor by profession married Raadhika in the year 2000 who is herself an actress and has appeared in movies like Vani Rani, Chithi and much others to her fame.
5. Suriya And Jyotika
...
Jyothika, the actress of the movie Mass and Mozhi and many others, married film star Suriya in the year 2006. Suriya has appeared in films 24, S3, Singham and a very famous and popular actor in South. They are happily married with two children Diya, Dev.
...
6. Akkineni Nagarjuna And Amala
...
Akkineni, the protagonist in the movie Mass, married beautiful film actress Amala in the year 1992; Amala has taken retirement from the industry. Nagarjuna though is still working as a producer, director, and actor. He has appeared in movies like Siva, Oopiri, Shiva, Manam and many others to his credentials.
7. Prakash Raj Prakash Raj, born on 26th of March, 1965, as Praka >> Read More... And Lalitha Kumari Lalitha Kumari is a movie actress who is known for >> Read More...
Prakash Raj, who has acted in Telugu as well as Bollywood movies and is a very popular actor in the negative role married film actress Lalitha Kumari in the year 1994 and split apart in 2009. Lalitha has appeared in lead roles in movies Marumagam, Sigaram, and many others.
8. Khushboo and Sundar C.
The beautiful actress of the Tamil industry, Khushboo married actor Sundar C. in the year 2000. She has done movies like Kolangal, Mannam, and many others. Sundar C. is a producer, actor as well as producer by profession and has given many hit films.
9. Prabhu and Khushboo
Prabhu, an actor, producer, and director of Tamil cinema married Khushboo in the year 1993. Things didn't go well, and they decided to split in a year. Later actress Khushboo married Sundar C. and is happily married since then. Prabhu has not found anyone since then to spend his entire life.
10. Prasanna and Sneha
The handsome hunk of South movies Prasanna married actress Sneha at a very nice location in Kerala in the year 2012. Prasanna has acted in films like Pulivaal, Five Star, and many others whereas Sneha has been a protagonist in movies like Vaasegaara. The couple has been happily married for four years now and is actively doing movies.