The recipient of the illustrious Padma Vibhushan award in 2016 has etched his name in the annals of history ever since the 1970s, courtesy of his numerous blockbuster movies and accolades. It is undeniably his remarkable talent and unwavering commitment to his craft that has propelled him to the zenith of success. Among the noteworthy films that have showcased his exceptional acting prowess are Apoorva Ragangal, Mullum Malarum Click to look into! >> Read More... , Aarilirunthu Arubathuvarai, Thalapathy, and a plethora of others. Additionally, he has graced the silver screen in the realms of Telugu, Kannada, and English cinema.
1. Mullum Malarum
]The phenomenon of movies featuring captivating dialogues commenced with Rajini's extraordinary portrayal of the character "Kaali" in this film. The movie's well-known tagline, "Ketta paya sir intha Kaali!" meaning "I am a wicked man!" became the talk of the town. Due to his sheer stubbornness, Kaali faces ridicule from those around him after mistakenly losing his hand. Rajini's impeccable artistry shines through not only in his facial expressions but also in his body language. According to Gayathri Sreekanth, who penned The Name is Rajinikanth, this performance "breathed new life into sibling relationships on-screen" and solidified Rajinikanth's status as an unparalleled actor. Remarkably, this film garnered Rajini his inaugural Best Actor Award at the Tamil Nadu State Film Awards.
2. Hum
Have you ever pondered upon the delectable delight that would top the cake for a connoisseur of movies? The film has the majestic convergence of Thalaiva and the magnificent megastar Amitabh Bachchan Amitabh Bachchan was born on October 11, 1942 in A >> Read More... on the silver screen. It is an awe-inspiring encounter to behold the synchronicity of Amitabh Bachchan and Rajinikanth in one cinematic masterpiece. We do not contest the sheer brilliance of this union. The two towering luminaries united their talents for Mukul S Anand's enthralling criminal action opus, Hum, in 1991. Naturally, you must be familiar with the iconic composition, "Jumma Chumma," which rightfully belongs to this very film.
Rajinikanth exhibited unparalleled perfection in every conceivable aspect within S. Shankar's Sivaji: The Boss, ranging from his linguistic prowess to his sarcastic persona. The Tamil action film proudly showcases itself as the momentous centenary project for the esteemed actor, along with the remarkable feat of shattering box office records. Furthermore, the film garnered significant recognition with the acquisition of a prestigious National Award.
...
4. Kaala
Kaala commences with a comprehensive analysis of the creation of social disparity and the structure of society conveyed through captivating animation, diverging from the typical narrative of Rajinikanth's movies. He embodies the saviour figure for all the underprivileged individuals residing in Dharavi, diligently safeguarding 'his' beloved community and ensuring its perpetual security. Like his faithful canine companion, Kaala exhibits a territorial disposition, rightfully asserting his authority. His ceaseless preoccupation lies with the well-being of the local denizens, who grapple for their entitlements and quality of life, starkly contrasting to the unscrupulous politician Haridas Abhyankar (portrayed by Nana Patekar Nana Patekar is a popular Indian actor who was bor >> Read More... ). Rajinikanth, the artist, not Rajinikanth, the luminary, truly dazzles in this cinematic masterpiece, effortlessly embodying a character that will indelibly etch itself in the memories of viewers, evoking a contented grin.
...
5. Robot
In 2010, S Shankar's movie, which garnered a varied response from reviewers yet shattered countless box office records, ultimately emerged as one of the most lucrative films of that year. Viewers relished the on-screen bond between Rajinikanth and Aishwarya Rai Bachchan Aishwarya Rai Bachchan is a popular Indian actress >> Read More... . Rajinikanth skillfully portrayed dual characters, impeccably justifying each of them. The film resonated so profoundly with the audience that a follow-up featuring Akshay Kumar Akshay Kumar was born on 9th September 1967 and hi >> Read More... hit the screens in 2018.
...
6. Airililunthu Arubathu Varai
A touching tale unfolds in the melodrama, highlighting the journey of Santhanam, brought to life with brilliance by Rajinikanth. At the tender age of six, destiny placed the burden of breadwinning on his shoulders, shaping his life's narrative. In this captivating narrative, we witness his profound dedication towards his family as he selflessly toils away, aspiring to grant his siblings the same joys his father once bestowed upon them. However, amidst his tireless endeavours, tragedy strikes as his beloved wife falls victim to the unceasing tribulations. Despite the heartache, Santhanam perseveres and eventually becomes a celebrated novelist. At this juncture, his siblings re-enter his life, seeking solace in his embrace. With full knowledge of their past actions and choices, he embraces them wholeheartedly, exemplifying the depth of his compassion.
...
7. Netrikann
In movies similar to this one, Rajinikanth's inclination to portray the antagonist (following his transition to the protagonist) was clearly evident. Through his portrayal of Santhosh, a calm and responsible son aiming to reform his father, and Chakravarthi, a flamboyant businessman with a desire for women, including engaging in rape, he effectively embodied two contrasting characters. Rajinikanth persistently embraced the opportunity to portray dual roles until Enthiran in 2010, exemplifying his versatility by also portraying a villainous character.
...
8. Johnny
The audience experiences a twofold delight whenever Rajinikanth graces the silver screen in two distinct roles, and His Johnny is no exception. In this captivating film, he portrays a deceitful individual who is wrongfully accused of a crime by his doppelgänger Vidyasagar. What unfolds thereafter is a profoundly poignant journey for Johnny, who embarks on a mission to uncover the truth behind the tarnishing of his reputation, all while striving to win the affection of Sridevi. Subsequently, in a performance that lingers in the cherished memories and fervent hearts of Rajinikanth's ardent devotees, we witness the actor exquisitely weaving together a plethora of astounding emotions.
...
9. Thalapathi
In the era when Rajinikanth had solidly established himself as a beloved and influential figure among the masses, the movie Thalapathi portrayed him as an extraordinary individual who championed the cause of those incapable of voicing their opinions in a society overflowing with people. Embedded within this action-packed role is a specific moment that evokes a profound sense of empathy for the protagonist. It transpires when Jaishankar reveals to Rajinikanth that his mother is none other than Srividya. The subsequent reaction from Rajinikanth, as he grapples with this shocking revelation and tears well up in his eyes, is sure to leave an indelible impact on every viewer. Once again, the actor showcases his exceptional talent, reminding us why he is often underestimated and underappreciated. Thalapathi, in turn, reaffirms why Rajinikanth holds a cherished and esteemed position as an icon for all.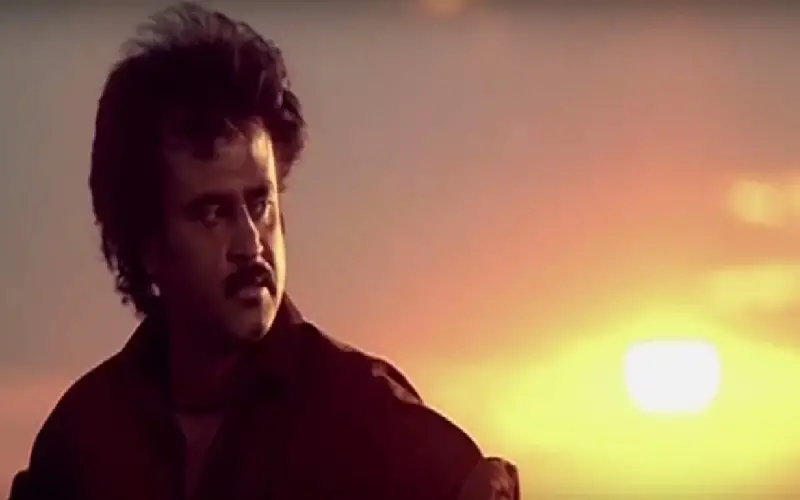 10. Baasha
One of the films that Thalaivar fans remember and cherish the most. The "Autokaaran" song made the auto-rickshaw drivers swoon over him, and the famous line "Nan oru dhadava sonna, nooru dhadava sonna madhri" is still one of the most-dubbed dub smash videos to this day. Last but not least, the "Baasha theme music" still gives his fans chills. He would have played the same character in two distinct parts, as in his past films, and the contrast is great.