Diana Mariam Kurian, also known as Nayanthara, is an Indian Actress born on 18 November 1984. She is one of the highest-paid South Indian Actresses. She is best known for her role in films such as Imaikka Nodigal, Aramm, Kolamavu Kokila, and Anaamika. She is also nicknamed Lady Superstar of Tamil Cinema.
1. Imaikka Nodigal
Imaikka Nodigal is set in the city of Bengaluru. A serial killer named Rudra suddenly reappears. Anjali Vikramadithyan, a police officer, is put on duty to capture him. Anjali's brother Arjun is going through a tough breakup, and he goes to Bengaluru to make things right but gets caught up in Rudra's games. Arjun is mistaken for Rudra, and the situation gets worse when Rudra kidnaps Arjun's ex-girlfriend. As Arjun tries to save his ex-girlfriend, he discovers that Rudra is his sister Anjali, who had taken up the identity of Rudra to avenge her husband's death. Once this is revealed, the combined efforts of Anjali, Arjun, and the police make it possible to capture Anjali, who had been pretending to be Rudra.
2. Aramm
Aramm is a film directed by Gopi Nainar Gopi Nainar alias Minjur Gopi is a story writer, w >> Read More... and was released in 2017. The film stars Nayanthara. The film's plot begins with Madhivadhani struggling to get approval from a higher official. She tells the official of an incident that had occurred the previous week regarding Dhanshika. In a village called Kattoor, the villagers fight for clean water and sanitation. A woman, Sumathi, along with her daughter, Dhanshika is returning home. Later, Dhanshika is reported missing, and it is revealed that she has fallen into a borewell. Madhivadhani arrives at the village and tries to help her by utilizing the help of a team and using a camera to communicate with Dhanshika. They plan to dig a tunnel to save Dhanshika. The villagers are scared, assuming Dhanshika has died, but her brother is sent to her rescue. At the film's end, Madhivadhani resigns from post and helps people in her way.
3. Kolamavu Kokila
Kolamavu Kokila is a film directed by Nelson and was released in 2018. The film stars Nayanthara, who plays the lead role. The film's plot revolves around Kokila, who is financially weak. She sets out to help her family by stepping into the smuggling trade. She works for Mohan but soon after decides to quit. This prompts Mohan to kill her, but she survives and kills him instead. Guru is a strict new cop who tries to arrest Kokila but narrowly misses multiple times. Bhai, a drug kingpin, is the main target of Guru. Guru and Kokila team up to take down Bhai's entire operation, at the film's end, Kokila starts a legit business selling Kolam powder.
...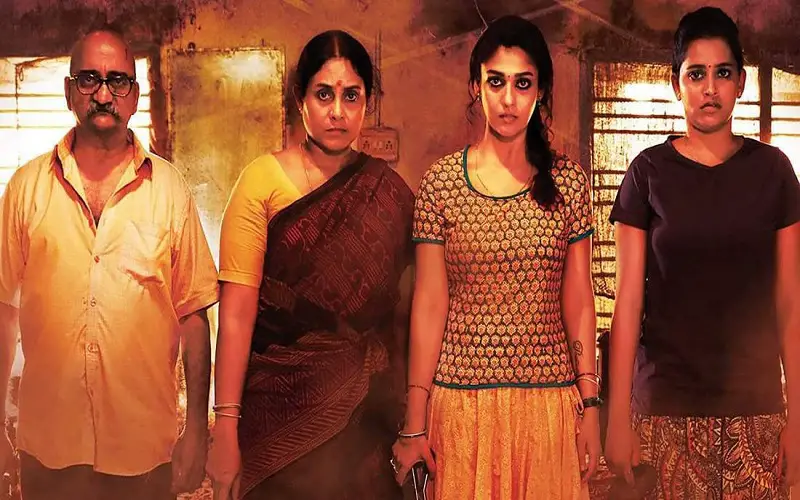 4. Anaamika
The film Anaamika was directed by Sekhar Kammula Sekhar Kammula or Kumar Sekhar Kammula is a direct >> Read More... and was released in 2014. The film stars Nayanthara and Vaibhav Reddy Vaibhav Reddy is the son of a prominent director o >> Read More... . Anaamika is in search of her lost husband. A policeman named Sarathy helps her in searching for Ajay. They visit the places that Ajay has been to and talk to people. Ajay leads a different life that no one knows of, which is discovered by Anaamika. Anaamika must deal with crooks and goons to find her husband. She even fights and kills such people on her journey. The film ends with Anaamika rescuing Ajay with the uncalled help of the police but having to kill in self-defense.
...
5. Mookuthi Amman
The story is about Engels, a guy from a low-income family in Nagercoil. His father left, and the girls do not like him because of his financial condition. Engels visits the Mookuthi Amman temple to change his luck. Engels sees Mookuthi Amman in human form and learns God has chosen him. He helps make his temple known in exchange for Mookuthi Amaan's help. Engels fulfills the wishes of his family with the help of Amman. A false follower of God threatens their temple, which leads to Amman and Engels exposing him. Engels works on television and reveals the truth about the man of God. At a big event, Amman appears as a woman and stops the godman. Engels urges people to believe and not to fear. Amman leaves after fulfilling Engels' wishes.
...
Puthiya Niyamam is an Indian film directed by A. K. Sanjan and was released in 2016. The film's plot revolves around Vasuki and her husband, Louis. One unfortunate day, Vasuki, who is alone at home, is visited by her neighbors who take advantage of her and rape her. After this incident, she becomes suicidal but later grows vengeful. She contacts Jeena Bhai, who is the new police commissioner. Jeenu Bhai assists her in killing the rapists over the phone and tells her not to contact him as their mission is over. At the film's end, it is revealed that Jeena Bhai is just a fake identity taken up by Louis to help his wife. He keeps this a secret to save his relationship.
...
7. Airaa
Airaa is an Indian film directed by Sarjun KM and was released in 2019. The story is about Yamuna, who runs away to escape an arranged marriage. She stays with her grandmother in Tamil Nadu. Here, she starts making horror videos on YouTube along with her friends. Amudhan is a detective who investigates deaths in the area. Bhavani is an angry spirit who is out to kill the people who wronged her during her life. Bhavani ends up possessing Yamuna at her wedding to be with Amudhan. Amudhan kills himself to be with Bhavani in the afterlife, and Bhavani leaves Yamuna's body.
...
8. Super
Super is a film directed by Upendra and was released in 2010. The film's plot revolves around Kasinath, a man who despises corruption. To take down powerful and corrupt people, he assumes the identity of Super. Super falls in love with Indira, a journalist. Indira is determined to find out the real identity of Super.
...
9. Dora
Dora is a Tamil-language supernatural thriller film directed by Doss Ramasamy Doss Ramasamy is a famous director in India who pr >> Read More... . Pavalakkodi and her father, Vairakannu live a modest life until she finds a unique vintage car possessed by a dog's ghost named Dora. The car's supernatural power helps them to uncover a series of crimes committed by three men. Pavalakkodi joins forces with ACP Harish for justice. With the help of Car, Pavalakkodi gets to know about a girl who donated her heart to her faced violence. Pavalakkodi takes revenge on the girl with the help of Dora's guidance. In the end, she reunites with Harish.
10. Nizhal
Nizhal is an Indian film directed by Appu N. Bhattathiri and was released in. The film revolves around John Baby, a magistrate recovering from a car accident. While investigating a patient, Nitin tells him about strange murder stories. He discovers the crimes are real and connected to Nitin's mother, Sharmila. John Vishwanathan, Sharmila's mother's friend, is the actual killer and attempts to kill Sharmila and Nitin so that his secrets remain hidden. John saves Sharmila and confronts Vishwanathan but loses his life. Towards the film's end, John overcomes his vision, and Sharmila begins to hallucinate.