1. ' Sreenivasan Actor Sreenivasan is a Malayalam actor who had rul >> Read More... ' and Vineeth Sreenivasan Vineeth Srinivasan is known to the music industry >> Read More... :
The famous father and son duo in Kerala. If the father is a famous actor, screenplay writer, son is a singer, and a director addition to those. Both are creating a fortune in Malayalam film industry individually until today. There is no other such great combo in Malayalam until now with this great success to their name.
...
2. ' K J Yesudas Kattassery Joseph Yesudas shortly called as K J Ye >> Read More... ' and Vijay Yesudas Vijay Yesudas (Born: 23rd March, 1979) is an India >> Read More... :
Just like the Sreenivasan twain making a good fortune in acting in theMalayalam film industry, both Yesudas and Vijay Yesudas did their best in the singing department. Even though Vijay is not a legendary singer just like his father, hasa good success rate in his singing career in the recent times..
...
3. ' Mammootty Muhammed Kutty Ismail Paniparambil is the original >> Read More... ' and Dulquer Salmaan Dulquer Salmaan is a popular Malayalam actor, who >> Read More... :
...
Both are top-notch actors in Malayalam film industry. Both have their own place in Malayalam film industry. Mammootty is an evergreen legend,meanwhile, Dulquar is creating his own place in the Malayalam film industry. And also he is quite popular among the new generation of film lovers.
4. ' Sukumaran Sukumaran is a notable Malayalam film actor and pr >> Read More... ' and Prithviraj Sukumaran Prithviraj Sukumaran is one among the bubbly actor >> Read More... :
...
Sukumaran is a famous Malayalam film actor with his villainous acting and a bunch of character roles. But his son is a superstar in Malayalam film industry. Prithviraj is having loads of hits till date. Both are from two separate period but both are famous in their respective time period.
5. ' Fazil Director A.M. Fazil has various roles to his credi >> Read More... ' and Fahadh Faasil Born in 1983, Fahadh Faasil is known for his works >> Read More... :
...
Even though Fahad Fazil comes to the film industry under his father's light during the early ages, he is no more a father's boy. Fazil is a well-known director in the Malayalam film industry, his son is a talented actor, and both have many hit films under their name.
...
6. Sujatha Mohan Sujatha Mohan (Sujatha or Baby Sujatha) is one of >> Read More... and Shweta Mohan Shweta Mohan is a female playback singer in Indian >> Read More... :
...
Both Sujatha and Swetha are singers. Both are playback singers right now as well. Even though Sujatha is a great singer and has many hits in many languages, her daughter, Swetha is building up her reputation and have made few hits under her ongoing career.
7. Sukumaran and Indrajith Sukumaran Indrajith Sukumaran is a prominent film actor, who >> Read More... :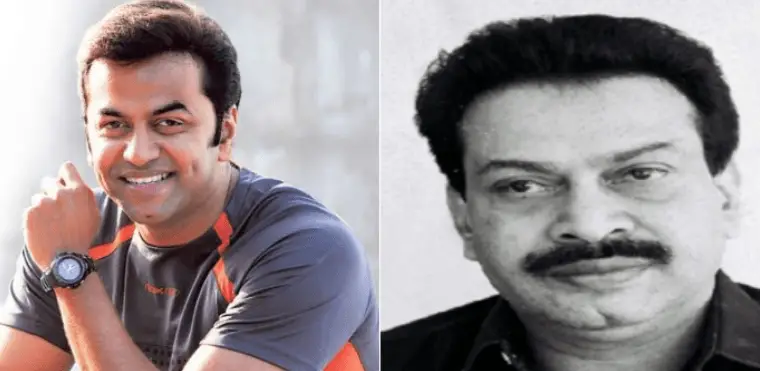 Unlike Prithviraj, Indrajith has many common factors which can be taken into consideration to compare with his father. Even though Indrajith is a little bit low compared to his father's achievement all these years, he is a developing actor in Malayalam film industry.
8. ' Thilakan Surendranatha Thilakan, more popularly known as Th >> Read More... ' and Shammi Thilakan Son of the late actor Thilakan, Shammi Thilakan is >> Read More... :
Thilakan is a true masterpiece in acting. Even though Shammi Thilakan is not even close to his father's acting talents, his villain roles and character roles nowadays are noted by many film critics positively.
9. '' and :
Everyone knows about Jayaram and his little son Kalidasan. Kalidasan is famous for his masterpiece performance in many films as a child artist. Both the father-son showed their face in many films and most of them were hit as well. Kalidasan is looking for a great comeback into the film industry.
10. ' N N Pillai N. Narayana Pillai was an Indian playwright, actor >> Read More... ' and ' Vijayaraghavan Vijayaraghavan is an Indian actor from Kerala, who >> Read More... ':
N N Pillai is a famous theater artist and his son; Vijayaraghavan is a well-known film artist. N N Pillai acted as "Anjooran" in the film " Godfather Click to look into! >> Read More... ", and that was enough for the film fans to remember him through time. His son still makes his presence known by the character roles he played in many films.