1. ' Dileep' and Kavya Madhavan
The apex position of the list goes to the most controversial pair of the year, Dileep and Kavya Madhavan. Both of them share a hit chemistry on screen and are one the favourite Jodi of the viewers too. But what made their marriage controversial was Dileep divorcing his former wife Manju Warrier, who is also a renowned star of the Mollywood.
2. Fahadh Faasil and Nazriya Nazim
Another pair proving that their love is beyond the boundaries set by ages and age is just a couple of numbers. Yes, you got that right! The age gap between Fahadh and Nazriya is 11 yrs, yet they are best friends to each other and are partners for life. They have played the husband-wife role onscreen in " Bangalore Days" which was a hit in the genre.
3. Biju Menon and Samyuktha Varma
They are another power couple of the Malayalam industry who have shown the world the strength of their love. Their love blossomed in the period when this couple was assigned three consecutive movies back to back due to the popularity of their on- screen effect and their affair turned to a "happily ever after" kind of married life. The couple has a son Daksh, born in the year 2009.
4. ' Jayaram' and Parvathy Jayaram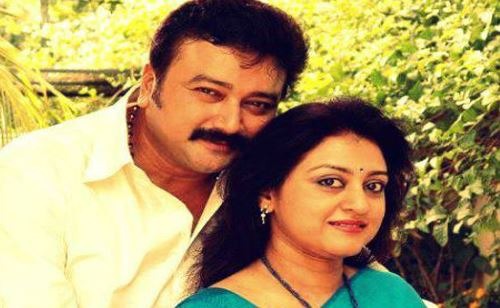 Wed-locked since last 25 years are Jayaram and Parvathy. Parvathy is the stage name of Ashwathy Kurup, but better known by the stage name she stands as Parvathy. It is said that Jayaram's mother was initially against their affair but, later when Jayaram and his colleagues convinced she agreed to their marriage of which it has been 25 years now. Jayaram and Parvathi had met on the sets of 'Abkaari' in the year 1988 and got married in 1992 after which Parvathi became more of a family person and dropped her career in acting.They have a son, Kalidasan and a daughter Malavika.
5. Manoj K. Jayan and ' Urvashi'
Manoj and Urvashi are two among the brilliant actors who found love in the industry. Their bond turned into marriage in the year 2000 and had a daughter born in the year1998. In the recent times, they developed some were indeed a talented pair.
6. Late ' Sukumaran' and Mallika Sukumaran
A power couple from the olden times for whose reel life turned into real love. To be honest, could not gather much info about their love story. Do not get disappointed because we do have some scope for assumption here, as we do know Mallika was earlier married to another presently leading comedian actor Jagathy Sreekumar and then got divorced from him to marry Late Sukumaran. It was said that the couple was a lovely pair and even when Sukumaran was diseased, Mallika nurtured him with utmost love and patience. Quite a love story there. Mallika and Sukumaran have two sons, Prithviraj and Indrajeeth who are both at present well- established actors in the Mollywood industry.
7. Indrajith Sukumaran and Poornima Indrajith
Just like his parents, Indrajith also found his lady love from the cinema industry, Poornima. They have been in wedlock since last 14 years. They have been very supportive of each other and do respect their spaces in their professions. Though Poornima took a little break from acting when she was on her family way. They are blessed with two daughters, Prarthana and Nakshatra.
8. Shalini Ajith Kumar and Ajith Kumar
This beautiful pair met each other on the sets of a movie 'Amarkalam'. During a stunt scene, Ajith accidentally cut Shalini's hand. He was hit so much by the guilt, that he was from then on very protective and caring towards Shalini throughout the course of the shoot. This made Shalini fall for him and love bloomed between the two. They have been in the wedlock since last 16 years and have been blessed with a daughter, Anoushka and a son Aadvik.
9. 'Mukesh' and ' Saritha'
They got married in the year 1988. Both Saritha and Mukesh are brilliant actors turned into politics. They have done some beautiful movies. But alas they had some grave difference of opinions and thus got separated in the year 2007. Their married life gifted them, two sons. Their separation doesn't stop us from putting them up on this list due to the duo-combo family they had.
10. Dileep and Manju Warrier
Dileep and Manju as a pair have acted only in four movies together, but those three movies stole the hearts of the viewers. Love had bloomed between them on sets which lead to their marriage in 1998. But they divorced later due to many reasons rumored. Though they aren't together now, this couple does have a place on our list since they were such hit and an all time favorite.