The radio jockey's role is not only to provide us with entertainment factors but also update us with information, but not in a serious manner. The main requirement of a RJ is that they should be funny, lovable, friendly, and of course chatterbox. Every accomplished RJ has his/her own way of communicating with the listeners. A sweet voice laced with confidence will surely take the jockeys to places. Now let's see the top 10 RJs of 98.3 FM Radio Mirchi Bengaluru Station.
Rj Rachna Bio coming soon... >> Read More...
...
Well, Bengalureans wakes up from their sleep to a great voice that lifts your spirits. What you want under the sun? Is it music? Or is it tidbits of film industry? Or current trends? You name it, and Rachna will present it for you in The Breakfast Show. Bengaluru is indeed a diverse city and Rachna's attitude also gels with this. She is oodles of fun, witty, and possesses a determined attitude. She has the knack of conversation and she doesn't make you bother the traffic at all…such is her attitude. You just won't be bored of this sweet RJ.
RJ Smitha Dixit Smitha Dixit is a popular radio jockey. She is als >> Read More...
...
R J Smitha's Hi Bengaluru has got the attention of the Bengaluru listeners to a great extent. Shown in the morning time, this show has Smitha discussing on the concerns that are hot topics of Namma Bengaluru. Smitha never fails to voice her opinion and at the same time gives the required dosage of fun to the listeners. She is regarded as a profound thinker in the jockeying gang.
...
RJ Lavanya RJ Lavanya is a former radio jockey who had worked >> Read More...
...
The efficient R j Lavanya hosts the show Munjaane Raaga in Radio Mirchi. This show which is obviously telecast in the morning, presents the Suprabatha and simplifies the vedic chants for us by giving its meaning.
RJ Siri Bio coming soon... >> Read More...
...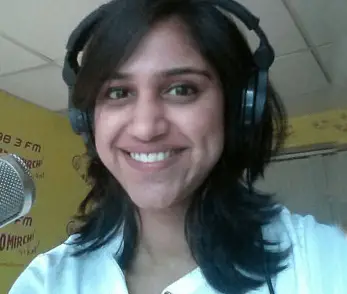 ...
Rewind Raaga, Just Maath Maathali, and Oota Layout Thindi Cross are the shows hosted by RJ Siri. Oota Layout Thindi Cross is Bengaluru's only show that reviews hotels at ease. She presents the show with lots of energy. And in Just Maath Maathalli The maximum numbers of the fans are attracted towa >> Read More... we get to know about our favorite stars, even some information that may be surprising to us.
RJ Sudesh RJ Sudesh is a professional actor in the South Ind >> Read More...
...
This talented RJ presents Aakaasha Ishte Yaakideyo and Mirchi Box Item, while in the former Sudesh plays romantic tunes in the night time, in the latter he along with RJ Guru Guru is a radio jockey working in Radio Mirchi 98. >> Read More... , plays fresh tunes for your listening ears. And yes there is a tinge of silliness attached to the presentation.
RJ Games Bond Games Bond was a virtual reality tv show that aire >> Read More...
Play with Games Bond and win! R J Games Bond hosts this show in the noon and it is worth listening due to his approach.
Rj Aishwarya Aishwarya is a Radio Jockey and an anchor. She is >> Read More...
Mirchi Gang of Girls and Nan Life Nan Style are the two shows of RJ Aishwarya. R J Aishwarya forms  a cute gang with RJ Shreya and RJ Rachna to add flavor to Mirchi Gang of Girls. And in Nan Life Nan Style this suave RJ talks about our lifestyle including fitness, food, dresses, vehicles etc.
'RJ Guru'
Commonly called as Love Guru, RJ Guru started off a host of shows like Dr. Love on 98.3 FM. After he came into notice, he made a mark for himself and was widely recognized by the listeners. In fact jockeying took a new turn through his presentation.
RJ Malavika Avinash Malavika Avinash is a South Indian film actress, n >> Read More...
Malavika Avinash is a very sweet personality and Lifeu Ishtene was presented by her. The show is all about inspiring tales of real life gems and expressed in their very own words. By this show the Bengalureans were supposed to reach the heights. Diffferent people,whether it is a commoner or a business tycoon vent out their experiences.
RJ Prackriti The source of entertainment is all around you. Wit >> Read More...
R J Prackriti was hosting Mirchi Gang of Girls and made the traffic less frightening through her good presentation.