We have already seen the most famous on-screen couples. There are a lot of real life couples who are famous in the industry. It is normal for two people who are in the same industry to marry. It happens in all the walks of life. Here is a list of the celebrity couple who have contributed a lot to the Sandalwood.
Dr.Rajkumar is also known as "Nata Sarvabhowma" and is very famous in the Sandalwood. His spouse, Parvathamma is no less. She is a leading producer in the industry. Rajkumar has acted in about two hundred and twenty films, and Parvathamma has produced over eighty films.
The tragic death of Shankar Nag, has not lessened Arundathi's acting. She has given her best in all the movies she has acted. Shankar Nag was famous for his "
Auto Raja
". He has given many blockbusters to the audiences.
Who doesn't know Vishnuvardhan? He is one of the most popular actors of the Kannada Industry. He has acted in about two hundred and twenty films. Bharathi was one of the most beautiful actresses of her time. She has done over hundred films. Both have contributed unforgettable movies to the industry.
Ambareesh is very well-known for his acting . He is mainly famous for his smoking style on-screen which made many youngsters go mad. He has acted in many films in which he has shared the screen with the great legends like Vishnuvardhan and many others . Sumalatha is a famous actress in Kannada and Telugu industries.
Lokesh was one of the most wanted actors of his time. He was a theater artist before this. Girija is even now wowing the audience with her mesmerizing performance. This great couple has a son,
Srujan Lokesh
, who is famous for his stand-up comedy shows and sense of humour.
6. 'Dr. Srinath' - Geetha Srinath
This couple is almost like the Rajkumar's couple. Srinath is famously known as "Pranayaraja Srinath". He is famous for his romantic films and hence the name Pranayaraja. His wife Mrs.Geetha Srinath is a producer. She has produced a lot of blockbusters.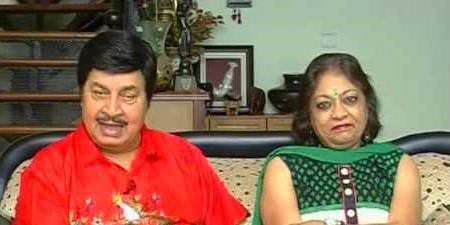 Rakshita is a famous actress in Sandalwood who is not very active nowadays. She married Prem, the famous director in the year 2007. Prem is bringing out many good movies in Sandalwood. He has the credit of bringing other language actresses to Sandalwood.
The unique star Upendra and his wife Priyanka, is a very famous couple in the Sandalwood.
Priyanka Upendra
is a Bengali, and she was crowned Miss Kolkata in the year 1996. Before marriage, she had acted in the movie "H2O" of Upendra's direction. Upendra tied the knot in the year 2003.
This couple tied the knot recently. Both are divorcees and have contributed considerably to the Industry. Being the third marriage for "
Savaari
" fame Raghu Mukherjee, it is the second marriage of the famous actress Anu Prabhakar.
Diganth and Aindrita Ray, the rumoured couple are the cutest in Sandalwood presently. Though Diganth tells that they are just friends, he also tells that his relationship status is an open secret. All the fans just hope that their bonding grows, and they tie a knot soon.