We have a feeling whether celebrity fathers will spend enough time with their children just like their spouse. These fathers will be shuttling between work and home that they have to maintain a balance between their personal and professional life. When the stars share a close rapport with their children and even surprise them with gifts now and then, it is something pleasing. And the best thing about father-children bonding is that the kids should be at ease with their dad. And nowadays we get to know that the star kids also comment on their father's works. Now let's some  of the Kannada actors and their loving kids.
" Ganesh Ganesh is an Indian actor and a producer who predo >> Read More... "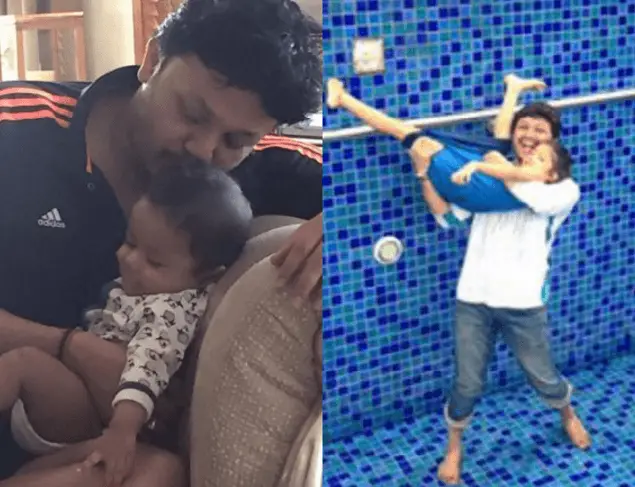 ...
Ganesh's family is indeed a lovely family and only last year his wife gifted him with a Mercedes car on his birthday. The actor is also known to spend enough time with his family. Fondly called as Golden Star by his fans Ganesh has one son and one daughter. While his son's name is Vihaan his daughter's name is Charithriya.
Upendra Rao Upendra Rao is an Indian actor, who was born on 18 >> Read More...
...
Well, it is something nice see our favorite stars posing with their children. They have entertained us with their sentiments in the silver screen and when we get to see their click with their children , it is something pleasing. And the multi-talented Upendra has one daughter named Aishwarya and a son named Aayush.
...
"Sudeep'
When we get to learn that the children of the stars are their priorities it is something heart-warming. Sudeep has a special place for his 12-year old daughter Saanvi.
...
Shiva Rajkumar Shiva Rajkumar is the populous Kannada actor, who >> Read More...
...
Shivanna is a doting father of two daughters Niveditha Rajkumar and Nirupama Rajkumar. His daughter Nirupama got married only last year. Shivaraj Kumar is one father who never fails to spend quality time with his daughters.
Darshan Thoogudeep
...
Darshan has a 8 year old son Vineesh. He had acted along with him in Mr. Airavata.
...
Ramesh Aravind Ramesh Aravind [born 1964] is an Indian writer, ac >> Read More...
The multi-talented actor of Sandalwood has one daughter and one son. While the daughter's name is Niharika the son's name is Arjun.
Ravichandran
Called as the 'Showman of Sandalwood' Ravichandran has two sons and one daughter. His daughter's name is Geethanjali and sons' names are Manoranjan Ravichandran and Vikram.Both the sons are associated with films.