We see our favourite stars doing various actions on the screen including dancing, fighting, and singing. But we have got to look at the efforts of those behind the screens also. Action choreography is one area which requires a lot of diligence and care. In fact, there are a set of people who come to watch the film mainly for the stunts. When the hero punches various fighters with his power then the scene gets the cheers of the audiences. And this is the reason stuntmen and action choreographers have become a great necessity for the films. 
Generally a stunt is a dangerous act, which is done in an action movie. So those who are associated with this type of stunt are focused in the article. It can be the villian who does the stunt, the hero, or any stunt man. Only the name differs. The impact that these stunts have is highlighted in this article. 
It is surely not an easy job to do dare-devil stunts and choreograph it. The filmmakers are always keen on giving the best of stunts but in this regard, the safety factor should also be considered. Some stunts are near death or even fatal. So the focus of this article is to recognize the efforts of stunt masters, stunt men, and also actors who do their own stunts, without whom we don't get to have a racy experience in the films.
Nanjundi Nagaraj commenced his career as a fighter but later became famous when he took up the dupe artist role for established actors like Dr. Rajkumar, Vishnuvardhan and Rajinikanth. He has done stunts for several heroes. This dupe artist cum action choreographer was in the good books of Vishnuvardhan and Dr. Rajkumar for his stunts done in the flicks. He got the name Nanjundi prefixed since the flick Nanjundi Kalyana earned him great accolades. He has a collection of 350 movies as a action choreographer/dupe artist. Not only in Kannada, he is also known in Tamil and Telugu flicks. And not to forget his Hollywood and Bollywood connection too.
Jolly Bastian initiated his career in stunt choreography at the early age of 17 in an accidental manner. Premaloka, directed by Ravichandran was his first film. Till 1994, he did some small stunts and was working as a stuntman for 8 years. Jolly Bastian has a number of over 580 flicks as stunt master or action director to his credit. He was one of the highest paid stunt choreographer and action master in Sandalwood. He is well-known in the industry for vehicle stunts. He has had his share of risky accidents in his career. A bomb blast scene in the flick Bhale Chatura took toll of his collar bone and a couple of ribs. A bike fall in the flick Putnanja had a bad impact on his knees and face.
...
Ravi Varma He was born in East Godavari district, Andhra Prad >> Read More... is one of the most sought after stunt masters of Sandalwood. He has done around 200 flicks as action director in south Indian languages. He also shifted his attention to Bollywood. Ravi Varma's brother had to have 15 stitches on his head. There is also another dare devil stunt wherein the stunt master jumped into water with face all over his body. In fact, he didn't know swimming.
...
Different Danny Bio coming soon... >> Read More... has done over 450 works in a span of 14 years. He has choreographed many super stars including the matinee idol Dr. Rajkumar. His latest works include Dodmane Huduga Click to look into! >> Read More... and Kalpana 2.
Silva has worked in over 125 flicks as stunt master. He is a stunt actor, stunt coordinator and also involved himself in action direction, in all the south Indian languages.
Peter Hein A Chennai boy born in Karaikal to the immigrants o >> Read More... is a known face in southern film industry and has choreographed some stunning stunt scenes for Ranna starring Sudeep. He had to sustain 18 fractures while performing a stunt.Then he had to work in a wheelchair.
...
M B Shetty has acted in negative roles and created stunts for several Kannada and Hindi films in the 1970s. He was a great action director and did over 700 flicks.
...
Thriller Manju Thriller Manju is a person who has left no stone u >> Read More... is a multifaceted artist who tried his luck in acting, screenwriting, stunt coordinating, directing, martial artist skills etc. He concentrated mainly on Kannada cinema.
Stunts in cinema-How Far it is Safe?
...
There have been many serious accidents too with regard to doing stunts for films. During the shoot up of Lockup Death, the two stuntmen were seriously injured. Venkatesh, who is an award-winner stuntman had to do a stunt on the bike for the film Yuddha. But the runway was not good thereby resulting him in getting skid and eventually fractured. He was suggested to take bed rest for a period of six months.
Accidents occur but that has not stopped the stuntmen from performing stunts. Jolly Bastian had broken two of his ribs and also had an injured collar bone. So isn't it clear that the stunt guys have the most daredevil job?
...
And for the Kannada actors we have to recognize the efforts of Shivarajkumar, Ravichandran, and Darshan who have done their own stunts.
The yesterday's tragedy of Kannada actors Anil Kumar Anil Kumar was widely recognized in the India Film >> Read More... and Raghava Uday Raghava Uday was a film actor who worked particula >> Read More... has surely left us in shock, thereby making us think about the safety measures. The fight was filmed with the three actors including Duniya Vijay Vijay aka Duniya Vijay is an actor of Kannada cine >> Read More... , jumping off from a helicopter from a height of 60 ft, atleast 200 feet from the bank.The scene required the two budding artists to fight in the helicopter. Vijay had to make a jump by holding the other two actors by their neck. It is learnt that just minutes before they got into the helicopter the two stuntmen expressed that they are not adept at swimming. The stunt for the flick, which was filmed at Tippagondanahalli reservoir cost the lives of two dedicated people which is something very unfortunate. Duniya Vijay was rescued by a local who plunged to his rescue in a coracle. He is learnt to have wearing a life jacket.This incident has surely made us to question about the care that the filmmakers take for the safety of their stunt artists.
Anil Kumar is a dedicated stunt man and has acted in around 25 flicks. Raghava Udhay is an upcoming star; he is recognized for his villainous roles in Kannada and Telugu movie. Udhay was active in social networking and kept his fans updated on his endeavours.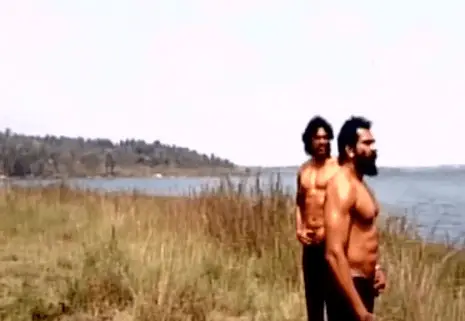 So it's high time that we think for the brave acts of the unsung heroes called stuntmen. In fact, the lives of stuntmen have lot more attached to them than we can think of. So when they want their moments of recognition for a well-performed brave act let's give it.