Shah Rukh Khan Shah Rukh Khan or also known as SRK is a prominent >> Read More... and Gauri Khan Born on Ocotber 8 1970, Gauri Khan (originally kno >> Read More... founded the Indian visual effects production, distribution, and distribution business Red Chillies Click to look into! >> Read More... Entertainment in 2002. Dreamz Unlimited, which is no longer in operation, was replaced. Development of unique concepts, film production, marketing, distribution, licensing, merchandising, and syndication of the studio's works in India and other nations are among its activities. They also run a studio for visual effects. In recent years, Red Chillies has purchased the rights to several Hindi films. The VFX crew has worked on various high-profile films, including Krrish 3, " Chak De! India Click to look into! >> Read More... ," Dostana, and De Dana Dan Click to look into! >> Read More... . The top ten movies created by Red Chillies Entertainment are listed below.
1. Darlings
In her directorial debut, Jasmeet K. Reen co-wrote and directed the dark comedy Darlings, produced by Gauri Khan, Alia Bhatt Alia Bhatt is a trendsetting actress from Mumbai, >> Read More... (in her first production), and Gaurav Verma Gaurav Verma is an Indian-Producer. He mainly work >> Read More... under the umbrellas of Red Chillies Entertainment and Eternal Sunshine Productions. Although the movie was initially intended for a theatrical release, Netflix India purchased the distribution rights in February 2022 for a price of 75–80 crores (US$9.6–10.3 million).
...
2. Phir Bhi Dil Hai Hindustani
Dreamz Unlimited has launched the satirical movie Phir Bhi Dil Hai Hindustani (now Red Chillies Entertainment). In comparison to its US$1.6 million budget, Phir Bhi Dil Hai Hindustani made 18.20 crore ($2.3 million) in India and 1.67 million (7.26 crore) in other countries for a global total of 25.46 crores ($3.2 million). In its first week, it made $12.50 crore (US$1.6 million), more than the $7.45 crore (US$930,000) opening weekend total. It was the 13th-highest-grossing Bollywood movie globally in 2000.
Priyadarshan's comedy-drama film Billu Barber is produced by Red Chillies Entertainment and distributed by Eros International. Manisha Korde and Mushtaq Sheikh adapted the screenplay from Sreenivasan's original work. At the 2009 Hawaii International Film Festival, the movie was shown.
...
4. Class of '83
Class of '83 was made for Netflix by Red Chillies Entertainment and Atul Sabharwal Born in Agra, India on January 22nd, 1977, Atul Sa >> Read More... . The head of the police academy chooses to instruct five lethal assassin policemen to punish the corrupt bureaucracy and its criminal allies in return, which leads to the transfer of a brave police officer to a punishment position. But like all good schemes, it only lasts so long before the fire he started threatens to consume his home.
...
5. Kaal
Soham Shah Soham Shah is an Indian actor and director who is >> Read More... has written and directed the supernatural horror movie Kaal. When scenes involving tigers were being shot in Bangkok, tigers would roam freely on the sets. Vivek Oberoi Vivek Anand Oberoi's birth was on 3rd Septembe >> Read More... initially intended to play the role of Kaali but eventually chose another. The movie was filmed in Jim Corbett National Park.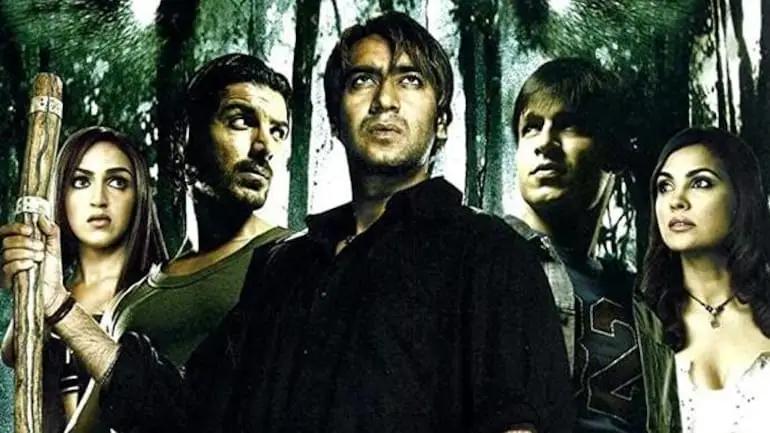 ...
6. Ittefa
Ittefaq is a neo-noir mystery thriller written, directed, and produced by Abhay Chopra Abhay Chopra is an Indian movie director and actor >> Read More... through Red Chillies Entertainment, in cooperation with Renu Ravi Chopra Renu Ravi Chopra is a well-known and renowned Indi >> Read More... through B.R. Studios, Hiroo Yash Johar and Karan Johar Karan Johar is one among the top ten celebrities i >> Read More... through Dharma Productions, and Shreyas Jain At the nucleus of a movie lies its tale, which mak >> Read More... , Nikhil Mehrotra Bio coming soon... >> Read More... , and Gauri Khan under Red Chillies Entertainment. The film was screened on 1,100 screens throughout India and had a middling $40 million domestic opening weekend.
...
7. Badla
Sujoy Ghosh Sujoy Ghosh born in Kolkata had his schooling at S >> Read More... directed the thriller mystery movie Badla. It is the remake of the Spanish movie, The Invisible Guest and is produced by Red Chillies Entertainment and Azure Entertainment. At the 65th Filmfare Awards, Badla received four nominations, including Best Supporting Actress ( Amrita Singh Amrita Singh is an Indian film and TV actress. She >> Read More... ).
...
8. Bob Biswas
The movie is a prequel to the 2012 thriller Kahaani, starring Abhishek Bachchan Abhishek Bachchan, or Abhishek Srivastava, is a ve >> Read More... as the title character. It is additionally produced by Gauri Khan and Gaurav Verma, in addition to Sujoy Ghosh's Bound Script Production and Shah Rukh Khan's Red Chillies Entertainment.
...
9. Love Hostel
In the romantic suspense movie Love Hostel, Bobby Deol Bobby Deol was a treat to watch when he walks to t >> Read More... , Vikrant Massey Vikrant Massey, who is a TV actor, was born in Nag >> Read More... , and Sanya Malhotra Sanya Malhotra is an actress and choreographer and >> Read More... play the lead roles. The producers are Red Chillies Entertainment and Drishyam Films, while the director is Shanker Raman Shanker Raman is a renowned Indian cinematographer >> Read More... . Manoj Yadav Manoj Yadav is one of the most talented lyricists >> Read More... and Siddhant Kaushal Bio coming soon... >> Read More... composed the music, while Jeet Gannguli Jeet Gannguli is a famous singer and music compose >> Read More... , Clinton Cerejo Clinton Cerejo is an Indian singer and music produ >> Read More... , and Bianca Gomes Bianca Gomes is a playback singer who began to sin >> Read More... wrote the lyrics.
10. Kaamyaab
Red Chillies Entertainment and Drishyam Films produced the drama film Kaamyaab, directed and written by Hardik Mehta Hardik Mehta is a screenwriter and director in the >> Read More... . It tells the tale of a retired Hindi film "side-actor" who aspires to make a remarkable comeback to reach the record-breaking milestone of appearing in 500 films.