When we talk about male playback singing in the 1990s, just one artist comes to mind: the brilliant Kumar Sanu Having chaired over 17,000 songs in the last 27 ye >> Read More... . His collaboration with Nadeem-Shravan proved a potent combination, as they produced some of the decade's most well-known and enduring tunes. In 2022, it will still be common to see Hindi music enthusiasts listening to legendary Kumar Sanu songs from films like "Phir Teri Kahaani Yaad Aayi," " Saajan Click to look into! >> Read More... ," "And Aashiqui," and "Dil Hai Ke Maanta Nahin."His beautiful voice performed magic. The music videos for "Mera Dil Bhi Kitna," "Chura Ke Dil Mera," "Jeeta Tha Jiske Liya," "Meri Mehbooba," and other music videos are still very popular. Whether it was a song about love or heartbreak, his voice justified each. Additionally, he received the prestigious Padma Shri award in 2009, and for recording 28 pieces in a single day, his name is in the Guinness Book of World Records.Below is a list of the top 10 most popular songs by Kumar Sanu:
1. Woh Ladki Bahut Yaad Aati Hai
The soundtrack album for the film Qayamat: The City Under Threat had the fifth-highest sales. Sameer wrote the song's lyrics, and Nadeem Shravan composed the music. Ajay Devgn, Sunil Shetty Bio coming soon... >> Read More... , Sanjay Kapoor Sanjay Kapoor is a Bollywood actor. He had acted a >> Read More... , Riya Sen Riya Sen is a well know Indian Model and a bette >> Read More... , and other A-list actors appeared in the Harry Baweja-directed picture, released in 2003. The record sales totaled close to 21,00,000, according to the Indian industry website Box Office India.
...
2. Baazigar O Baazigar
The song was among Kumar Sanu and Alka Yagnik Alka Yagnik is a very popular playback singer of t >> Read More... 's greatest. Anu Malik Anu Malik is considered as one of the most famous >> Read More... won the Filmfare Award for Best Music Director for this song's composition. The soundtrack album was made available in 2003 as a companion piece to the Abbas-Mustan-directed film Baazigar. Both Shah Rukh Khan and Kajol played the main characters. The soundtrack was released by Venus Music. The song was 7 minutes, and 31 seconds long.
3. Mera Dil Bhi Kitna Pagal Hai
The Hindi film Saajan features the song Mera Dil Kitna Pagal Hai. Madhuri Dixit Madhuri Dixit is not just known as the also a smil >> Read More... and Sanjay Dutt July 29, 1959, was the day when the two legends of >> Read More... play the leading roles. Sameer wrote the song's lyrics, and Nadeem and Ravan were responsible for its composition. In 1991, Bollywood saw the debut of a drama and romance-themed film. With its lovely narrative and smash-hit songs performed by two of the greatest vocalists of all time, Kumar Sanu and Alka Yagnik, it was a box office success.
...
4. Chura Ke Dil Mera
This incredible song by Anu Malik is one of the few that successfully blends melody with pop in the right amounts. This super-hit song from " Main Khiladi Tu Anari Click to look into! >> Read More... " was sung by Kumar Sanu and Alka Yagnik and featured superb casting for and Shilpa Shetty A model turned actress, producer, entrepreneur and >> Read More... .
...
5. Raah Mein Unse Mulaqat Ho Gayi
The Hindi movie Vijaypath, in which Ajay Devgn and Tabu played essential parts, features this beautiful song by Kumar Sanu and Alka Yagnik. Anu Malik also provided the music for this single, which peaked at the top of the chartbusters in 1994. Even today, everyone still enjoys listening to this lovely song continuously. The top albums of 1994 were named after songs such as Raah Mein Unse Mulaqat Ho Gayi and others.
...
6. Raja Ko Rani Se
It was an ear-pleasing, enduringly romantic song from the 1995 film Akele Hum Akele Tum, in which Manisha Koirala Manisha Koirala, is a Bollywood actress of Nepales >> Read More... and Aamir Khan Aamir Khan or Mohammed Aamir Hussain Khan is Bolly >> Read More... starred. The music is by Anu Malik, and Majrooh Sultanpuri Majrooh Sultanpuri was born in Sultanpur on Octobe >> Read More... wrote the song. Because of the song, he received a nomination for the best music director for a motion picture. The theme from The Godfather is thought to have inspired this incredibly popular song.
...
7. Pheli Pheli Baar Mohabbat Ki Hai
This song, which comes from the 1999 movie Sirf Tum It is an Indian Hindi language Romance Drama telev >> Read More... , was a smash hit. Sanjay Kapoor, , Salman Khan Salman Khan is a very famous Indian actor and a pr >> Read More... , and others made up the film's star cast. This soundtrack album became the sixth best-selling music album in Bollywood in 1999. Sameer wrote the song's lyrics, and Nadeem-Shravan created the music.
...
One of the greatest musical films to come out of Indian cinema is the unquestionable "Aashiqui." This most popular music album's male playback section is by Kumar Sanu alone. The songs in the movie are all excellent pieces of music. Even though Sanu won his first Filmfare for the song "Ab Tere Bin," the audience's favorite song from this movie is "Dheere Dheere Se Meri." You can't help but sing along to the enchanting tune every time you hear the song.
...
9. Hum Pyar Hai Tumhare
The 2002 release of the Hindi film Haan Maine Bhi Pyar Kiya featured the song Hum Pyar Hai Tumhare. Abhishek Bachchan Abhishek Bachchan, or Abhishek Srivastava, is a ve >> Read More... , Karishma Kapoor, and Akshay Kumar all appeared in it as well-known actors. The film's music was composed by the duo Nadeem-Shravan, with lyrics written by Sameer. The theme for the movie became the 11th best-selling album of 2002 because of the smooth vocals of the talented singers Kumar Sanu and Alka Yagnik.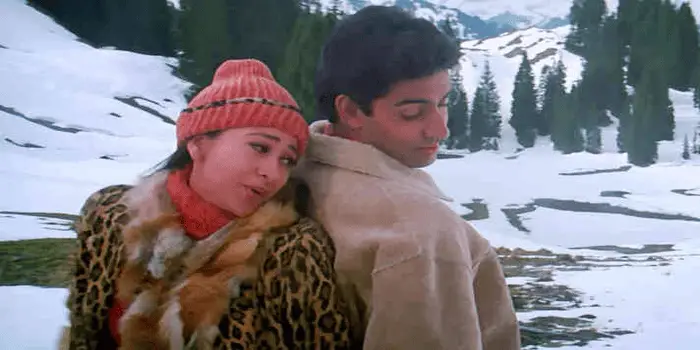 10. Tumhe Apna Banane Ki
" Sadak Story soon >> Read More... " is yet another accomplishment for Kumar Sanu and Nadeem Shravan, who were the pack leaders in their glory days. The words by Sameer for this love ballad are excellent, and Kumar Sanu's incredible voice gives the song enduring vitality.