Although the legend is no longer with us, his timeless songs and voice will live on for many years. Kishore Kumar Kishore Kumar is an Indian playback singer, who ha >> Read More... is one of India's greatest and most well-known singers. He is one of the musicians who paved the way for many aspiring musicians and encouraged many to make singing their career.Kishore Kumar will always be remembered as the love interest whose voice recently made the seemingly impossible attainable. To give the words their essential vitality and justice, he always took the time to completely understand them. He once had to consume Banarasi Paan to comprehend and sing the well-known song Khaike Paan Banaras Wala.The top ten greatest timeless hit songs of Kishore Kumar are listed here:
This song is performed by Monty Oberoi ( Rishi Kapoor Rishi Kapoor is an actor born in the prominent Kap >> Read More... ) in a crowded auditorium in the movie Karz. This song is recognized as a chart-topper, and Kishore Kumar's enthusiasm was contagious. Kishore Kumar had to hit some high notes in this song, but he did it with the utmost confidence. In 2020, this song was tweeted in honor of the late actor Rishi Kapoor. To this song, Rishi and his son, Ranbir Kapoor Ranbir Kapoor is a noted Indian film actor. He was >> Read More... , danced. Applause echoed around the stadium as Kishore Kumar's voice resounded.
...
2. Khaike Paan Banaras Wala (1978)
The film's fortunes changed once "Khaike Paan Banaras Wala" was included. The music video shows Vijay () and Roma dancing (Zeenat Aman). Manoj Kumar was shown the initial cut of the movie by director Chandra Barot. This song was introduced to the film at the experienced actor's suggestion so the audience could take a break. Originally, this song was scheduled to be featured in another movie in which Dev Anand Dev Anand would be nostalgically remembered by fil >> Read More... was going to have a significant role. Dev Saab, however, ordered its removal from the album. As a result, "Khaike Paan" helped Don achieve tremendous success. The song was remade for the Don remake in 2006, which took place a long time later. This rendition was performed and shot by Udit Narayan One of the famous playback singers of Indian Film >> Read More... with Vijay ( Shah Rukh Khan Shah Rukh Khan or also known as SRK is a prominent >> Read More... ) and Roma ( Priyanka Chopra Born on 18 July 1982, Priyanka Chopra is an establ >> Read More... ). Kishore Kumar won the 1979 Filmfare Award for "Best Male Playback Singer," even though it might be claimed that his rendition has a greater appeal to the general public.
3. Rote Rote Hasna Seekho (1983)
Kishore Kumar sang various classic songs in addition to cheerful and romantic tunes. "Rote Rote Hasna Seekho" from the movie Andhaa Kanoon was one of them. In a surprise appearance, Amitabh Bachchan's character, Jan Nissar Akhtar Khan, sings this song to his daughter. The message of optimism and hope in this song made it quite famous. Early in the 1980s, there was a brief argument between Kishore Kumar and Amitabh Bachchan. The singer turned down Amitabh Bachchan's request for playback in several films during this era as a result. This mix always results in timeless classics, as the song reassuringly shows.
...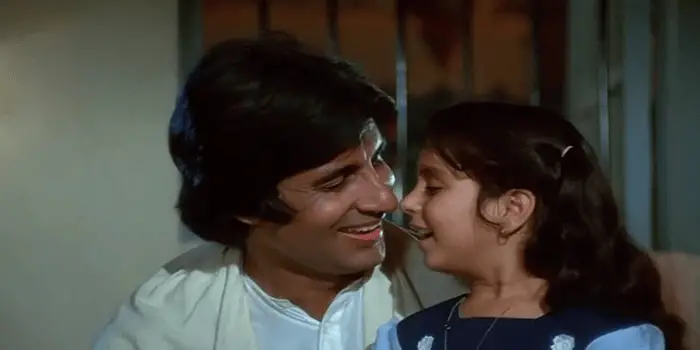 4. Yeh Jo Mohabbat Hai (1971)
Following a drunken Rajesh Khanna Born as Jatin Khanna on 29th December 1942, the ch >> Read More... is the seductive song "Yeh Jo Mohabbat Hai" (Kamal Sinha). He sings about the pain that comes with love and the hurt it can cause. After the chorus, Kishore Kumar does a fantastic job of stretching his vocal range. Rajesh Khanna also demonstrates his ability to portray himself as a superstar by using entrancing facial expressions. Rajesh Khanna's official biography, The Untold Story of India's First Superstar, was written by Yasser Usman Bio coming soon... >> Read More... in 2014. Yeh Jo Mohabbat Hai is referred to as a "signature Rajesh Khanna number" by the author. Yeh Shaam Mastani Yeh Shaam Mastani is a musical reality TV show. It >> Read More... and Pyaar Deewana Hota Hai are two other well-known songs from this film. To Rajesh Khanna, Kishore Kumar always seemed to give his all. In 1985, Rajesh Khanna transitioned from actor to producer for the movie .
...
5. O Saathi Re (1978)
The song "O Saathi Re" by Kishore Kumar helped Muqaddar Ka Sikandar Story soon >> Read More... become an even bigger hit. In front of a crowded room, Sikandar (Amitabh Bachchan) sings this song while Kaamna (Rakhee) and Vishal Anand Vishal Anand is the screen name of Bhisham Kohli a >> Read More... ( Vinod Khanna Vinod Khanna, the name of the tinsel town, is alwa >> Read More... ) watch. To fit Amitabh Bachchan's baritone voice, the singer deepens his tone. The song has remained a popular memory for 25 years after the movie's debut. In 1979, Kishore Kumar received a Filmfare Award nomination for this song.
...
Kishore Kumar, disguised as a magician, is surrounded by "Eena Meena Deeka." The song's chorus is composed of silly but entertaining lyrics. The quick tempo served as an early demonstration of his prowess with rock songs. Audiences pleaded with him to sing this song during a concert. The audience erupted in jubilation as he rolled around on the floor during the last chorus. The actress Vyjayanthimala (Nirmala) is the focus of the female version of this song, which is performed by Asha Bhosle Asha is considered to be the second greatest femal >> Read More... . Although Kishore Ji's performance was the best, Asha Bhosle's feminine version was hugely popular.
...
7. Gaata Rahe Mera Dil (1965)
A duet by Lata Mangeshkar Lata Mangeshkar, the veteran playback singer, had >> Read More... and Kishore Kumar is titled "Gaata Rahe Mera Dil." Dev Anand as Raju and Waheeda Rehman She took birth in a Tamil Urdu speaking Muslim fam >> Read More... as Rosie Marco are the main characters in the film. The song makes excellent use of both voices working together. The end product is a timeless song that critics contend is among S. D. Burman's best compositions. It is thought that Kishore Kumar was preoccupied with taking care of his unwell wife, Madhubala, throughout the filming of Guide. But out of respect for Dev Anand and the song's composer, S. D. Burman, he decided to perform this song. It turned into a classic and contributed to the movie's popularity. On the final page of his 2007 book, Romancing with Life, Dev Anand uses the song's title to describe his outlook on life.
...
8. Chukar Mere Mann Ko (1981)
Amitabh Bachchan and Neetu Singh TV actress Neetu Singh is a popular face on Indian >> Read More... play critical roles in the film Yaarana (1981). Kishore Kumar performed all of Amitabh Bachchan's songs in the movie. However, "Chukar Mere Mann Ko" has an intriguing aspect. It differs in some ways from the other pieces, such as "Saara Zamana" and "Tere Jaisa Yaar Kahan," in some ways. This distinction also holds for Kishore Kumar's singing for Amitabh Bachchan in other movies, where the composer does not deepen his voice. The piece has Komal (Neetu Singh) and Kishan (Amitabh Bachchan) softly singing and dancing in a hall. The song demonstrates Kishore Kumar's skill at balancing vocal modulation for the performer and the mood.
...
9. Humein Tumse (1981)
In "Humein Tumse," Rajesh Khanna as Mohan Kapoor Mohan Kapoor is a famous Indian Bollywood actor wh >> Read More... , and Hema Malini Hema Malini is perhaps the only dream girl of the >> Read More... as Chandramukhi, are featured in "Humein Tumse." As Rajesh Khanna sings for Hema Malini, love and anguish resound in Kishore Kumar's voice. At a concert, Kishore Kumar referred to Rajesh Khanna as "energetic and fun," right before performing "Mere Sapno Ki Rani." In Kudrat, a female interpretation by Parveen Sultana Parveen Sultana is a leading Indian classical voca >> Read More... is also on display. Kishore Khanna received a Filmfare Award nomination in 1982 for his performance.
10. Guru Guru (1988)
The romance between Mithun Chakraborty When we talk about the few legends in the Indian f >> Read More... (Vishwa Pratap) and Sridevi (Lata) is shown in the movie "Guru Guru." Asha Bhosle and Kishore Kumar are the singers of the duet. Despite being 58 at the time of the recording, Kishore Kumar's voice seemed much younger to the audience. He announced that he would retire and return to Khandwa, India, in the middle of the 1980s. The singer had grown dissatisfied with the standard of the songs being created. However, he persisted in working right up until his death. No one would have anticipated that Kishore Kumar's final song would be this one after hearing the zest and intensity in his voice.