Guru Randhawa Guru Randhawa is a singer. He mainly sings in the >> Read More... , a singer, and composer was born on August 30, 1991, in Noorpur, Gurdaspur, Punjab, India. The Punjabi singer gained notoriety in 2016 when the T-series music company published his song "Patola." The song marked rapper Bohemia and Guru's first significant joint effort. Later, Guru appeared alongside another Punjabi musician, Millind Gaba, in "Yaar Mod Do." With the song "Banja Tu Meri Rani" from "Tumhari Sullu," Guru Randhawa made his Bollywood music debut in 2017. Two years later, he joined the well-known musician Pitbull in a song. The two worked together on the theme "Slowly Slowly." He also made his Tollywood debut in 2019. In "Saaho," he performed for Prabhas. Guru and British musician Jay Sean collaborated on their second song, "Surma Surma," in 2020. His well-known song "Lahore" underwent modifications for Remo D'Souza's Bollywood film "Street Dancer 3D."The following is a list of Guru Randhawa's top 10 hit songs:
1. High Rated Gabru
High Rated Gabru, which can be seen in the Bollywood movie Nawabzaade, is also on the list of Guru Randhawa's top Punjabi songs. It is a Bollywood romantic film with Guru Randhawa singing the theme song and stars Varun Dhawan Varun Dhawan, a new comer entered Bollywood with h >> Read More... , Shraddha Kapoor Shraddha Kapoor, born on March 3rd, 1989, is a you >> Read More... , Raghav Juyal Raghav Juyal, a well known name in Indian TV indus >> Read More... , Punit J Pathak, and Dharmesh Yelande Dharmesh Yelande was born on 31 October 1983 in Ba >> Read More... in the pivotal roles. You may enjoy the "High Rated Gabru" video on the official T-Series YouTube channel, which has received 1.1 billion views.
...
2. Lahore
"Lahore," one of Guru Randhawa's best-known songs, was also featured in the Bollywood movie "Street Dancer 3D." On December 13, 2017, T-Series posted the song to its YouTube channel, where it has received 1 billion views. Guru Randhawa, the song's composer, lyricist, and singer, also serves as the song's music director.
Ishq Tera, a current hit love song by Guru Randhawa, has captured the attention of both the public and the music business. The song, which was released on September 4, 2019, is 3:32 long and was produced by T-Series. In the music video for this song, Guru Randhawa and Nushrat Bharucha Who will forget the dictator and bossy girlfriend >> Read More... portray the main characters. Guru Randhawa is the song's vocalist, composer, and author. This lovely song is ideal for conveying unsaid sentiments to someone you love. Ishq Tera has 404 million views on YouTube.
...
4. Patola
One of the newest Punjabi songs is Patola, from the 2018 film Blackmail. The T-Series label posted this song to YouTube, where it has received 450 million views. Irrfan Khan Irrfan Khan is a noted Bollywood actor who started >> Read More... and Kirti Kulhari She is an India film star Born May 30, 1985 in Mum >> Read More... played the main roles in the song, which was performed by well-known vocalist Guru Randhawa. The song's lyrics were written by Guru, and Bohemia provided the rhymes.
...
5. Raat Kamaal Hai
The official music video for Guru Randhawa's brand-new Punjabi song Raat Kamaal Hai is accessible on YouTube. Within two months of its premiere, this song, uploaded on YouTube by T-Series on April 25, 2018, had more than 93,426,461 views, bringing its total to 213 million. Rajat Nagpal Rajat Nagpal is an Indian composer, singer, produc >> Read More... produced the music, and Eric Pillai Eric is an Indian Sound Engineer, Mixing Engineer, >> Read More... handled the mixing and mastering. In this song, Guru Randhawa and Khushali Kumar Khushali Kumar is the daughter of veteran Bollywoo >> Read More... played key roles.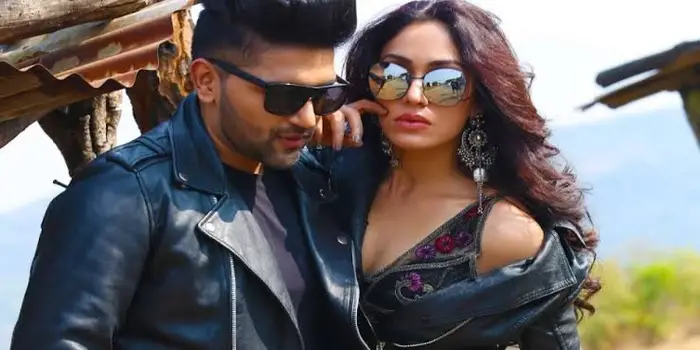 ...
6. Suit Suit Karda
Suit Suit Karda is a well-known song by Guru Randhawa that was included in the Bollywood film " Hindi Medium Click to look into! >> Read More... ," starring Irrfan Khan and Saba Qamar Saba Qamar is a Pakistani Beauty. She is a model. >> Read More... . This song, which Gulshan Kumar Born on 5th May 1956 to a Punjabi family, Gulshan >> Read More... of T-Series uploaded on April 13, 2017, has received more than 285 million views. Arjun and Guru Randhawa perform the song.
...
7. Aaja Ni Aaja
Gippy Grewal Gippy Grewal is an actor and singer in the Indian >> Read More... and Guru Randhawa's Aaja Ni Aaja song by Humble Music. The music for "Aaja Ni Aaja" was produced by Kuwar Virk Kuwar Virk is an Indian music director, singer, ra >> Read More... . On YouTube, Aaja Ni Aaja videos have received 47 million views.
...
8. Enni Soni
Enni Soni is a brand-new Bollywood song from the 2019 film Saaho. This song was written and produced by Vamsi-Pramod and features Prabhas, Shraddha Kapoor, and Jackie Shroff Intro: Jackie Shroff is a well known Bollywood act >> Read More... . Guru Randhawa is the singer of this song, which has received 197 million YouTube views.
...
9. Main Deewana Tera
Main Deewana Tera is a brand-new Hindi song from the Bollywood film "Arjun Patiala. "This song features Kirti Sanon and well-known Punjabi singer Diljit Dosanjh Diljit Dosanjh, born on 6 January 1984, in Jalandh >> Read More... . T-Series posted this song to YouTube, which is among the trending videos. Guru Randhawa, who also wrote the lyrics for the song, performs the music in the video, which has 37 million views on YouTube.
10. Ban Ja Rani
One of Guru Randhawa's best Punjabi songs, Ban Ja Rani, is featured in the 2017 Bollywood film "Tumhari Sulu" as well. The song has been viewed more than 195 million times since T-Series uploaded it to YouTube on October 20, 2017. The main actors in this song were Manav Kaul Manav Kaul is a Kashmir born Playwright, Award-win >> Read More... and Vidya Balan Vidya Balan is an award winning Bollywood actress >> Read More... .