1. Sunil Grover Sunil Grover is a stand-up comedian and a talented >> Read More...
"Sidhu Ji audience, audience guests, guests Gutthi" there's rarely any avid TV watcher who hasn't seen her, and even rare are those who don't like her. Who is she? She is Sunil Grover's creative genius. He first tried cross-dressing with ' Kapil Sharma Kapil Sharma was born in a small town of Amritsa >> Read More... 's " Comedy Nights With Kapil Comedy Nights with Kapil or CNWK for short, is a c >> Read More... ". The show then aired on a different channel and Grover turned his cross character to Rinku Bhabhi, he still loved as much for that.
...
2. Gaurav Gera Gaurav Gera is a very famous Bollywood actor in fi >> Read More...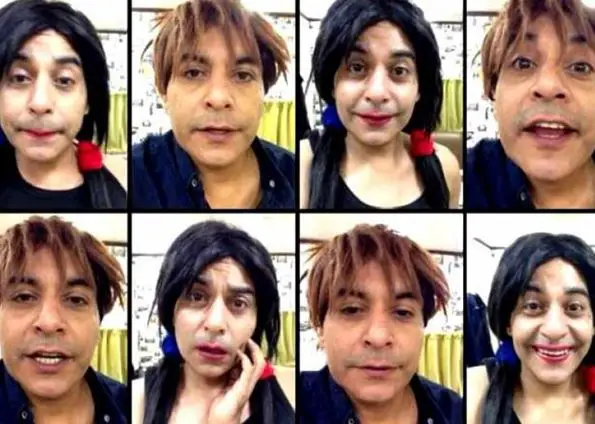 Gaurav started his cross-dressing stint with a serial but took it to the web after the serial went off the air. His character Chutki was well received and he decided not to deprive his audience of his performance and started his web series. The shopkeeper jokes tickled our funny bone and every one fell in love with him.
...
3. Riteish Deshmukh Riteish Deshmukh is the son of a politician, late >> Read More...
...
Riteish has played a female character in Apna Sapna Money Money. He portrayed the role of a desperate neighbour trying to woo her old landlord. This movie isn't however, the only time he played a woman. He also dressed up as a woman for ' Sajid Khan Sajid Khan is a Bollywood director, producer and e >> Read More... 's ' Humshakals Click to look into! >> Read More... '.
4.
...
Who can forget the iconic performance of Mr. Bachchan in the song Mere Angne Mein Mere Angne Mein is an Indian comedy-drama TV serie >> Read More... from the movie ' Laawaris Click to look into! >> Read More... '? Amitabh changed a lot of times for one song. His expressions were on point, and the song was a superhit. Even today, the song has made its way into various dance halls at weddings!
5. Salman Khan Salman Khan is a very famous Indian actor and a pr >> Read More...
...
This one you could easily have missed. Not because the performance was any less good, but because of two other reasons; one because the movie in which Salman dressed up as a woman, 'Jaan-E-Mann' failed miserably at the Box Office Box Office is a Tamil entertainment TV serial whic >> Read More... , and second because the part itself was very short lived in the story. Nonetheless, it is a performance worth mentioning.
...
6. Aamir Khan Aamir Khan or Mohammed Aamir Hussain Khan is Bolly >> Read More...
...
Aamir didn't dress up as a woman for movies as much as he did for the small screen. In several of his commercials, he dressed up as an aunty, who was to advise us about our cable TV preferences, about our love for a soft drink and just to make us laugh. Seriously, there's nothing that this man can't do.
7. ' Govinda Govinda is a popular Bollywood star who is known f >> Read More... '
The funny man was not someone to shy away from over-the-top humour. So he took up the role of an OTT aunty trying to seduce an uncle in the mega starrer, Aunty No.1. His ingenious comic timing and a penchant for physical comedy made the role shine in an otherwise dull script.
8. Sharman Joshi Sharman Joshi was born in Mumbai, Maharashtra to a >> Read More...
Although this role was very small, it still managed to register with the audiences. In Golmaal, when trying to dupe a Don, Sharman Joshi provocatively dresses up as a woman and tries to con him out of selling her a car. She does succeed, but with the charm that will leave you in splits.
9. Kamal Haasan Kamal Haasan is the most versatile actor that Indi >> Read More...
Your childhood was incomplete if Kamal Haasan and his "Chachi 420" Avatar was not a part of it. Everything about Haasan's character was so earnest and so believable that you couldn't help but fall for the helpless father who dresses up as a maid to meet his daughter who has been taken away from him.
10. Ashutosh Rana A versatile actor, Ashutosh has worked in Indian f >> Read More...
Rana is known for doing bold characters. His character in the Indian version of the Silence of the Lambs, Sangharsh was very intense. A serial killer who believes that he needs to perform the sacrifice of 10 innocent kids to attain immortality is confronted by a cop. What she finds at the hide out is only half of what's he had expected. Rana dressed up as a woman trying to woo a goddess chants away with such conviction; it sends a chill down your spine.