There are many families in Bollywood and every year we see newcomers in Bollywood. Some of those have it easy in the Bollywood as they have some connections in the industry which goes unnoticed. We are aware of the obvious relations in Bollywood when we hear the same second name. But here is the list of celebrities who are related as first or second cousins.
Some are distantly related, but after looking at these relations, you will be left amused.
1. Ranveer Singh Ranveer Singh Bhavnani is an Indian movie actor wh >> Read More... and Sonam Kapoor Sonam Kapoor, Daughter of Anil Kapoor and model Su >> Read More...
...
Two of the future superstars are related as they are the second cousins. Sonam's maternal grandmother is cousin of Ranveer Singh's paternal grandfather. They both have an impeccable sense of style and are the fashion fiestas of the B-Town. Ranveer Singh is enjoying the height he is at in the Bollywood, and Sonam Kapoor is also becoming the best diva Bollywood has ever had.
2. Karan Johar Karan Johar is one among the top ten celebrities i >> Read More... and Aditya Chopra Aditya Chopra is an Indian film director, scriptwr >> Read More...
...
The two best producers and directors of the industry are also related. They are also first cousins. Karan's mother, Hiroo Johar Hiroo Johar is an Indian maker, surely understood >> Read More... is the sister of Aditya Chopra's father, . They both have the best direction skills; maybe it's the genes.
...
3. Ali Zafar Ali Zafar is a multifaceted personality, though he >> Read More... and Aamir Khan Aamir Khan or Mohammed Aamir Hussain Khan is Bolly >> Read More...
The perfectionist and the singer are distantly related to each other. Ali Zafar's father-in-law's cousin's mother is a cousin of Aamir Khan's mother. That is one distant relationship they have.
4. Shraddha Kapoor Shraddha Kapoor, born on March 3rd, 1989, is a you >> Read More... and Lata Mangeshkar Lata Mangeshkar, the veteran playback singer had >> Read More...
Shraddha's grandfather is a cousin of the Mangeshkar's. Yes, that means that the vivacious actress is the Grand niece of Lata Mangeshkar. Her acting skills are paternal, and her singing skills are also paternal. We are aware of the singing skills of the daughter of Shakti Kapoor Personal life: Shakti Kapoor was born in Delhi, In >> Read More... , and we have no doubt.
5. Amrita Rao Amrita Rao was born on June 7, 1981 in Mumbai, Mah >> Read More... and Guru Dutt Born on 9th July 1925, Guru Dutt was an Indian act >> Read More...
The veteran actor is related to the beautiful actress. Amrita Rao's grandfather and Guru Dutt are second cousins.
6. Kunal Kapoor Born on 18th of Oct in the year of 1977 to a Punja >> Read More... and
Kunal Kapoor is happily married to Amitabh Bachchan's niece. Kunal Kapoor is married to Naina Bachchan. Naina is the daughter of Ajitabh, Amitabh Bachchan's younger brother.
7. Alia Bhatt Alia Bhatt is a trendsetting actress from Mumbai, >> Read More... and Emraan Hashmi Emraan Hashmi is one of the most successful & cont >> Read More...
Mahesh Bhatt Filmmaker Mahesh Bhatt created a niche for himself >> Read More... and Emraan's mother are siblings. That is the reason why Emraan's debut and many other movies are with Mahesh Bhatt. This makes the actress and the Emraan Hashmi, first cousins.
8. Abhishek Kapoor Abhishek Kapoor is a prominent Indian film actor-t >> Read More... and Tusshar Kapoor Son of a legendary Filmstar Jeetendra Kapoor and b >> Read More...
Abhishek's mother and Tushar's father are siblings. This makes the two first cousins. Abhishek Kapoor is a well-known actor, director and producer. Tusshar Kapoor is also a well-known actor famous for his role in the ' Golmaal Click to look into! >> Read More... ' series.
9. Kajol Devgan Born on 5th August 1974, Kajol was the heartthrob >> Read More... and Rani Mukerji Rani Mukerji is one of the most celebrated Indian >> Read More...
Shomu Mukherjee Shomu Mukherjee is an Indian Film Director, Writer >> Read More... , Father of Kajol, Rani's father, Ram Mukherjeeare cousins. This makes the two actresses related to each other as second cousins. This explains that both of them are the most beautiful and talented actresses in the film industry.
10. Farhan Akhtar One of the most recognized young director of India >> Read More... , Zoya Akhtar Zoya Akhtar has now become a household name promin >> Read More... and Sajid Khan Sajid Khan is a Bollywood director, producer and e >> Read More... , Farah Khan Farah Khan is an Indian film actress, producer, di >> Read More...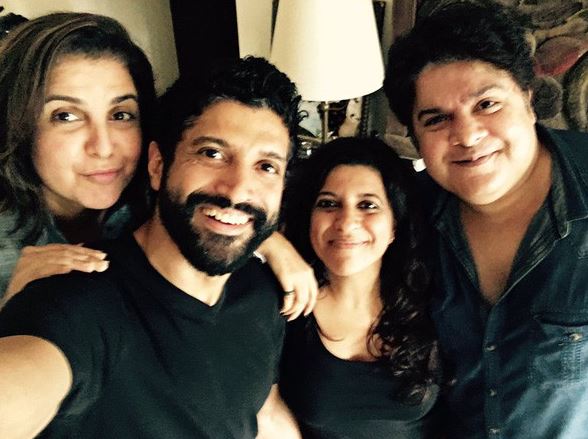 Zoya and Farhan Akhtar's mother and Sajid and Farah Khan's mother are sisters. This makes the four directors and actors related to each other as first cousins. The picture clearly depicts the adorable bonds between the siblings.