Children are full of unexplored talent. Working with them can be very interesting as well as challenging. When there is a child actor in a show or film, it immediately increases the charm of the show. Stories based on the lives of children find a wide audience who want to relate to the character or merely find them endearing. Throughout the years, several Bollywood movies have given importance to child actors. Sometimes they are the protagonists, and sometimes they are very vital to the plot. Either way, having a child actor in the film is a bonus. Here are some of Bollywood's greatest movies that focused on child actors.
1. Taare Zameen Par Click to look into! >> Read More...
...
This 2007 movie was Aamir Khan Aamir Khan or Mohammed Aamir Hussain Khan is Bolly >> Read More... 's first directorial venture. It was the heartwarming story of an eight-year-old boy who is dyslexic. His struggles with the school curriculum and the inability of his parents to understand his disorder formed the basis of the story. The role of the child protagonist, Ishaan, was played by Darsheel Safary In the annals of Hindi cinema, instances of stella >> Read More... . Aamir Khan played the role of an art teacher who helps Ishaan overcome his shortcomings and shine in the best way possible. The film touched the hearts of the entire country and was critically and commercially acclaimed.
2. Stanley Ka Dabba Click to look into! >> Read More...
...
Stanley Ka Dabba released in the year 2011 and was directed by Amole Gupte Amol Gupte was born in 1962 in Mumbai, Maharashtra >> Read More... . His son, Partho Gupte Partho Gupte is a well known child actor. He was w >> Read More... , played the central role of Stanley. The story was about a boy studying in the fourth standard who is suspended from school for not bringing his tiffin. The story explores Stanley's life and the sorrows of the child behind his smiling face and helpful nature. The story was extremely positive and featured several child actors. Their performance was generously praised by the critics.
3. Bajrangi Bhaijaan Click to look into! >> Read More...
...
Bajrangi Bhaijaan is the story of the bond between an Indian man and a Pakistani child who is lost in India. The movie follows the journey of Pawan Kumar Chaturvedi as he strives to find the parents of a mute girl he names Munni. The role of Munni/Shahida was played by child actor Harshaali Malhotra Harshaali Malhotra is a model and a child actress >> Read More... . She became very popular after the movie and won the love of the viewers. This was one of the most successful movies of 2015 and starred Salman Khan Salman Khan is a very famous Indian actor and a pr >> Read More... and Kareena Kapoor Khan Kareena Kapoor is a super hit actress working in I >> Read More... .
4. Chillar Party Click to look into! >> Read More...
This was a children's film directed by Nitesh Tiwari Nitesh Tiwari is an Indian writer and director; he >> Read More... and Vikas Bahl Vikas Bahl (Born 1971) is an Indian film producer, >> Read More... . The theme of the film was based on a group of mischievous kids living in a colony who have to protest against politicians to save one of their friends. The movie had several child actors in important roles. It was praised by critics for teaching life lessons to adults as well. Apart from that, this film also won a few awards, including a National Award. The children who starred in this film are Irfan Khan, Sanath Menon Sanath Menon is a child artist in the Indian film >> Read More... , Naman Jain Naman Jain is a popular child actor of Indian film >> Read More... , Rohan Grover Rohan Grover is a child actor in Hindi cinema. He >> Read More... , Aarav Khanna Aarav Khanna is an actor, popularly known to be th >> Read More... , Vishesh Tiwari Vishesh Tiwari is an Indian model and child actor. >> Read More... , etc.
5. Makdee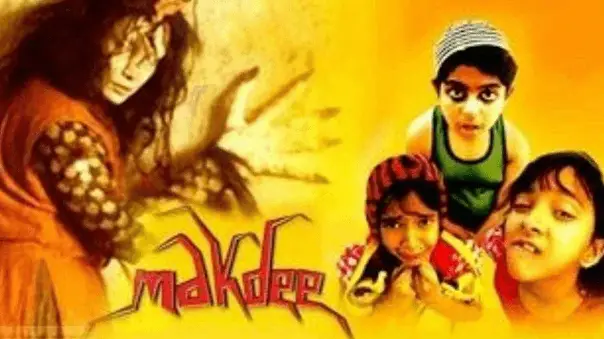 Makdee was a horror and comedy film released in the year 2002. It told the story of a girl and her twin sister who are trapped in the clutches of an alleged witch who is rumoured to turn humans into animals. The film won several awards and became very popular. The central role of Chunni/Munni was played by Shweta Basu Prasad Shweta Basu Prasad is a famous name on television, >> Read More... . Shabana Azmi Shabana Azmi is a film actress of Indian origin an >> Read More... played the role of the witch. The movie also dealt with the theme of superstition in the Indian society.
6. Dhanak
Dhanak was a 2016 film which was directed by Nagesh Kukunoor Nagesh Kukunoor was born in Hyderabad to Kusuma Su >> Read More... . The story is about two siblings who are fans of Bollywood superstars Salman Khan and Shah Rukh Khan Shah Rukh Khan or also known as SRK is a prominent >> Read More... respectively. The brother, Chotu, is blind and the sister, Pari, believes that her idol Shah Rukh Khan can help to bring his eyesight back. The movie follows their long and difficult journey to meet the star and get help for Chotu. The lead roles were played by child actors Krrish Chhabria Kirish has done movies such as Dhanak(2016), Rainb >> Read More... and Hetal Gada Hetal Gada is a film actress who mainly works in t >> Read More... .
7. Salaam Bombay!
This 1988 movie, directed by Mira Nair Mira Nair, a veteran Filmmaker, based in New York >> Read More... , was based on the lives of the children in Mumbai who live on the streets. It was very successful critically, winning many prestigious awards. The plot followed the tough lives of these unfortunate children and how they have to work hard to earn a basic living. The actors included Shafiq Syed Shafiq Syed was born on 1 January, 1976, and grew >> Read More... , Hansa Vithal, Raghuvir Yadav, Chanda Sharma, etc. This is one of the cult films focusing on child actors and giving them the central role in the movie.
8. I Am Kalam
This film was a production of the Smile Foundation and was directed by Nila Madhab Panda Nila Madhab Panda, born on 18th October 1973 has z >> Read More... . The film was about a poor child called Chhotu who becomes friends with the son of a gentleman. The child considers the former Indian President, Dr APJ Abdul Kalam, his idol and inspiration. He wants to be a respectable man when he grows up, just like his idol. The film shows how inspiration can help to face the difficulties of life. It won the love of the critics and the audience, along with many awards. The role of Chhotu was played by child artist Harsh Mayar Harsh Mayar is a talented teenager who has created >> Read More... .
9. Thanks Maa Click to look into! >> Read More...
This brilliant movie was based on the plight of abandoned children and their hopes and dreams. The protagonist, Municipality, struggles to find the mother of an infant he had rescued from the street. In his quest to reach the mother, he is disillusioned by the unhelpful nature of the people in authority. Moreover, his hope that his mother would come looking for him someday is also tested. The movie went to several international film festivals and won many honours. The child artists of this movie were Master Shams P, Master Salman, Master Fayaaz, Baby Almas, etc.
10. Dangal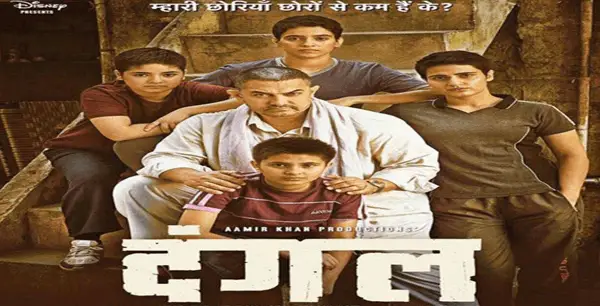 This movie was based on the story of a real-life wrestler named Mahavir Singh Phogat and his daughters, who are named Geeta and Babita. The movie shows the sacrifices of the father as he trains his daughters to fulfil the dream of bringing an international medal for the country. The roles of Geeta and Babita were played by Zaira Wasim Zaira is an Indian Television and Movie Actress. S >> Read More... and Suhani Bhatnagar Suhani Bhatnagar is an Indian child artist, who wa >> Read More... respectively when they were children. Along with Aamir Khan, the child actors excelled in their roles and made the movie super successful and touching.