1. Shilpa Shetty A model turned actress, producer, entrepreneur and >> Read More...
Shilpa Shetty is a heartthrob of many people but who truly stole her heart and settled down with Raj Kundra Raj Kundra, a business magnet from London, United >> Read More... . Raj Kundra is a businessman who was already married before meeting Shilpa. Raj's ex-wife blames Shilpa for their divorce and thinks that she was the one who set her heaven on fire. Before marrying Raj, she was dating Akshay who was in love with Twinkle and married her.
...
2. Rani Mukherji
The Chopra brothers are highly involved with Rani's career; launched Rani in the B-town followed by a number of hits it was obvious for Rani to work with Aditya Chopra Aditya Chopra is an Indian film director, scriptwr >> Read More... too. Aditya was married to Payal for seven years but the entry of Rani in their life destroyed their life, and they divorced. Later Aditya married Rani.
...
3. Lara Datta
Shvetha Jaishankar was Mahesh's first wife, and she claims that their affair started before the couple ended their marriage. Lara had a dreamy proposal and marriage in Paris, but the former Miss Universe was blamed for being the reason for their break up.
...
4. Smitha Patil
Raj and Nadira Babbar Nadira Babbar, is a renowned and extremely talente >> Read More... were living in their heaven happily till Raj met Smitha. Smitha Patil met Raj as a co-actor on the set of movie after that they did many movies together which made their on and off screen chemistry stronger. Raj married Smitha while he was still married to Nadira but unfortunately, Smitha died at the age of 31 years, and Raj went back to live with his wife, Nadira.
5. Kareena Kapoor
Kareena is a famous B-town actress; Saif had dated Rosa an Italian model way before he broke up with his ex-wife. Though their relationship was also not long lasting, later Chota Nawab met Kareena and fell in love and stayed in the relationship with Bebo for over 12 years before they got married. Know the life in their paradise with their son.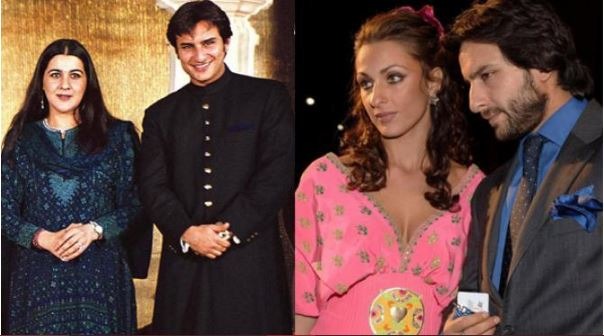 6. Shabana Azmi Shabana Azmi is a film actress of Indian origin an >> Read More...
Javed Akhtar Javed Akhtar is an Indian poet, lyricist, film scr >> Read More... was madly in love with Shabana Azmi, but he was married when met her and had two lovely kids. Shabana took a brave decision and agreed to marry him but that time society didn't like it and went all negative about it. But he was ready to leave his world behind to be with her.
7. Sridevi
Sridevi was in talks when she became Mrs. Chakraborty after a secret marriage, but later she moved to the Kapoor's villa as a guest, but their closeness was not appreciated by Boney's wife Mona, and she didn't agree to a divorce till the last breath. Later Boney married Sridevi, and they settled down and had two lovely daughters.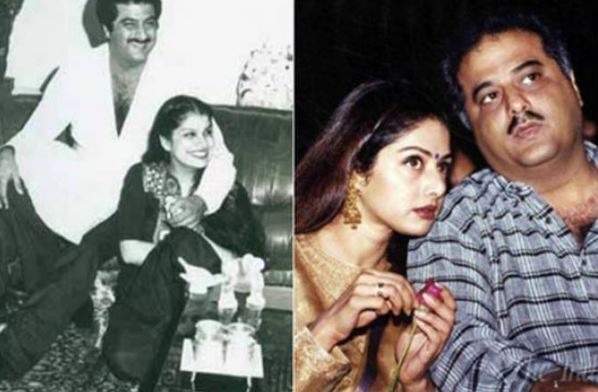 8. Raveena Tandon Raveena Tandon is an Indian film actress who is kn >> Read More...
Anil Thadani Anil Thadani is a distributor and a husband of Bol >> Read More... was always fond of Raveena Tandon though he was married to Natasha Sippy. As his affection towards Raveena increased, his affection towards his marriage decreased, as a result his marriage failed. Later, he married his dream girl Raveena Tandon in a dreamy way.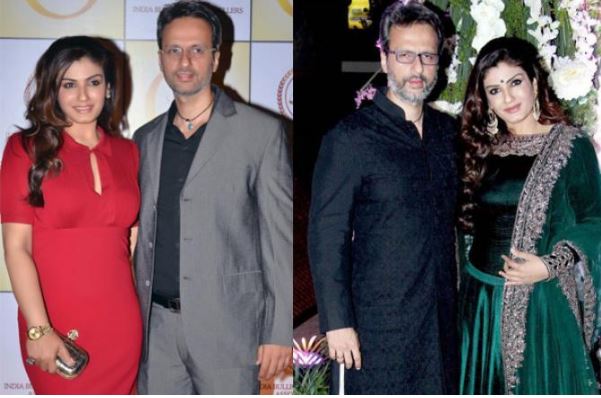 9. Hema Malini Hema Malini is perhaps the only dream girl of the >> Read More...
The best on screen couple, developed feeling off screen too. Dharam was already married and his wife refused to divorce him due to which Hema and Dharam ran away changed their religion and got married, and had two amazing daughters together.
10. Kiran Rao She is an Indian film producer, screen writer and >> Read More...
Kiran Rao and Aamir Khan Aamir Khan or Mohammed Aamir Hussain Khan is Bolly >> Read More... met on the set of Lagaan and fell in love with each other. Later he divorced his 19-year love Reena and married Kiran Rao and have lived together even since.