1.
Queen of Bollywood movies, Kangana Ranaut, is very smooth with her acting skills, but speaking English fluently is something that makes her nervous. She is not soo fluent in English, but she certainly doesn't feel shy and embarrassed because of it.
...
2.Govinda
Chi Chi is superb at his acting and comedy timing, but he is  not good at speaking English. He tries to speak English where it is necessary, but talks in Hindi because, he feels comfortable in speaking it. His difficulty in speaking English can be heard, when he replies at a slow pace while replying in the English language.
...
3. Rakhi Sawant Rakhi Sawant, the well-known drama queen of the In >> Read More...
Controversy girl Rakhi is not at all comfortable in speaking English. She understands few words of English and replies in  Hindi  with few English words in addition to the sentences. She is bold and bindass and doesn't fel the need to hide her weakness.
...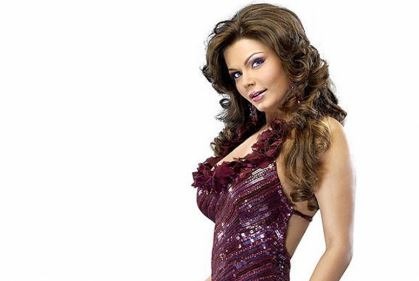 4. Kailash Kher Kailash Kher was born on 7 July, 1973 in New Delhi >> Read More...
Bollywood Singer Performer Kailash is among the celebrities who are not at ease with the language English. He sings and speaks in his mother tongue Hindi. He sang a song in recent movie Bahubali, which was a huge hit on box office.
...
5. Hema Malini Hema Malini is perhaps the only dream girl of the >> Read More...
...
Dream Girl Hema loves and chooses to speak in Hindi, she is very weak at speaking fluent English. Thus, she avoids to speak in English and thus replies in  Hindi . She is a Minister in BJP party and encourages the Hindi language among the youth.
...
6.Rajinikanth​
South Superstar Rajnikanth is also not a fluent English speaker. His disability to speak fluent English never became a barrier to his career success. He has earned success by answering in Hindi and his mother tongue. Rajni is not very educated, but his talent leads him to the top of the Tollywood industry today.
...
7.
Khiladi Kumar does not feel shy and nervous about not speaking fluent English. He replies in a manner which makes everybody feels comfortable.  He replies in both English and Hindi. We have seen him talking in Hindi language more, because Akki feels comfortable in that. He encourages Hindi and promotes the language among the new generation.
8. Dharmesh Yelande Dharmesh Yelande was born on 31 October 1983 in Ba >> Read More...
We have seen choreographer and dancer Dharmesh on many dance reality shows, he is too good at his dancing skills, but is bad at speaking fluent English. His friends make fun of him sometimes, but he does not take it on a serious note and enjoys their pranks.
9.Dharmendra
Veterinary actor Dharmendra is not at all comfortable in speaking English language, English is not his cup of tea. He loves his mother tongue and loves to speak Hindi. He speaks English very rarely. His character Veeru in the film Sholay was a superhit.
10. Nawazuddin Siddiqui Nawazuddin Siddiqui was born in Budhana in Muzaffa >> Read More...
The super talented and versatile actor Nawazuddin, has made his name in the Bollywood industry. He earned fame by his work, but he is not so good at speaking English . He understands English,but couldn't fluently communicate in the same language . He is coming up in the movie Munna Michael Click to look into! >> Read More... .