Some actresses seek the help of surgeries to look perfect in their own standards and we have witnessed some of such experiments go horribly wrong, and actresses ending up spoiling their natural beauty. To name a few, Minissha Lamba Born on 18th January 1985 to Punjabi speaking Sikh >> Read More... , Koena Mitra Koena Mitra is an Indian model, actress and the wi >> Read More... , and Anushka Sharma are some of them. On the other hand, some actresses decide to go natural! Let's have a look at them!
1. Shraddha Kapoor Shraddha Kapoor, born on March 3rd, 1989, is a you >> Read More...
This charming actress is the daughter of the Bollywood villain, Shakti Kapoor Personal life: Shakti Kapoor was born in Delhi, In >> Read More... . She is one of the actresses who did not resort to cosmetic surgeries to enhance her features. She debuted in Bollywood in 2010 in the Big B movie Teen Patti Click to look into! >> Read More... but did not earn much recognition. Her breakthrough was with Aashiqui 2, through which she achieved three-fold success. She is also a singer and has given her lovely voice to quite a few songs in her movies. Although, we may enjoy the trolls made on her father's Bollywood image, she despises it when her daddy is mocked at by people. Well, that is legit.
...
2. Deepika Padukone Deepika Padukone is an Indian actress and model. S >> Read More...
Born in the nation of Denmark, Deepika Padukone is another Bollywood beauty for whom surgeries are a no-no. She is blessed with striking features, and she has no intentions of tampering with her God's gift. Before entering the glamour industry, she worked for Hindustan Times as a freelance lifestyle writer. Her debut film is 'Aishwarya,' a movie in Kannada language. She debuted in Bollywood with Farah Khan's Om Shanti Om Click to look into! >> Read More... and mesmerized millions of hearts. She not only has mastery over her work but she also has a heart of gold. She is a social activist and has adopted a village in Maharashtra to contribute to the upliftment of the people.
...
3. Alia Bhatt Alia Bhatt is a trendsetting actress from Mumbai, >> Read More...
...
The youngest diva of Bollywood sets souls on fire with her bubbly and charming looks. Alia Bhatt has never given a thought to go against her God-given beauty or to interfere with her natural grace to fit into Bollywood. She is doing perfectly well at grabbing attention without the aid of cosmetic surgery, isn't she? She has a toned body and such flexibility that she can twist her knee clockwise! Her acting skills require no mention. She debuted in the movie 'Student of the Year' by Karan Johar Karan Johar is one among the top ten celebrities i >> Read More... which proved to be a superhit. Since then, the number of her hit movies has increased immensely.
4. Jacqueline Fernandez Jacqueline Fernandez is one of the top actresses i >> Read More...
...
Jacqueline, the Sri Lankan talent package debuted in Bollywood in the fantasy-fiction movie Aladin in 2009 opposite Riteish Deshmukh Riteish Deshmukh is the son of a politician, late >> Read More... . She was crowned Miss Sri Lanka in 2006. She is granted with crowd pulling features and needs no help to improve them. She is now counted among the top Bollywood actresses. She uses her wealth not just to live a star life, but she uses it to help the destitute of her home country, Sri Lanka, as well. She is an active supporter of the NGO, PETA, and has become a vegetarian after joining it. She truly is a gem of a person!
...
5. Sonakshi Sinha Sonakshi Sinha is a well-known Indian Actress. She >> Read More...
For making a debut in Bollywood with Dabangg (2010) opposite Salman Khan Salman Khan is a very famous Indian actor and a pr >> Read More... , Sonakshi Sinha had to shed 30 kilograms of her weight to look fit on screen. Never did she resort to surgeries such as liposuction to get in shape in a short time, nor has she altered her looks to fit in as a stereotypical actress. She worked as a fashion designer before trying her luck in the entertainment Industry. She does not indulge in wasteful drinking activities, and focuses on maintaining a healthy and balanced lifestyle.
...
6. Sonam Kapoor Sonam Kapoor, Daughter of Anil Kapoor and model Su >> Read More...
...
Sonam Kapoor, the style icon of Bollywood is another actress of B-town who has not meddled with her natural looks. Just as she looks brilliantly glamorous with make-up on, she looks fabulous without it as well. Naturally gorgeous looks are not her only attribute. She is an expert dancer, being well-versed in kathak, classical dance, and Latin dance. Well, now we know how she managed the beautiful dance moves in her hit film 'Raanjhana.' She debuted in Saawariya opposite Ranbir Kapoor Ranbir Kapoor is a noted Indian film actor. He was >> Read More... in 2007 for which she lost 30 Kgs of weight.
7. Ileana D Cruz
This curvy beauty of the South Indian film industry debuted in B-town with the movie' Barfi.' She is one of those heroines of the Industry who have not doctored their face or body in order to perfect it. She is proud of her curves, for which she has been made fun of, and knows how to flaunt them elegantly. She has been paid one Crore as remuneration in the South Indian industry which is the highest that has ever been paid to a female lead there.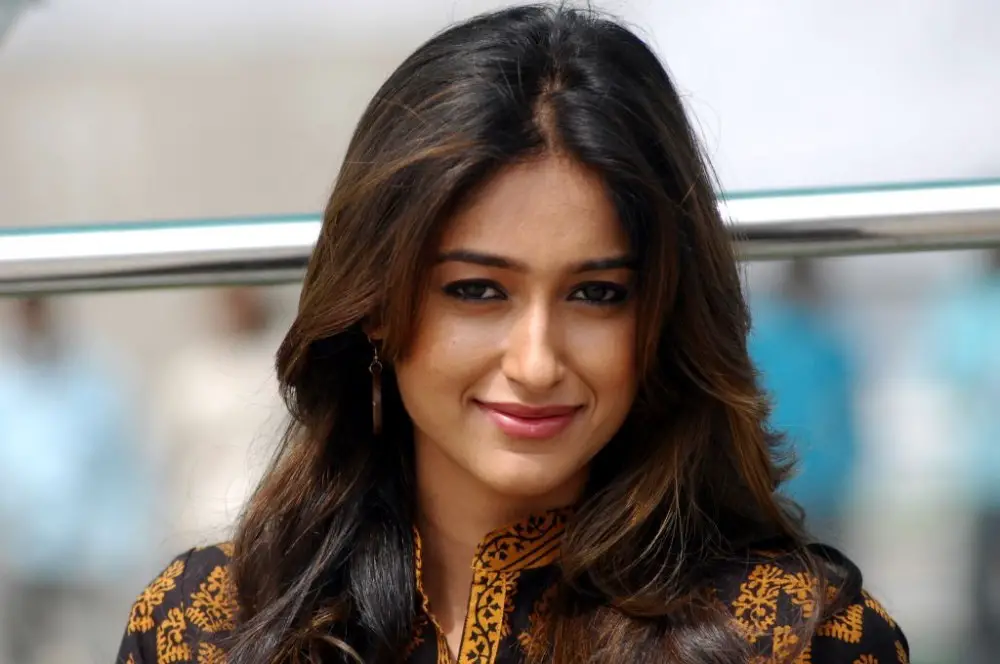 8. Yami Gautam Yami Gautam is a Hindi television and movie actres >> Read More...
This gorgeous actress hails from 'Dev Bhoomi' Himachal Pradesh. Varun Dhawan Varun Dhawan, a new comer entered Bollywood with h >> Read More... , her co-star from the movie Badlapur, once said that Yami looks flawless without make-up. That said, it becomes an apparent fact that the actress has no need for any plastic surgeries. She entered the film industry with the Kannada film Ullasa Utsaha Story Soon >> Read More... in 2010. Later on, she made a blockbuster debut in Bollywood with Shoojit Sircar's Vicky Donor Click to look into! >> Read More... in 2012. Needless to say, since then she has successfully spellbound us with her marvelous acting and beauty.
9. Nargis Fakhri Nargis Fakhri is an actress who pivotally works in >> Read More...
A huge fan of Bollywood since childhood, little did she know then that she would later be counted among the hottest actresses of Bollywood. Her pouty lips and well-crafted cheek bones are not the results of going under the needle. These gorgeous looks are the perfection she is born with and intends to keep it that way. Nargis Fakhri set a firm foot in Bollywood with the film Rockstar, opposite Ranbir Kapoor. Her father is a Pakistani, but she has never visited Pakistan. She idolizes her mother, and has fluency in Hindi, English, and Urdu.
10. Aishwarya Rai Bachchan Aishwarya Rai Bachchan is a popular Indian actress >> Read More...
The most loved actress of Bollywood and an internationally recognized name, Aishwarya Rai Bachchan is a face every person of every generation that exists in the present adores. To quote , a famous Hollywood celebrity, "Aishwarya Rai is the most beautiful woman in the world." She was not crowned Miss World in 1994 for nothing! She has not altered her looks in any way. Did you know that a tulip flower variety in the Netherlands is named Aishwarya Rai? That made your eyebrows to shoot up, didn't it? Well, that is how famous our Bachchan bahu is across nations.