Bollywood is one of the biggest platforms to showcase talents. We can find many hidden talents on this platform and there are many movies in which male actors have played the role of the female. Here are the top 10 Bollywood actors who played female roles beautifully.
1. Riteish Deshmukh Riteish Deshmukh is the son of a politician, late >> Read More...
...
The Bollywood actor Riteish Deshmukh is known for his funny acting in various movies. Riteish played a female role in the movie Apna Sapna Money Money. He played the role very well. His recent blockbuster film was Housefull 4 with co-stars and Bobby Deol Bobby Deol was a treat to watch when he walks to t >> Read More... .
2. Prakash Raj Prakash Raj, born on 26th of March, 1965, as Praka >> Read More...
...
We have seen Prakash Raj in many South Indian films and in Bollywood movies. He plays a perfect villain. In one of his movies, he also played a female role where he got a good response from his fans and his acting was liked by many B town celebrities.
3. Akshay Kumar
...
Akshay Kumar's recent movie Laxmmi Bomb, got many likes and dislikes as he played a transgender role. It was unbelievable to see Akshay playing a female role and gave his best work on that character. He has also acted in a few movies in a female role for a short time.
4. Ashutosh Rana A versatile actor, Ashutosh has worked in Indian f >> Read More...
...
Ashutosh Rana is the actor who played a villain in many movies. The best and the horrifying moment was when Ashutosh acted in a transgender in one of the movies which released in the year 1999. Akshay Kumar and Preity Zinta Preity, also known as Preity Zinta is a famous Act >> Read More... played the lead actor and actress.
...
5. Paresh Rawal The Padma Shri award winner who shot to fame with >> Read More...
...
Paresh Rawal is a legendary actor in Bollywood. He has done multiple roles as a villain, hero and also as the police officer in many films. The best of his acting was the female role in the movie Tikku as a Tikku. He handled his role very well.
6. Johny Lever
...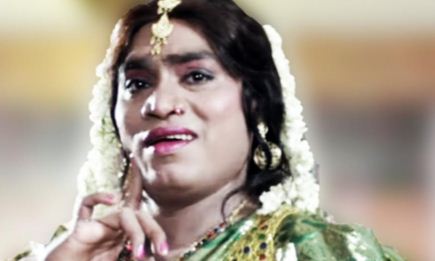 The best comedian actor in Bollywood Johnny Lever has done the female character in the movie Khatta Meetha Click to look into! >> Read More... . He had a very struggle before entering Bollywood. He still leads the best comedian of Bollywood.
7. Govinda Govinda is a popular Bollywood star who is known f >> Read More...
The master of dance 'Govinda' is a famous actor in Bollywood. It was amazing to see Govinda as a female character. He played his role very well in the movie Aunty No.1. He also did the female role in the comedy based film Raja Babu Click to look into! >> Read More... .
8. Salman Khan Salman Khan is a very famous Indian actor and a pr >> Read More...
The Bhai of Bollywood town Salman Khan has also acted as a female role for the movie Jaan-e-maan. As his look was not liked by his fans, he never tried to act in the female role.
9. Aamir Khan Aamir Khan or Mohammed Aamir Hussain Khan is Bolly >> Read More...
Aamir Khan, the best Bollywood actor, also played a female character in the movie Baazi. His every movie is a blockbuster and always breaks his won box office record. Aamir has also acted in many TV advertisements as a female.
10. Kamal Haasan Kamal Haasan is the most versatile actor that Indi >> Read More...
Kamal Haasan a Bollywood actor as well as a South Indian celebrity. He is in the rank after 'Rajinikanth.' Kamal Haasan played a female role in the movie Chachi 420 and he gave the best of his acting in that movie.