Nepotism is one word for the Bollywood industry. Half of the industry is filled with kids of famous stars, and Karan Johar Karan Johar is one among the top ten celebrities i >> Read More... is said to be biased. He always gives a chance to the Nepotism kids and not those who work hard and come into the industry. Here are Top Bollywood Stars who insulted Karan Johar in public.
1. Shah Rukh Khan Shah Rukh Khan or also known as SRK is a prominent >> Read More...
King Khan is the number one actor in the Bollywood industry. He is famous worldwide. SRK and Karan are very good friends since the days of Dilwale Dulhaniya Le Jayenge, but he did not leave a chance to mock Karan. SRK was asked by Karan Johar on his show that which was the one film that SRK thinks that he should not have done. Shah Rukh Khan's answer was Kuch Kuch Hota Hai, directed by Karan Johar and was a big hit.
2.
...
Kangana Ranaut is known for her Bold personality. She is beautiful, yet simple. Well, everybody knows that Karan and Kangana Ranaut never shared a cordial relationship. When Kangana appeared on Karan Johar's show, she said that Karan is the Movie Mafia. She also tagged him as a flag bearer of nepotism. She also pointed her finger towards Karan when she was asked who has Verbal Diarrhoea in the industry, as KJo mocked her pronunciation.
3. Anushka Sharma Born in an army family to Col. AjayKumar and Ashim >> Read More...
...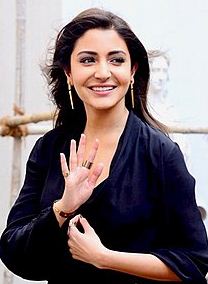 Anushka Sharma is one of the hard-working actresses of the Bollywood industry. Karan asked Anushka Sharma if she knew that Arjun Kapoor Arjun Kapoor is a Bollywood star. He was born on 2 >> Read More... had a crush on her when she appeared on his show. As her answer, Anushka insulted Karan Johar by saying that on his show, Karan says anything rubbish that comes to his mind.
4. Ranveer Singh Ranveer Singh Bhavnani is an Indian movie actor wh >> Read More...
...
Ranveer Singh is a powerhouse of the Bollywood industry. He is well known for his energetic performance in many movies. Karan asked Ranveer Singh about his relationship status. Was he single? Ranveer gave a dope answer by asking the filmmaker who the hell was Karan? Was he Facebook?
...
5. Aamir Khan Aamir Khan or Mohammed Aamir Hussain Khan is Bolly >> Read More...
...
Aamir Khan is a famous actor in the Bollywood industry. When Aamir Kahn appeared on Karan Johar's show Koffee With Karan, the actor did not spare a chance to mock the filmmaker. Karan asked Aamir, during the talk show, what is the one thing in the industry that Aamir hates but shows that he loves it. Well, Aamir Khan's answer was Karan Johar's show, Koffee With Karan. This answer left Karan baffled.
6. Kajol Devgan Born on 5th August 1974, Kajol was the heartthrob >> Read More...
...
Kajol is one of the talented actresses of the Bollywood industry. She is known for her super-hit films. Kajol and Karan Johar are great friends in reality, but Kajol never spares a chance to insult Karan publicly. When Kajol appeared on Karan's show, she was asked which star should do a crash course on acting. Kajol's answer was Karan Johar himself because she thinks Karan has a very poor acting skill.
7. Abhishek Bachchan Abhishek Bachchan, or Abhishek Srivastava, is a ve >> Read More...
Abhishek Bachchan is the son of the great Bollywood actor . He became famous in the year 2000. This star kid appeared on Karan's show with his sister where he was asked that who according to him does the most gossip in the industry. As an answer, Abhishek Bachchan replied with Karan's name, and that was a tight slap on his face.
8. Konkona Sen Sharma Konkona Sen Sharma is a Bollywood actress hailing >> Read More...
Konkona Sen is one of the simplest and innocent actresses of the Bollywood industry. The filmmaker Karan Johar asked Konkona that who she thinks is the most overrated actor in the Bollywood industry. Konkona answered that, according to her, it is Dilwale Dulhaniya Le Jayenge's Karan Johar.
9. Imran Khan Imran Khan is an Indian film actor, who is famous >> Read More...
Imran Khan has done many films in the Bollywood industry. This Bollywood actor was asked by Karan Johar that who would he like to give the book of direction for the dummy. Imran Khan asked a counter-question that if he could give that book of direction to Karan himself.
10. Twinkle Khanna Twinkle Khanna made herdebut in Indian film indust >> Read More...
Twinkle Khanna is the beautiful wife of . She did films but didn't get success in the industry. Well, Karan Johar and Twinkle Khanna are great friends with each other still, she mocked and insulted Karan on his show. Karan asked her that when she started writing, had anyone commented anything about her writing. Twinkle answered that when Karan started writing columns, someone said Karan was the new funny bones, but Twinkle knows her standard is not that low.