1. Javier Bardem
The No Country Old Man star was once a male stripper. This Spanish star once self-confessed, " For a day! It was a disaster. And you know who was there watching? My mum and my sister! It was kind of a thing - you go there and dance, they pay you some money. It wasn't like a Full Monty thing. I think I have a good relation with my family, thank God! We are very tight!" The Academy Award-winning star wasn't sure about career option before entering Hollywood, so tried his hands at some jobs.
2. Mark Consuelos
It was his wife; Kelly Ripa who revealed that her husband was once a male stripper. Kelley revealed it on her show Live with Kelly; she said, "He was straight out of college — he went to Notre Dame, but he finished his degree at the University of South Florida. So, there he was in South Florida. He's gorgeous [and], looking to break into show business. So, he started off as a roadie to a group of these guys, and then they talked him into stripping." Kelly has even kept an "old calendar pinup" of her husband from those days.
3. Channing Tatum
He was a stripper at the age of 19. Have you seen the film, Magic Mike? It is loosely based on his life as a dancer in Florida. Well, Channing, you must have been a headliner in male-revue. Ellen DeGeneres and Elton John had assessed to Channing's stripper skills first hand. Channing confesses of doing many bad things in his past life to earn money. The actor often addresses his past as 'dark'.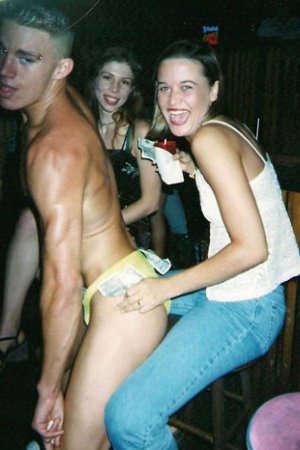 4. Brad Pitt
Before fame and glory, hot and sexy Brad has a small stint as a stripper in the group 'Dancing Bares'. Pitt believes stripping changed his life and said, "My job was to drive them to bachelor parties and things. I'd pick them up, and at the gig, I'd collect the money, play the bad Prince tapes and catch the girls' clothes. It was not a wholesome atmosphere, and it got very depressing."
5. Chris Patt
This A-lister star was a daytime stripper before making it big in Hollywood. Soon after dropping out of the community college Chris used to work at Bachelorette and Birthday parties at the age of 18. With a body a like that, ladies would have had a lovely time watching Chris dance and taking off his cloth. Anna Faris's husband called his past gig as "low-rent Magic Mike."