1. Film Industry Background 
...
Nagarjuna has two sisters and a brother; His brother took care of the production responsibility of the Annapurna Studios. Nagarjuna decided to enter the film industry as an actor after completing his graduation from Little Flower Junior College.
2. The new beginning
...
His first movie was Vikram directed by V. Madhusudhana Rao which was released in 1986. Ram Gopal Varma Ram Gopal Varma is a famed Indian film director an >> Read More... was very impressed with Nagarjuna's acting and decided to cast him in a film which was his first blockbuster and the biggest turning point in his life.
3. Life on silver screen
...
Nagarjuna even hosts a TV show which is based upon Kaun Banega Crorepati Kaun Banega Crorepati or KBC is a popular televisi >> Read More... and was named as Meelo Evaru Koteeswarudu for Telugu channel. The first episode was aired in 2009. This show recently completed three successful seasons happily and with an amazing TRP, which was the highest TRP for any TV show which had three seasons on Telugu TV.
4. Life off screen
...
Nagarjuna is not only an amazing actor but also a good businessman when it comes to handling the business of Annapurna Studio with his brother. He looks after the formalities of production for Maa TV and also a chain of Hotels named N Convention.
...
5. Married life
...
Nagarjuna had two marriage, but it's not always money which matters, some bonds are meant to be handled with care else they break easily. He is blessed with two handsome sons Naga Chaitanya Naga Chaitanya is a Telugu actor and he is into th >> Read More... with his former wife Lakshmi and Akhil with Amala. Know he is happily settled and spends a quality time with his family.
6. Social activities
...
Blue Cross founder's Amala and Nagarjuna, found this non-profit organization which would take care of animal's welfare and preservation of their rights to help all the animals who need help to lead a happy life.
7. Brand Ambassador
Akkineni Nagarjuna Akkineni Nagarjuna is a veteran Indian actor, TV p >> Read More... is also the brand ambassador of various company and product. He is also the ambassador of social welfare campaigns which spreads awareness about HIV/AIDS related issues. Nagarjuna is also known as the romantic actor of T-town, but he is also a real-life hero when it comes to supporting a new cause.
8. Child Actor
Practically it's known that Shiva is his first blockbuster and the second movie he did after completion of his studies. It's lesser known that he entered the industry as a child actor in Sudigandalu.
9. Practical spread
Nagarjuna has not only done Telugu movies, but he also did movies in Hindi and Tamil. The roles which suit him the most are as a lead hero, romantic lover, villain, and serious comedy. Till date, after doing over 90+ movies, his favourite movie manages to be Shiva
10. Family man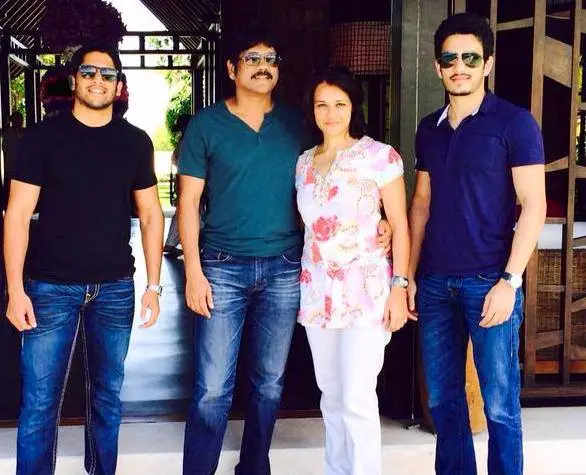 Nagarjuna has two sons who are highly qualified and have made their marks on the T-town. Nagarjuna's elder son, Naga Chaitanya is soon going to tie the knot with Samantha Ruth in October 2017. Nagarjuna's love for his family can be depicted clearly as the way he tries to spend quality time with them and has fun.