1) Maro Charitra Maro charitra is a melodrama that revolves around >> Read More... - "Ek Duuje Ke Liye"
Maro Charitra is a classic Telugu movie about two star-crossed lovers hailing from different backgrounds. Long story short, this movie entails the tragic love story of two lovebirds whose relationship is shunned by both their families. Played by star actors Kamal Haasan Kamal Haasan is the most versatile actor that Indi >> Read More... and ' Saritha Saritha is a beautiful, sultry and captivating Ind >> Read More... ', this film kick-started Kamal Haasan's career. The remake used the same male protagonist while Rati Agnihotri Rati Agnihotri is an Indian movie actress who has >> Read More... replaced Saritha.
...
2) ' Athadu Click to look into! >> Read More... ' - Ek: The Power Of One
With ' Mahesh Babu Born on 9 August 1975 in Chennai, Mahesh Ghattaman >> Read More... ' and Trisha Krishnan Born on 4th May, 1983 in Palakkad by Krishnan and >> Read More... in the leads and Prakash Raj Prakash Raj, born on 26th of March, 1965, as Praka >> Read More... as the pivotal character, this film proves to be the perfect formula for an entertaining movie. Bollywood remade this talkie with a somewhat disappointing ensemble of Bobby Deol Bobby Deol was a treat to watch when he walks to t >> Read More... and Shriya Saran Shriya Saran, the timeless beauty, is a much loved >> Read More... which fared moderately at the box office.
...
3) Siri Siri Muvva - Sargam Not everyone is gifted with the talent of singing. >> Read More...
...
This tale proves the saying if your will is strong, you are sure to get success. ' Jaya Prada Jaya Prada is a renowned Indian actress and politi >> Read More... ' and Chandra Mohan Chandra Mohan was born on 23rd May 1945 in Pammidi >> Read More... along with the legendary director Kasinathuni Viswanath Kasinathuni Viswanath is a famous south Indian fil >> Read More... contributed a classic to the film industry. It was later remade as 'Sargam' in Hindi with the lead actress and director remaining the same.
4) Ladies Tailor - Ladies Tailor
...
Rajendra Prasad Rajendra Prasad is a famous actor in Telugu. He is >> Read More... plays the role of a lazy ladies tailor who dreams of becoming rich in this Comedy-Drama. Rajpal Yadav Rajpal Yadav, the hilarious Indian movie actor, ac >> Read More... takes the place of Rajendra Prasad in the Hindi remake of the same name Ladies Tailor. The Marathi Film industry also remade this movie titled "Kuthe Kuthe Shodhu Mi Tula".
5) Hello Brother Click to look into! >> Read More... - ' Judwaa Click to look into! >> Read More... '
...
Hello Brother is a Telugu Family Comedy about two long-lost twin brothers and their adventures to become one again. Played by Akkineni Nagarjuna Akkineni Nagarjuna is a veteran Indian actor, TV p >> Read More... , the movie provides an equal balance of comedy and action. Salman Khan Salman Khan is a very famous Indian actor and a pr >> Read More... plays the lead in its Hindi remake which too became quite successful.
...
6) Prema Nagar Prema Nagar is a Telugu serial broadcast on the ET >> Read More... - Prem Nagar
...
Prem Nagar is a classic Telugu love story which entails the pursuit of the union of two lovers played by and ' Vanisri Vanisri is a south Indian actress who shot to fame >> Read More... '. It highlights the problems of status and class issues which prove to be a hurdle in love stories. Rajesh Khanna Born as Jatin Khanna on 29th December 1942, the ch >> Read More... and Hema Malini Hema Malini is perhaps the only dream girl of the >> Read More... portrayed the lead characters in its Hindi version.
7) Pokiri - ' Wanted Click to look into! >> Read More... '
There probably won't be a soul in Andhra Pradesh who hasn't heard of the movie 'Pokiri'. A mega-successful movie of Mahesh Babu, this one is the perfect combo of comedy and action. A rather flat version of this flick stars Salman Khan. Though it fared well at the box office owing to the multitude of fans, it probably cannot take over the original.
8) Kick Click to look into! >> Read More... - Kick
'Kick' is a 2009 blockbuster movie of the Telugu film industry starring Ravi Teja Ravi Teja is the popular Telugu hero, whose birth >> Read More... and ' Ileana D Cruz Ileana D'Cruz made her debut in Telugu film "Devad >> Read More... '. Surprisingly, Bollywood wasn't alone in remaking this talkie. The Hindi version, led by Salman Khan and Jacqueline Fernandez Jacqueline Fernandez is one of the top actresses i >> Read More... , despite receiving mixed reviews turned out to be one of the movies to accomplish skyrocketing collections in 2014.
9) Kandireega - Main Tera Hero Click to look into! >> Read More...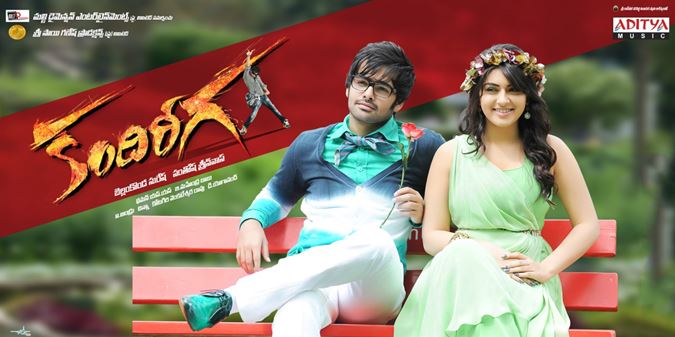 'Kandireega' bears the lesser known actors Ram Pothineni Hailing from Hyderabad, Telangana, Ram Pothineni i >> Read More... , Hansika Motwani Hansika Motwani is a young and beautiful actress, >> Read More... , and 'Aksha Pardasany'. The Hindi remake, "Main Tera Hero" with its cast of Varun Dhawan Varun Dhawan, a new comer entered Bollywood with h >> Read More... , Nargis Fakhri Nargis Fakhri is an actress who pivotally works in >> Read More... , and Ileana D Cruz probably took over the Telugu original by sheer popularity.
10) 'Vikaramarkudu' - Rowdy Rathore Click to look into! >> Read More...
In this action-packed thriller, a petty thief who goes by the name Athili Satti Babu (played by Ravi Teja) to hit the jackpot, steals a massive trunk by duping a woman at the railway station. He soon finds out that the trunk does not have money but instead carries a young girl who got kidnapped. His life changes from this point.