Lots and lots of talk shows are being telecast in various regional channels. Some of them in Tamil have attracted huge controversies. A few are here…
...
Neeya Naana is the reality Talks Show telecast in Vijay TV. This show is a debate show, which brings a few sections of people from the society, who are affected by something or someone in their life. For and against are being discussed and it has been hosted by "Gopinath." The show was launched in 2006. It was initially named as Makkal Yaar Pakkam Makkal Yaar Pakkam was a Tamil TV show which aired >> Read More... . Later it was christened as Neeya Naana. Although it didn't reach the people initially, when opportunities were given to wide range of people, it spread positively. The show became the talk of the town as people started believing that it gives the real Freedom of Speech. This particular show had been designed as a light-hearted debate and the limits of words usage had never been exceeded. The best participant will be given a small memento at the end of the two hours show. However, it had been commented that the participants are not given enough opportunities to express their views.
Some of the discussions in the show are:
• Tamil literature Vs English literature
...
• Husband Vs Wife
• Love in point of view from today's ladies
...
• Do Ghosts Exist
Solvathellam Unmai
...
Solvathellam Unmai is merely like a talk show, which helps the families unite. In detail, a problematic family is called upon to discuss their problems. The positive and negative side of the split family is discussed and the show helps them to unite. This hot reality family talk show also deals with the social problems, real life stories, interpersonal issues and many more. This is one among the most controversial shows at present. The show had been spoofed in other TV Channels and even in the cinema. Although people make fun of the show, the Zee Tamil channel that airs the program had never given it up and had been running it successfully. It has been hosted by Lakshmy Ramakrishnan The shift from acting to direction is becoming mor >> Read More... , the popular actress cum director. Besides Lakshmy, the show had been hosted by Nirmala Periyasamy Born in Karur, Nirmala Periyaswamy was a famous TV >> Read More... and Sudha Chandran Here is a girl who met with a major accident while >> Read More... .
Uravai Thedi
...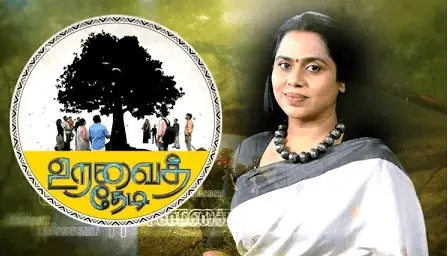 Uravai Thedi is the reality justice show that helps people to find their lost relationships. The show has been hosted by actress Viji Chandrasekhar You utter the name Viji Chandrasekar, people will >> Read More... . Puthuyugam TV broadcasts this show from 8th September 2016. It is a weekly show which supports the people to fulfill their dreams in finding their friends and relatives who are close to their heart. This show had helped the public as well as the celebrities. Its first episode helped a boy, who was away from his home for 18 years to find his family. This show had reunited friends, brothers and sisters, who were lost before two decades. It has also helped a mother to meet two of her daughters, who were lost before decades. All the three of them lived in three different directions. In this show actor " Shiva Click to look into! >> Read More... " met his friend, whom he had been missing for 15 years.
...
Nijangal
...
Nijangal is one of the top controversial reality shows in Tamil. The show has been telecast in Sun TV from Monday to Saturday at 12:30 PM. This show has been treated like a TV series, which tests the pulse of the viewers. The show has been hosted by actress cum politician "Khushboo." This show also tries to unite the split family. We could say Nijangal as the top among the controversial shows, as her costars complained Khushboo for hosting this show. Recently, " Ranjini Ranjini is a famous, popular and successful actres >> Read More... ," a popular yesteryear actress and Sripriya Sethupathi Sripriya is a south Indian cine actress who also >> Read More... , the actress cum director slammed this show as they feel that it disrespects people and their feelings.