The television star, Sivakarthikeyan was born on February 17, 1985 in a small village (Singampuneri) of Tamil Nadu. He kick-started his career with the premiere Tamil television channel STAR Vijay and as a stand-up comedian. He is now flourishing in the Tamil film industry as an actor and a playback singer. The artist has a bachelor's degree in computer science engineering from Trichy and has done MBA.
1. Having no background in films and associations with movie stars Siva always displayed his acting skills passionately. As a child he wanted to follow his father's footsteps and dreamt of becoming a police officer. He lost his father before making it to the film industry.
...
2. To commemorate the positive response of his Kollywood movie ' Varuthapadatha Valibar Sangam Varuthapadatha Valibar Sangam is a Tamil televisio >> Read More... ', the producer rewarded him an Audi car as a prize of appreciation and encouragement. Sivakarthikeyan was overwhelmed with this honor also interpreted it as a sign of his glory and also a source of constant motivation to strive and maintain the victory of his. He stated: "Don't take it as a gift, take it as a success symbol. Whenever you feel that you don't achieve anything in life, look at this car. You will remember that you did achieve something in life and it will cheer you up to look forward."
3. He is a generous person. On receiving five lakh rupees as prize money, Siva felt the need to fund education for a few children bearing impoverished backgrounds.
...
4. He takes good care of his fitness. He holds a black belt in karate.
...
​5. Sivakarthikeyan is quite the prankster but one of his pranks went wrong. He told his sister that he saw her fiance smoking secretly. She got very upset and the situation went out of Sivakarthikeyan hands.
...
6. He shares his birthday with the highly celebrated personality and his colleague from STAR Vijay, Divyadarshini (DD).
...
7. He is a Mamma's boy and without giving a second thought he agreed to the words of his mother to marry a girl chosen by her. He is happily married to Aarthi for the past seven years and they have a daughter, Aaradhana.
...
​8. Sivakarthikeyan and the TV show host, Gopinath, are good companions. Siva received the award for best anchor in the year 2011.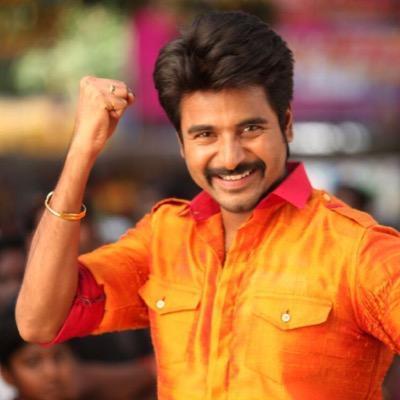 ...
9. Sivakarthikeyan's debut movie was a Kannada movie - Aegan in the year 2008. The movie was directed by Ajith Kumar Ajith Kumar is a prominent Tamil film actor, model >> Read More... . The role in the movie was uncredited.
10. He is also good friends with the very talented music director, Anirudh Ravichander The name Anirudh does not need any introduction do >> Read More... . During the shoot for the song "Royapuram Peter", despite Anirudh's toiling schedule in Mumbai, the shooting was telecasted via Skype to Anirudh to make sure everything was intact.