These days making people laugh and giving smiles on their faces are the most challenging task to achieve. Laughter is the best medicine you have heard of many times, and yes, it works 100% in relieving our stress and making us feel good on our bad days. Comedy movies have always played a vital role in making us smile and feel good. Comedy actors need precise timing, perfect facial expression, and a good sense of humor to crack the audience. That's by we have listed the top 10 Tamil cinema comedy actors from the 2000s and Tamil films are incomplete without them.
1. Vadivelu
If we talk about one of the greatest comedians in Tamil cinema from the 2000s, then there is no doubt this actor is number one. Vadivelu started his career in a small role in T. Rajendar's En Thangai Kalyani in 1988. He was born on 13 September 1960, and his real name is Kumaravadivel Natarajan. He received accolades for best comedian in movies like Vetri Kodi Kattu, Thavasi, Chandramukhi, Pokkiri, and Kathavarayan.
2. Santhanam
Santhanam first appeared as a comedian in a television series name Lollu Sabha Lollu Sabha is a Tamil television series. The show >> Read More... and then makings his debut in Tamil Manmadhan (2004). He gained widespread success in Tamil cinema as a comedian and became popular in the 2000s. He was in films like Sachien, Polladhavan, and Arai En 305-il Kadavul, which helped him to win good reviews.
3. Manobala
Manobala was born on 8 December 1953 and mainly works in Tamil cinema as a comedian, actor, and director. He made his debut in Tamil cinema in the 1970s and primarily worked as a supporting actor. He worked in over 700 films, and his first was Puthiya Vaarpugal.
...
4. Vivek
Vivek is also one of the best comedians in Tamil cinema who always gives a good message through his comedy. He was born on 19 November 1961 and worked as a television personality, playback singer, and social activist. For his performance, he received three Filmfare Awards for Best Comedian in Tamil and five Tamil Nadu State Film Awards for Best Comedian. He appeared in Run, Saamy, Perazhagan, Parthiban Kanavu, Anniyan, and Sivaji in the 2000s.
...
5. Charlie
His name is Charlie, comes from the English comedian name Charlie Chaplin Charles Chaplin popularly known as Charlie Chaplin >> Read More... . He was born on 6 March 1960, and his real name is Velmurugan Thangasamy Manohar. He mainly works in Tamil cinema as a comedian and supporting actor and appeared in over 800 films. He won the best comedian Award and Kalaimamani Award in the 2000s.
...
6. Goundamani
Goundamani is an Indian actor and comedian who worked as a perfect comic duo with actor Senthil. The real name of Goundamani is Subramaniyan Karuppaiya, born on 25 May 1939. He was a great comedian for nearly 40 years in Tamil cinema. He was known for his ability to counter any dialogue without any script on the spot.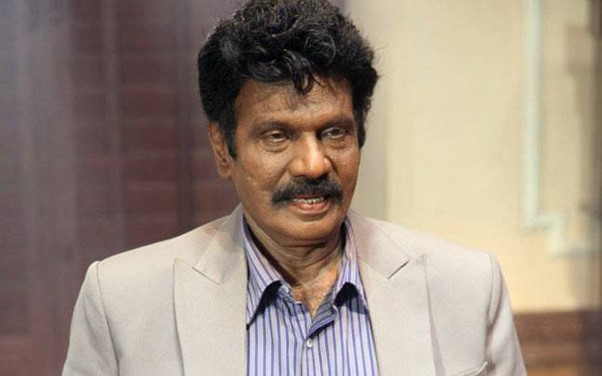 ...
7. Rajendran
Rajendran was born on 1 June 1957 and is a stunt double, actor, and comedian in Tamil cinema. He first appeared in the Tamil film Pithamagan in 2003. He is known for his villainous comedy roles and his rough voice. In the 2000s, he features in films like Thotti Jaya, Vettaiyaadu Vilaiyaadu, Kandhakottai, and Thalaimagan.
...
Yogi Babu is a late 2000s comedian born on 22 July 1985. He made his debut in the Tamil film Yogi and adapted the film name as a prefix for his stage name. Babu has won three times Ananda Vikatan Cinema Awards for his performance. He later appeared in films like Aandavan Kattalai Click to look into! >> Read More... , Aandavan Kattalai, and Pariyerum Perumal Click to look into! >> Read More... .
...
Robo Shankar is also the best comedian who made his breakthrough in the television show Kalakkapovathu Yaaru by STAR Vijay. He is a stand-up comedian who features in many Tamil films. He appeared in many films, including Aai, Karka Kasadara, Chennai Kadhal, Deepavali, Rowthiram, and Yaaruda Mahesh Click to look into! >> Read More... .
10. Soori
Ramalakshmanan Muthuchamy is an actor known by his stage name Soori who works in Tamil cinema as a comedian. He became popular in the late 2000s in the film Vennila Kabadi Kuzhu, where he has given the nickname Parotta Soori. He was born on 27 August 1977 and moved from Madurai to Chennai to become an actor.
Conclusion
The Tamil film industry already has some great comedians making us laugh no matter what. These were the top ten comedy heroes from Tamil cinema in the 2000s.