Where there is competition, there are fights. Kollywood is the home for people from all walks of life. Verifying the statement that the Tamil industry helps even other regional people flourish, there are a lot of examples. Some of the renowned film stars fail to get along with each other. Here are the top 10 Kollywood celebrity fights!
LOCKDOWN DOESN'T STOP VANITHA FROM SHREDDING LAKSHMI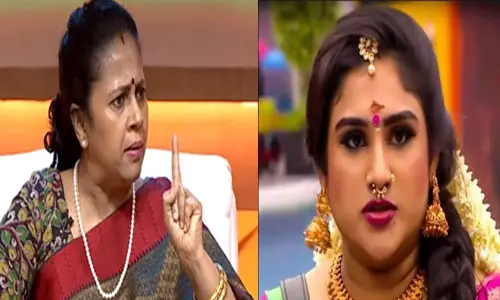 ...
Vanitha Vijayakumar Vanitha Vijayakumar is a Tamil actress and the dau >> Read More... had recently married Peter Paul, who was separated from his wife for eight years. Lakshmy Ramakrishnan The shift from acting to direction is becoming mor >> Read More... , the host of the famous reality show 'Solvadhellam Unmai,' had video-called Peter Paul's wife and had reacted empathetically to her lament. Lakshmi called the whole situation as atrocious, and the video was published on YouTube. Like a rat caught in the lion's den, the video reached Vanitha. Through the channel that posted that video, Vanitha scheduled an interview with Lakshmi. The video chat was on; the host introduced the two speakers. Vanitha interrupted him, pounced straight to address the elephant in the room, and interrogated as to what Lakshmi's qualifications were to judge her personal life. Hurtful words were exchanged with Vanitha calling Lakshmy a niche behind monogamy. Lakshmi retreated with the comment that she wasn't willing to talk to a person who renews her husband every year and hung up, saying that she is not ready for a disrespectful conversation. Vanitha kept calling her a coward and said that she was a trash can behind the entire sophisticated look. She also said that she wanted the whole thing just so that she can drag Lakshmi to the streets.
MEERA MITHUN'S BABBLE IGNORED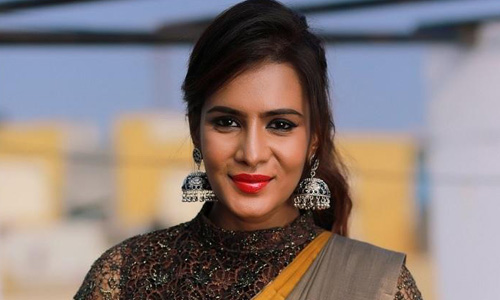 ...
There is nothing called bad publicity. Being well aware of this, Meera Mithun Meera Mithun is an Indian Film Actress, State regi >> Read More... has targeted the top actors, with a huge fan base in Kollywood, namely ' Vijay As they always say, "it runs in the blood", the sa >> Read More... ' and Suriya Sivakumar Suriya Sivakumar is undoubtedly the biggest star i >> Read More... . Outraging the modesty of the actors' wives, she cussed them. The actors have turned a blind eye to these comments. But, her words infuriated the fans, and Meera continued to add fuel to the fire. Meera was all over the social media platforms. She kept reverting on the issue, trying to ignite more negative attention.
VADIVELU'S COSTLIEST JOKE
...
'Vadivelu's comedy style is mostly physical, with his body language as the best tool at his disposal. He lost his market due to various reasons. The most important reason was his uninformed decision to take part in election campaigns, which had consequences. A targeted joke made on the leader of one party, which eventually made the ruling, cost him his career. He has given re-entry quite a few times, but his wick didn't seem to catch on fire. Can he fight over his bad reputation and re-establish his stronghold on comedy like he used to? Only time will tell.
THE V FAMILY'S VIE FOR PROPERTY: VIJAYAKUMAR, VANITHA, AND ARUN VIJAY
...
Family is the costliest thing you can own. But for Vijayakumar's family, it did not hold. Manjula Vijaykumar Manjula Vijaykumar is a famous South Indian Actres >> Read More... , the wife of 'Vijayakumar,' had a property registered in her name. Vanitha, being the firstborn, wanted to inherit the property after her mother. But, Vijayakumar and Arun Vijay Arun Kumar is the son of famous Tamil actor and po >> Read More... denied her saying that Vijayakumar, and Arun Vijay, after him, would inherit the property. Things got ugly when this issue left the house and reached the media. The family, including Manjula, renounced Vanitha. On a later occasion, Vanitha had sought permission for shooting in one of Vijayakumar's mansion. When Vanitha refused to vacate the premises, Vijayakumar had filed a complaint on her.
...
SUCHI LEAKS FLOODS DHANUSH, ANDREA, AND ANIRUDH
...
Suchitra started as a radio jockey and found her voice as a playback singer. She had then had issues in her marriage with actor Karthik Kumar Karthik Kumar, a very talented well educated good >> Read More... . Her twitter account went frenzy as she uploaded unapproved personal pictures of Dhanush, Andrea, and Anirudh tagging them. Unresponsive to these pictures, the actors did not comment on the issue. Later, Suchitra's account was changed to private, and Karthik had said that she had been going through some mental problems ever since their marriage got troubled. In an interview, Dhanush was asked to comment on this matter for the first time to which he refused to answer and walked out.
CRYING THEIR HEARTS OUT FOR THE PROBLEMATIC RELEASE
...
2013 was not peaceful to Simbu, as his movie' Vaalu Click to look into! >> Read More... ,' which was scheduled to be released, got delayed. The problem was at the production level, and a case was filed against the production due to a mishap with the distributors. Completely dejected by this, Simbu's father, T Rajendar, had to get his hands dirty and help out his son. The father-son duo was lashing out, owing to their almost three years delay in the release date.
ALL IS FAIR IS THIS LOVE-WAR AMONG AISHWARYA, DHANUSH, AND SIMBU
Aishwarya Rajnikanth made her playback singing debut in ' Whistle Click to look into! >> Read More... ,' alongside Simbu. There have been many allegations regarding their relationship, which did not work out in the end. Aishwarya ended up marrying Dhanush. Maybe, this is the reason why Dhanush and Simbu do not get along well, and their fans unstoppably going at each other's throats. But, Dhanush and Simbu professed that their relationship is nothing but friendship.
GAUTAMI WALKS AWAY MID-RADIO SHOW
Following the demise of the then Chief Minister of Tamil Nadu, Gautami Tadimalla Gautami Tadimalla is an actress who had a lot of c >> Read More... had written a letter to the Prime Minister asking for her medical records from the hospital. She had also put an end with her 13 years long relationship with Kamal Haasan Kamal Haasan is the most versatile actor that Indi >> Read More... . She had gone to the interviews with a different script in mind. When she was interviewed about these issues, as informed by the media, she stopped and left the room, while saying that he had never once walked out of an interview.
PRABHU DEVA TRIES TO WALTZ OUT OF HIS MARRIAGE
' Nayanthara Nayantara also called as Nayanthara Kurian, is a r >> Read More... ' and Prabhu Deva Story soon >> Read More... grew close on the sets of Villu. Prabhu Deva decided to put his 15 years marriage to an end by applying for divorce, so that he could marry Nayanthara. But, his wife did not mutually agree on the divorce, and their case took longer than expected. By then, Nayanthara claimed that their 3-year-old relationship did not work out, and they broke up. It was rumored that Nayanthara and Prabhu Deva had gotten married in Tirupathi, but we do not have confirmed credibility for those claims.
IN-LAWS LAW BEFORE MARRIAGE: WHY HANSIKA LEFT SIMBU?
Confessing their love for each other, Hansika Motwani Hansika Motwani is a young and beautiful actress, >> Read More... and '' was a hot couple back then. They met on the sets of 'Vaalu,' and their intentions came to light when Simbu had uploaded pictures of Hansika's birthday celebration with him. Their relationship took a serious turn when they were discussing marriage terms. Simbu's mother did not want Hansika to act in movies after the wedding, to which Hansika refused. This condition could be the probable reason for their break up.