Beauty lies in the eyes of the beholder, and, in this case, a surgeon's scalpel. Fashion is ever-evolving, and so are the beauty standards along with it. Dating back to the ancient era, an ideal woman is thick and round figured. In the modern era, beauty standards slimmed down to size zero. In this contemporary age, owing to a more broadminded view, beauty is just being yourself. Every woman, admittedly or not, is beauty conscious. What about the celebrities whose livelihood depends on it? To what extent are they willing to take their prudence? Here is a list of the top 10 celebrities who have cosmetic surgeries done on them.
' Nayanthara Nayantara also called as Nayanthara Kurian, is a r >> Read More... '
...
Nayanthara rose to her title of 'Lady Superstar' from the bottom. She was a video jockey at a local TV show for fashion and lifestyle in Kerala with her birth name, Diana. She debuted in Kollywood in 'Ayya', and later, she hit the jackpot, bagging herself a chance in ' Chandramukhi Chandramukhi was a super hit serial which was tele >> Read More... ' alongside Superstar 'Rajinikanth.' In 2009, she underwent liposuction to slim down her figure. She had done nose reconstruction to make it look sharper and lip reduction to make them poutier. She gave her comeback in the movie ' Anamika Click to look into! >> Read More... ' which was not well received. But, her fanbase expanded from the movie ' Raja Rani Click to look into! >> Read More... '. She always has a signature style of attire, makeover, and hairdos that both men and women adore.
Samantha Akkineni
...
Samantha made her debut in 2010 alongside ' Atharvaa Atharvaa is the son of late Tamil actor M >> Read More... ' in the movie 'Bana Kathaadi.' She was a novice in the industry. Her ' Naan Ee Click to look into! >> Read More... ' was a big hit. She underwent lip enhancement surgery and nose correction. Samantha is known for her attention to fitness. She is a heavy weightlifter. She currently lives with her husband, Naga Chaitanya Naga Chaitanya is a Telugu actor and he is into th >> Read More... . Her stardom reached its peak after her movies like ' Thangamagan Click to look into! >> Read More... ,' ' Theri Click to look into! >> Read More... ,' '24,' and 'Mersal.'
Kajal Aggarwal Kajal Aggarwal is a modern Indian model and film a >> Read More...
...
Debuting in 'Pazhani,' Kajal went unnoticed. She went on to do many movies in Telugu, but the one that put her on the map was 'Magadheera.' She was stunning in the film, and it also seized her many opportunities in Kollywood. She opted for lip enhancement and nose reconstruction surgeries. She hasn't commented on her surgeries yet. Right now, she has a lot of movie opportunities and upcoming projects.
Shruti Haasan Shruti Hassan is an Indian film actress born on 28 >> Read More...
...
Shruthi is a multitalented artist. She has openly voiced out her opinion on plastic surgeries, claiming it as a way of body positivity. She is a bold, strong woman who is unapologetic about her choices. She has lip filling and nose reconstruction surgeries done on her. She made her debut in '7aam Arivu' alongside Surya. She also has done many movies in Telugu since then. She is health conscious and works out regularly.
...
Shriya Saran Shriya Saran, the timeless beauty, is a much loved >> Read More...
...
Shriya made her debut in Tamil in 'Enakku 20 Unakku 18' in 2003. Predominantly starring in Telugu movies, she has done her fair share in Tamil as well. Lip surgery and nose reconstruction were done on her. She is married and now enjoying her life with her husband, Andrei Koscheev. Even though she might not have a lot of movies lined up for her, she remains a heartthrob in many people's lives.
Anushka Shetty Anushka Shetty is the popular South Indian star wh >> Read More...
...
Anushka Shetty turned popular over the South, after her film, ' Arundathi ZEE, Telugu television presented on 13rd March 201 >> Read More... ,' made a blockbuster hit. She is a very dedicated and sincere actor who gives her all to a role. Her part in ' Inji Iduppazhagi Click to look into! >> Read More... ' projected a very insecure, plus-sized girl. Even though a fat suit would have supplemented her role, she gained weight just for the description. Rumor has it that she has done liposuction after the part to suit to 'Baahubali' requirements. She is also a body activist who loves doing yoga.
Tamannah Bhatia
Tamannah's debut in 'Kedi' gave her the role of a vicious college student. Her turning point in the Tamil industry was ' Ayan Bio coming soon... >> Read More... '. 2009-2012 were her glory days, where almost every movie director wanted her to star in their movie. There are claims that she has lip fillers and nose reconstruction, but the actress has not voiced out her comments yet.
Arvind Swamy Arvind Swamy is one of the finest actors from Indi >> Read More...
Arvind Swamy was the handsome hunk of the '90s. He has had hair transplantation done and made his re-entry. He made his re-entry in 'Kadal' in 2006. Thani Oruvan Click to look into! >> Read More... portrayed him as an evil mastermind. People commended him on his acting and gave him a grand welcome. Since then, he has movie opportunities spread over various types of characters cut out for him.
Aditi Rao Hydari As her title may be suggesting, Aditi the talente >> Read More...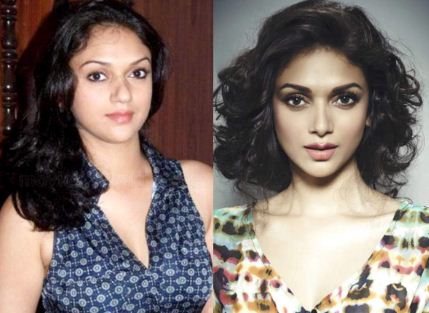 In 2017, Aditi made her debut in Kollywood and won the award for the best debut actress for ' Kaatru Veliyidai Click to look into! >> Read More... '. She is a budding actress in the Tamil industry, even though she has done over 15 films in Hindi. She has allegedly had nose reconstruction done. She has also worked for Mani Ratnam Mani Ratnam is an Indian filmmaker deeply rooted t >> Read More... for the second time and 'Mysskin.'
Taapsee Pannu Taapsee Pannu is an actress and model of Indian or >> Read More...
Taapsee made her 'Aadukalam' debut in 2010. From then, she had a few opportunities to act in Tamil movies. She was more engrossed in Telugu and Hindi movies. The actress is yet to comment on the credibility of the claims of nose reconstruction surgery. She has currently involved in a lot of women-centric films like ' Pink Pink is an American Songwriter, Singer, and Actres >> Read More... ' and 'Thappad.'