Prakash Raj Prakash Raj, born on 26th of March, 1965, as Praka >> Read More... is one of the most versatile actors from the Indian Cinema. His style and way of acting is quite distinctive than other stars, because he is able leave his influence on the audience every time he plays any character on a big screen. His fluency in the other languages makes him the most sought actor in the Industry. Starting his career through TV, nobody thought that he will turn into an acting gem. From Actor, Negative Role, Supporting Actor, Direction, there is nothing he can't do. By saying that, we are here to present some of his enigmatic, energetic and most influential  roles that he has played till date.
1. Kanchivaram
...
Released in the year 2008, it's a Tamil language Drama flick. The direction is from Priyadarshan and the movie producer is Bhushan Kumar Bhushan Kumar was born on 27 November in 1977 in D >> Read More... . Prakash Raj and Sriya Reddy Sriya Reddy is an Indian film actress mainly perfo >> Read More... are in the lead roles. The movie is so scintillating that it landed with numerous awards at various national and international alumni. The acting of Prakash Raj is very heart touching in the flick, which also turns out to be a National Award for his best acting. The movie depicts the miserable condition of silk weavers, in Kanchipuram, which is a small town. Here, Prakash Raj plays the role of silk weaver, who is in a very pitiful state of life. He once wished to marry a woman only with the silk saree, but his desire is unfulfilled, because he couldn't arrange the finance to buy it. Later, his brother in law, gets crooked, and decides to leave Prakash Raj sister, due to this. Once again, Prakash Raj sacrifices his Silk Saree will and gives all his savings to him, to save his sister's marriage. Just after this, another tragedy follows, when his wife dies suddenly. Prakash still going strong with his will decides to gift a silk saree to his daughter, on her wedding. Deceived by a communist writer he and his colleagues go on a strike against Zamindar, for pay hikes and other incentives. The author gets killed by the Police and again he remembers that he has to complete the silk saree for her daughter's wedding. He calls off the strike and turns out to be traitor. Later he is caught by Police while stealing the strings of silk, breaking him emotionally. When he returns, he finds his daughter is paralyzed, he kills her on his own, and uses the same half silk saree as a coffin. The film shows the agony and ignorance towards the silk weavers. The acting of Prakash Raj is very scintillating and heart touching, which keeps our nerves pumping till the end.
2. Singham
...
Another scintillating performance from Prakash Raj includes the movie Singham, where he plays the role of the antagonist. He plays the role of a corrupt politician from Goa, who is running a lot of illegal businesses such as smuggling, extortion, and kidnapping. His dialogue "Aata Majhi Satakli" is still fresh in the memories of people. Here Prakash plays the role of Jaikant Shikre, who is after Ajay Devgan Ajay Devgn is an Indian film actor. He is perhaps >> Read More... , who is a cop in the movie. His dialogue delivery, acting, epic expressions and hisstyle landed him with the Filmfare Award for a negative role. With this character also, he established himself as one of the renowned actor in the Bollywood.
3. Ghilli
...
It's another gem played by the versatile actor, Prakash Raj. Here he plays the role of a vicious leader and son of a Home Minister Home Minister belongs to the game show genre. Zee >> Read More... . He falls in love with the actress Trisha and wants to marry her at any condition. In doing so, he kills two brothers of the actress. The cruelty that he shows as a villain in the flick is absolutely realistic, because of the efforts that he has put forward to make it successful. His fighting with actor Vijay and his dialogue delivery is epic. He also won the Best Villain award for his character.
4. Sivakasi
...
It's another film that includes an astonishing role from Prakash Raj. Here, he plays the role of actor Vijay's brother. He plays the role of an antagonist, who is a crook from childhood. Once when he was lighting his firecrackers he gets a woman burnt and he throws all the responsibility on his younger brother Muthappa (Vijay). His, father gets very angry and throws Muthappa out of the house. The Udayappa (Prakash Raj) later on becomes an MLA, who is very rude to his mother and sister. Prakash fills the veins of the audience with anger, with his behavior and characterization that he has shown in the movie. His rowdy role and in-depth touch with the character makes him look like a real life goon. He also won the best actor award, in a negative role for this.
...
5. Vaanavil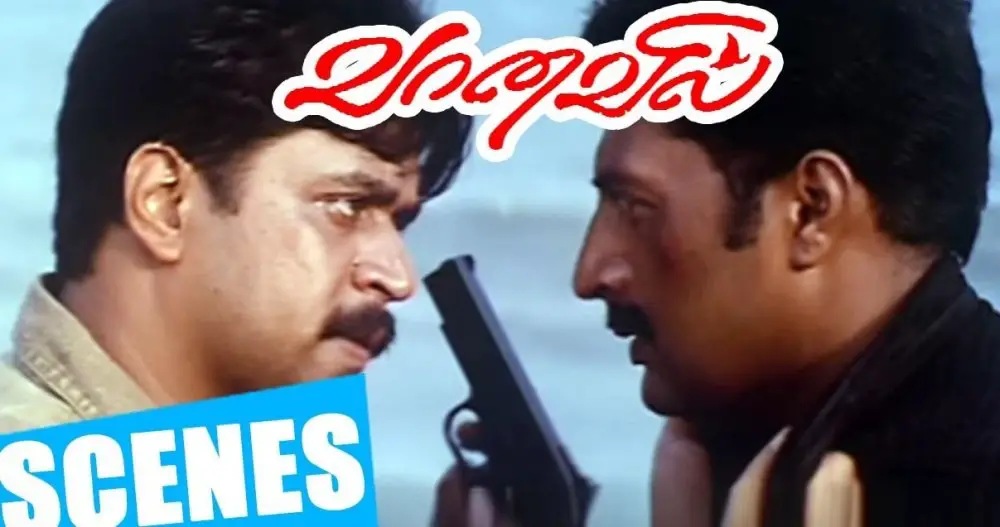 ...
It's another movie showing the tremendous firepower acting skills from Prakash Raj. Here Prakash Raj plays the role of Arjun Sarja Arjun Sarja was born as Srinivasa Sarja. He is an >> Read More... friend; both meet Abhirami and become friends. Arjun and Abhirami start liking each other, which Prakash hates, as he lusts for her. He turns into frenemy against his own friend to fulfill his desires. His dual characterization of being innocent and alos having a cruel mentality got a lot of attention from viewers and critics. He crosses all his limits to put Arjun behind the bars as he becomes a cop later on, in the movie.
6. Gangotri
...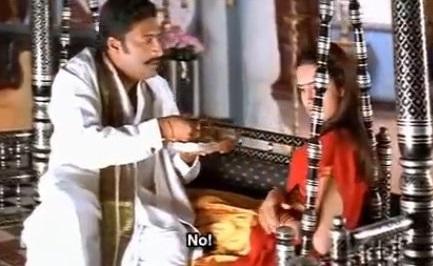 It's a Tamil film, where the character of Prakash Raj is schismatic. Here he plays the role of an overprotective father, who loves his daughter a lot. Due to some reasons all the babies born to Neelakantam (Prakash Raj) die, so once his daughter is born, he calls priests for a solution. The priest advises him to put her name as Gangotri ( Aditi Agarwal The gorgeous lady Aditi Agarwal was born on Januar >> Read More... ) and make her bath in holy water of Gangotri for 15 years. Meanwhile, Allu Arjun The actor was born to producer Allu Arvind and Nir >> Read More... (Simhadri) gets along with his family from childhood and falls in love with Gangotri. Knowing this Prakash Raj gets very angry and beats the hell out of Allu Arjun. Later his obsession for his daughter turns vicious and he tries to kill Allu Arjun, knowing this the actress commits the suicide. Prakash realizes his fault in the end, after knowing their true love. The role of a father played by him is quite marvelous and scintillating, which takes his acting skills to another level.
7. Kalki
In this movie Prakash Raj plays the role of a sadistic, ignorant husband and an Industrialist. He is married and does not have a child. He and his mother curse his wife for this. He gets abusive and rude most of the time, the line crosses when he stops his singer wife from doing her work. This leads to the split between them. Later on, he falls in love with another woman who is his earlier wife's friend. After knowing that the lady is pregnant, how he manipulates the things and takes it forward for the sake of a child is shown in the movie. It's an another film that is having a jam-packed performance from him.
8. Pokiri
It's another movie, where Prakash Raj plays the role of a villain. Here he depicts the character of an International Don Ali Bhai. His gang collects the extortion from businessmen and builders under the name of protection. His brother handles his work in India, while he stays in Dubai. After his brother's killing by rival gang Narasimhan, he comes to take revenge. He succeeds in his plan to kill his competitors, but he doesn't know that actor Vijay is an undercover officer whom he orders to blow school on Independence Day Click to look into! >> Read More... . He turns furious on knowing this and shows his vigil and vicious role by killing Vijay's father. His acting in the movie is amazing and the audience is still in awe of it.
9. Iruvar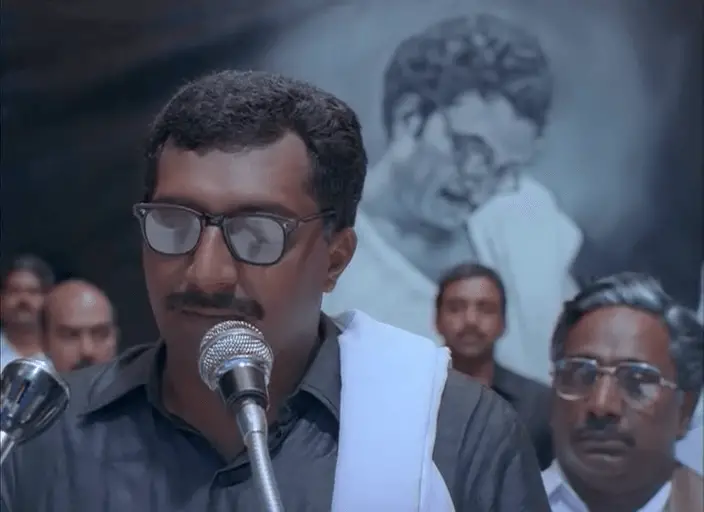 In this film Prakash Raj plays the dual role of writer and politician. He and Mohanlal become friends in the movie once Prakash helps him to bag a small part in a movie. Prakash is also attached to some political party and follows their ideology. He introduces Mohanlal to his party chief and both come along. The story takes a turn, when Prakash Raj becomes Chief Minister. He feels that Mohanlal can be a rival to him, so he doesn't give him any ministry. Prakash uses various tricks and anti-party activities to stop Mohanlal. The rivalry starts and both start fighting against each other. Mohanlal makes his own party and wins the CM election. After becoming CM, he issues an arrest warrant against Prakash Raj for some riots. Both start to downplay each other and finally and how story goes can be seen late, where both friends again unite but unfortunately Mohanlal dies in an accident making Prakash Raj realize the importance of their friendship.
10. Dookudu
Here Prakash Raj plays the role of a doting father and a politician. He is an MLA from Shankar Nagar. He gets into coma due to a road accident. His acting as a politician and ailing father is quite commendable. His son, Mahesh Babu Born on 9 August 1975 in Chennai, Mahesh Ghattaman >> Read More... keeps him under wraps that he is also a politician and serving like him. He does this because of doctor's advice, to save him from any shock. The affection between a father and son is brilliantly done by Prakash Raj. Later on, he gets to know of everything but sustains and applauds his son for his love towards him. His role garnered him the Best Supporting Actor award as well.