Top 10 64th National Film Award Winners in South Film Industry National Film Awards are the outstanding motion picture honors in India and are similar to Academy Awards. These movies won the awards at the regional level. We are proud of them. They totally deserved it.
Here are top 10 among won this honor:  
1) Best Actress:
She is a Malayalam actress and is 30-years old. She won this award for the film ' Minnaminungu'. Surabhi was inspired by her grandmother to take up a career in acting. It is a Malayalam movie where she plays the role of a widow. Her performance was brilliant and she performed her role with dedication.
2) Best Original Screenplay
He is a scriptwriter and has written many famous Malayalam movies. He was born in Kerala and he won this award for ' Maheshinte Prathikaram'. It is a Malayalam movie and it was a commercial success. It garnered a great response from the audience.
3) Cinematography
Thirunavukarasu
He is known as Tirru and is a cinematographer. He won this award for 24. He has been a part of South Indian Industry for sixteen years. In this span of time, he has done 1000 advertisements. He was born in a village but now, he lives in Chennai. He is married and also has two children. His success is an inspiration for everyone.
4) Best Child Artist
Adish Praveen and Manohara K.
Adish Praveen won this award for Malayalam movie, 'Kunju Daivam'. Manohara. K won this honor for the movie, ' Railway Children'. These children made their parents proud with their skills.
5) Best Kannada Film
Reservation
It was because of Nikhil Manjoo's direction that the movie received this honor. He also played the lead role in the movie. It was his vision which made the movie stand out among the rest and inspire people.
6) Best Telugu Film
It is a romantic flick and was critically praised. It became a box office hit. People called it a gem and the movie was given four stars. Ritu Varma and Vijay Deverakonda were the respective actress and actor. These two formed an amazing onscreen pair and people loved them.
7) Best Tamil Film
'Joker' is based on politics. Raju Murugan directed this natonal award-winning movie and it was produced by Dream Warrior Pictures It was a debut picture for Ramya Pandian and Gayathri Krishnaa. The lead role was played by Guru Somasundaram.
8) Best Malayalam Film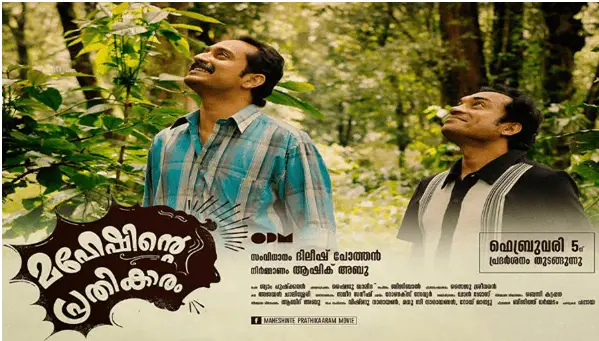 It is a comedy picture and was directed by Dileesh Pothan. It was produced by Oneness Media Mill and Dream Mill Cinemas. Soubin, Alencier, Anusree, and Fahadh played the lead characters.
9) Best Male Playback Singer
Sunder Iyer
He won this esteemed honor for the movie, 'Joker', which is based on politics.
10) Best Music Director
He has mastered the art of playing a flute and creates an aura of magic. He has done many live performances and is extraordinarily talented and thus known as "Bapu Flute". He won this award for the movie, ' Allama' which is a Kannada flick.