1. Irudhi Suttru Click to look into! >> Read More...
 "Irudhi Sutru" is the remake of the Hindi movie "Sala Khadoos". It's a story on how boxing, as a martial art, is deteriorating in India;the politics involved in selecting participants and money becoming a standard for recognizing skill. Madhavan (PrabhuSelvaraj), plays the role of being a coach to a girl in the slums of Chennai. Rithika (Madhi's) passion is to become a legendary boxer and with Madhavan's training and guidance, she "floats like a Butterfly and sting like bee". Sudha K. Prasad directed the film and released it in January 2016. The film focuses on how she becomes a champion against a German boxer, with a lot of twists following up to her final match.
...
2. 24
What is that one thing that makes yesterday different from today? Time is the answer. "24" is a Tamil sci-fi/thriller film that talks about how it would be to time travel into those little moments of life and alter it through a time traveling watch. A scientist (Athreya) discovers this gadget and dies after a period of time, and he has a son (Mani) who grows up to be a watchmaker. Surya plays a triple role in this film, and he finds the watch his father made and uses it for the right things. Athreya's twin brother is the villain in the film who tries getting access to the watch. The rest of the movie is about how Mani fights his uncle Sethuraman whosteals the watch to commit wrong deeds. Vikram Kumar Bio coming soon... >> Read More... directed and it in May 2016.
...
3. Accham Enbadhu Madamaiyada
What does falling in love and getting married to that girl after facing the all odds feel like? What if your first love meets your second love; Royal Enfield meeting the girl you love?Well,its one irreplaceable feeling that Gautam Menon depicts in"Accham Enbadhu Madamaiyada", featuring Simbu and Manjima Mohan Manjima Mohan is an Indian film actress who has mo >> Read More... in the lead roles. The film has a similar feel to"Vinnaithandi Varuvaya".Rajinikanth (Simbu) is a passionate bike rider who meets Leela (Manjima) who is a friend with his sister and she is trying to write a story for her internship. She stays over at his place along with his sister and he falls head over heels for her. Rajinikanth, before beginning his life,embarks on a road trip to South India, and Leela joins him. After the trip she leaves to Jodhpur to meet her parents. Leela's family gets threatened and Simbu comes to rescue her and fights the antagonists, returning home like a soldier after a battle with his queen.
...
4. Dhruvangal Pathinaaru
 Every detail counts and nothing goes unnoticed under the eyes of law. We live in a democracy with its set of loopholes for criminals, but they eventually get penalized. "Dhruvangal Pathinaaru" is a plot about how Deepak (Rahaman) who had investigated a murder case of a couple five years back was not able to crack it eventually retires. His friend's son who is reluctant on becoming a police meets him and discusses this case with him. Deepak decides to re-investigate this. Gautam who is his friend's son joins him in solving the crime. KarthikNaren directed this film on March 2017.
...
5. Zero
...
Have you ever wondered what the world of the dead is like? Can they see us like how we see them?Do they know our language?Are they supposed to scare us? Zero is a tamil Thriller movie that deals with how the world of the dead comes into contact with our world and how that thin line which separates the two worlds fades away. Maheshwaran Kurusamy directed the film and Ashwin and shivadha play the lead roles. Priya (Shivadha) and Bala (Ashwin) get married and she is accused of stealing a pink lipstick. That is how the movie begins. Priya's mother, Lilith, becomes mentally challenged and dies after she is born. Priya starts dreaming about her and she shares all her sorrows with her. Her mother talks to her and Priya gets possessed with the spirit of Lilith. Bala takes her to an exorcist to cure her. The rest of movie is about how Priya gains her senses back.
...
6. Iraivi
What is a woman in every man's life is a question to which we never seek the truthful answer;Her sacrifice and her pain in giving birth to a child,sacrificing her happiness and needs for the happiness of her children and husband and yet being dishonored by the stagnant centre of the society that haven't understood her. "Iraivi" is a story of three men who face great misery on the work front and how their wives stays by them and supports them through thick and thin and shares their husbands' sorrow like it is their own. It emphasizes on how history and art play a vital role in shaping us and our culture, and as human beings, we must uphold that honour and protect it from this world of greed and malice. KarthikSubburaj directed the film on June 2016 featuring SJ Surya, Vijay Sethupathi Vijaya Gurunatha Sethupathi was not born with silv >> Read More... , Bobby Simha The transformation of Bobby Jayasimha of remote K >> Read More... , Anjali and Kamalini Mukherjee in thethe lead roles.
...
7. Kodi Click to look into! >> Read More...
They say that with twins you can work wonders. "Kodi" is an action based thriller film featuring Dhanush and Trisha as the lead roles. Dhanush does a double action role in this movie. Kodi who is the elder brother is aspiring to be a politician who meets Rudhra, a good orator of the opposite political party where his father is a Minister. Rudhra and Kodiwho were childhood enemies,now have love blooming inside them, and they start working for their political parties. Rudhra who gets drunk with powers goes to the extent of murdering Kodi, her lover who opposes her in the election for the administrator post. Kodi dies, and the murder gets recorded in the CCTV footage which Rudhra eventually destroys. Anbu who is a professor and the twin of Kodihas an aversion towards politics takes over Kodi's position and wins the election and figures out that Rudhra is his brother's killer. Rudhra gets killed by Kodi's assistant who isunable to bear Kodi's loss. The movie released on 2016 and R.S Durai Senthi lkumar directed it.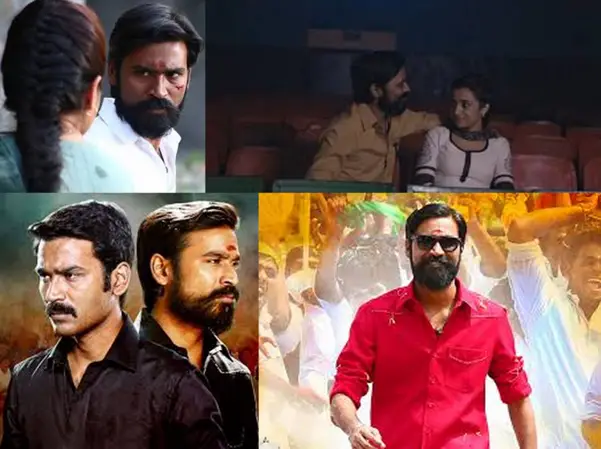 8. Kaashmora Click to look into! >> Read More...
"Kaashmora" is a horror based thriller film released on 2016. Gokul. Kaashmora (Karthi) is the hero,and Rathnamahadevi (Nayanthara) is the heroine of the movie. Karthitakes up exorcism as his livelihood by disguising himself as a fake 'shaman'. A corrupt politician on figuring out that there is a raid at his place, puts all his wealth in a house with an evil spirit in it. The spirit takes human form and decides to cause harm to Rathnamahadevi, Karthi's princess, who gets cursed and destroys him. The movie released on 2017.
9. Miruthan
This movie released in 2016 and and Lakshmi Menon Films came to Lakshmi Menon at an age when she had >> Read More... played the lead roles under the superb direction ofShakthiSoundherRajan. The story revolves on how a virus spreads in the city and changes humans into zombies and anybody in contact with them also change into zombies. Jayam Ravi battles these zombies who cause massive destruction and tries to protect Lakshmi Menon from them as well. The blood of a zombie enters him as well, and he gets treated immediately to gain back his human form.
10. Aranmanai 2 Click to look into! >> Read More...
"Aranmanai 2" is a horror cum thriller film directed by Sundar. C and was released on 2016. The movie is a continuation of the first series where the spirit of Maya ( Hansika Motwani Hansika Motwani is a young and beautiful actress, >> Read More... ) who is killed by her father for falling in love with a man of low caste enters the body of Divya (Trisha), her brother's wife. Maya's spirit, tries to kill her father and all those behind her husband's and her murder. Murali (Siddharth) along with a psychiatrist tries talking to her and she cries out to her brother and tries to pull him onto her side but he takes the spirit of Maya inside him and fulfills her wish sending her back to heaven.