The Malayalam and the Tamil industry have seen growth and success in the last few decade's right from the quality of film making till the story the produce and the message the public get to take away after watching these movies. The requirement for a story to be dubbed is that it should have gained recognition among the audience and must have been a blockbuster in one language it's only then the directors from other film language industry decide to do a remake of it.
The film is made with desired characters according to the director, and this is called a remake, a film where the language is different but the characters and sequence remain the same is called a dubbed movie. This article shall look into both these specifications as a film needs good quality to get released in other languages and these stories have surely been a great example for aspiring young directors. The task is still hard as they will have to match the lip-sync else it will look very vague and then there should be continuity as well when seen in the theater.
1. Ithu Nammude Katha Click to look into! >> Read More...
...
Ithu Nammude Katha is a Malayalam film directed by Rajesh Kannankara Bio coming soon... >> Read More... and written by Samuthirakani and produced by K.C. James. Nadodigal is the movie this was remade into starring Jay, SasiKumar, Bharani, Ananya, and Abhirami. In the Malayalam sequel, it starred Vinod, Kochumon. Kalyani and Ammu and released in the year 2011. The story revolves around Kochumon who tries to join two lovers against the entire village who doesn't want them together due to caste issues.
2. Kunjikoonan
...
The director of Kunjikoonan is Sasi Shankar, Benny P Nayarambalam is the author, and released in the year 2002. The main roles in the film are Dileep, Navya Nair Navya Nair is a familiar face on Mollywood. Navya >> Read More... , , Saikumar, and Spadikam George Spadikam George is an Indian actor in the Malayala >> Read More... . The story is a remake of the Tamil film Perazhgan starring Surya and Jyothika. Kunjan has complex issues due to his hunchback, and he is worried that nobody will marry him and that's when he meets Priya and falls for her not knowing the problems that follow later. Dileep(Vimal and Kunjan) and Manya (Priya and Chenbagam) are the two different roles in the movie.
...
3. Classmates
A story about a group of college friends and the memories they shared along with some sadness is faced for one more time when they plan a reunion after so many years that makes them reveal the dark past of their college days. Lal Jose Best known in Malayalam cinema, Lal Jose is a film >> Read More... directed it, and James Albert James Albert is an Indian scriptwriter and directo >> Read More... is the story writer. It is a Tamil remake of the movie Ninathale Inikkum starring Prithiviraj and Priyamani with other supporting roles.
...
4. Chronic Bachelor
It is a story about two Bachelors who move into a flat to enjoy their Bachelor's life peacefully, and things become chaotic when they start flirting with a girl in their neighbourhood who is related to the house owner. It released in the year 2003, directed by Siddique and produced by Fazil, and it is a remake of the Tamil movie Engal Anna starring Vijayakanth, Prabhudeva, Namitha, and Vadivelu.
...
5. Salt N Pepper
...
A modern romantic story between a widower and a divorcee who explore the beauty of life in their areas of interest and meet over a missed call and fall in love and so do their niece and nephew. Un Samayal Arayil is the movie from which it was remade into, where Kalidasan is an archeologist and a great lover of food, Maya, on the other hand, is an aspiring cook and then they exchange recipes and fall in love. Ashiq Abu is the director.
...
6. Katha Parayumbol
The story is about a man named Balan who is under poor living conditions and is not able to support his family and his situation changes when an old classmate of his who is an actor in the film industry comes for shooting in Balan's village. The movie is a remake of the Tamil movie Kuselan starring Rajinikanth and Nayanthara and M. Mohanan is the director.
7. Kreedom
A power-packed Police movie starring Mohanlal who decides to become a policeman wants to save the city from criminals and ends up killing a criminal through encounter who tries to kill his father and situation changes after that. In the Tamil version, Ajith Kumar Ajith Kumar is a prominent Tamil film actor, model >> Read More... plays the lead role, and Rajkiran is his father. Sibi Malayil Sibi Malayil is an acclaimed director in Malayalam >> Read More... is the director of the movie.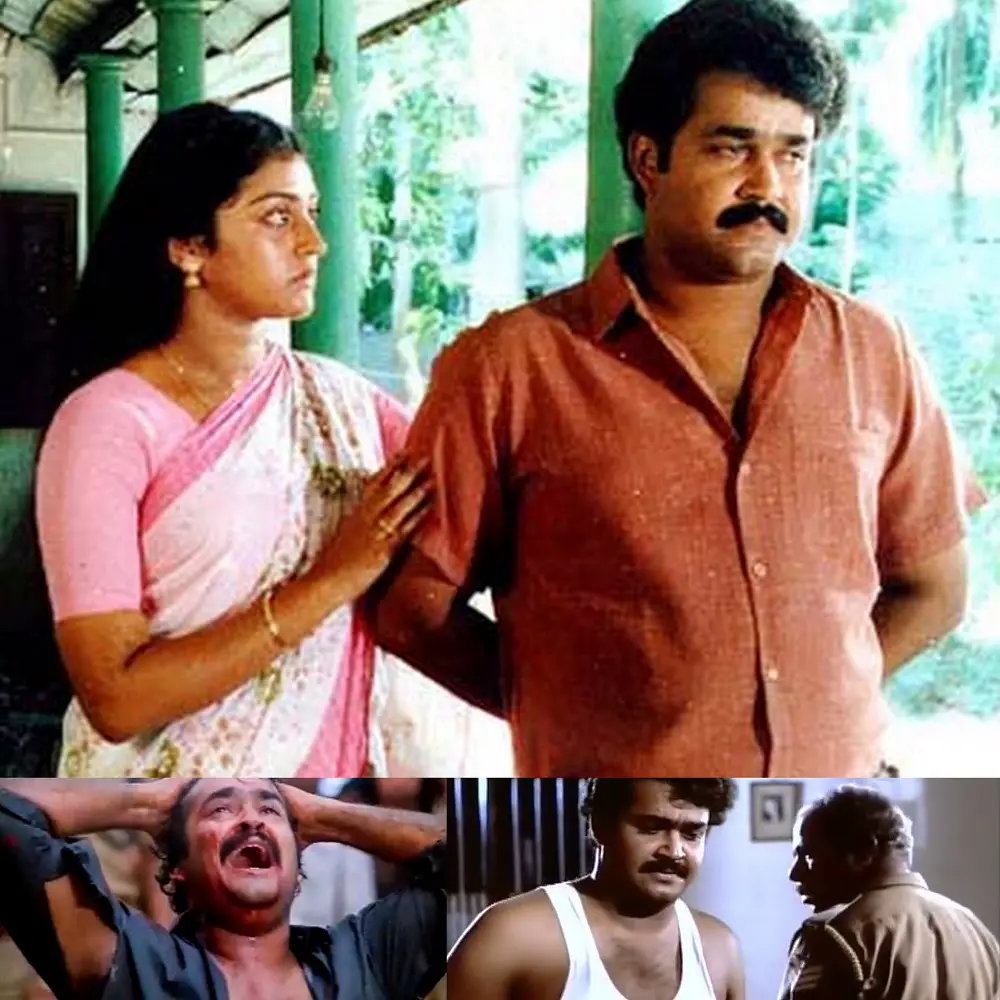 8. Neram
A beautiful movie directed by Alphonso Puthren is about a young engineering student who to impress his girlfriend starts borrowing loans from a loan lender, and the rest of the film is about how he suffers to repays it. Nivin Pauly Nivin Pauly is predominantly a Malayalam actor. Bo >> Read More... and Nazriya play the lead roles in the movie.
9. Vietnam Colony
Siddique is the director of the movie and Swaragachitra Appachan starring Mohanlal, Innocent, and Kanaka and it's a remake of the Tamil movie Vietnam Colony starring Prabhu in the lead role. A man named Krishnamurthy who is asked to excavate a colony by his real estate agent to claim the land but Krishnamurthy understands that he is supporting the wrong side and decided to fight against them.
10. Aniyathipraavu
The film recounts the life of Sudhish Kumar Kunchacko Boban and Mini (Shalini) who experience passionate feelings for each other and their parents are against it due to religious constraints. The film investigates love, connections and the different parts of emotions. Kadhaluku Mariyadhai is the Tamil version to this story.