The much-awaited, Mani Ratnam Mani Ratnam is an Indian filmmaker deeply rooted t >> Read More... 's masterpiece, Ponniyin Selvan Part 1 teaser is out and has become the talk of the town. It is based on the historical fiction novel by Ramaswamy Krishnamurthy whose pen name goes " Kalki Click to look into! >> Read More... ". It will be a pan-India release on 30 September 2022 in five languages, Tamil, Malayalam, Telugu, Kannada and Hindi. The film adaptation of this novel began in the late 1950s after it gained popularity. Dr M.G.Ramachandran, famously known as "MGR" had attempted to adapt this novel but failed miserably. Mani Ratnam tried to re-create the novel in the 1990s and in the early 2010s but failed due to budget and casting issues. He had stated it as his "dream project". Later in 2019, Ponniyin Selvan's production revamped with Lyca Productions being the producer and had its castings changed. With most scenes shot in various places across India and a few scenes in Thailand, the great movie is here to break the records.
1. Kalki's Masterpiece
After it's release in 16 May 1954, the novel gained a huge popularity that still holds the Tamil publishing market alive. It is by far the largest selling book in the Tamil publishing industry with sales of over 1,00,000 copies a year. Running into five volumes, Ponniyin Selvan is the greatest historical fiction that it can be proudly called as the "Tamil Game of Thrones". It is still in the top 10 novels in Tamil publishing industry.
...
2. An Ace Director
Every piece of Mani Ratnam is gold. He is an ace director for his unique style of direction that involves an out of the box camera angles, lighting, and screenplay. Unlike others, he would spend more time with the Cameraman than any other director. He would discuss tints to bring out emotions, Close-Ups, Colouring lenses to indicate moods etc. Experiencing his blend of grandeur in theatre would be much of a dream for die-hard fans of Ponniyin Selvan.
3. Extravagant Budget
Ponniyin Selvan is the expensive movie in Kollywood only next to "2.0" with a difference in few crore budget. Given the huge chunk of cash pooled at Mani Ratnam's disposal, the film brings in an immersive experience to the audience with splendid VFX and admirable graphics. VFX
...
4. Brand New Trivia
Director Mani Ratnam, Music director AR Rahman and Lyricist Vairamuthu had been the unbreakable trio since AR Rahman's debut in Roja (1992). All of Mani Ratnam's film had been composed by AR Rahman with lyrics by Vairamuthu. Based on the allegations on Vairamuthu in the #MeToo case, Mani Ratnam and AR Rahman had decided to break up the longest director-composer-lyricist trio in Tamil cinema.
...
5. Exemplary Cast Selection
Ponniyin Selvan has one of the best cast selection by Mani Ratnam that appropriately fits the fictional characters in the novel. Especially the role of Vandhiyadevan, who is a brave also sarcastic ruler is being played by actor Karthi who could be the only one in the industry to roll it out perfectly. Mani Ratnam has once again proved his competence in choosing the finest actors.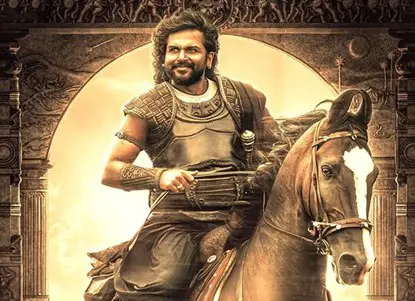 ...
6. Not A Stand Alone Film
Initially decided to be a stand alone film was later split into two parts just as it was with Bahuballi 1 & 2, which would further arouse the audience by a feel of excitement if part one becomes a hit and proves its hype.
...
7. Award Winning Art Director
was assigned initially as the art director when the film production met serious revamps due to multiple clashes. Later replaced Sabu Cyril to be the art director for both the parts. Thota Tharani is a two time national award winner for stunning art in various films.
...
8. Oscar Winning Musician
AR Rahman, the patron saint of Indian Music Industry will no doubt disappoint us when is tagged along with finest director-composer duo. The BGM score of the movie will be the worth the wait and the hype. AR Rahman, given his legacy, will execute very well as this is Mani Ratnam's magnum opus.
...
9. Best Ever Film For History Lovers
If your are a die-hard follower of history, then this film would surely be appropriate for you to experience the scenic wonder Mani Ratnam has created. The historic novel would very well be executed and adapted and it should be, given the pool of resources the director has made use of.
10. A Reputed Production House
Lyca production is a production mammoth that chooses the best multi-starrer films lately. They have backed many super hit films so no doubt they have put faith on Mani Ratnam for his excellency in his script. So we could expect a fantastic, impressive and remarkable film.