Kamal Haasan has worked with many actresses and his chemistry with some worked wonders. Starting from Sridevi during his earlier years in cinema, Kamal had always managed to bring a mesmerizing screen presence along with his women colleagues. Here is a list of actresses with whom Kamal Haasan had worked more than once (in fact had worked with many actresses more than once).
'Sridevi'
It is no exaggeration to tell that Sridevi is one of the best pairs of Kamal Haasan till date. When these two appear on screen there is a confidence level which is found in only a few onscreen pair. Both are exemplary actors and some of their flicks have worked wonders. 16 Vayathinile, Sigappu Rojakkal, Moondram Pirai, Varumayin Niram Sivappu and Vazhvey Maayam and Meendum Kokila are outstanding pieces in their careers. It would be a pleasure to watch this evergreen pair sharing screenspace again.
Kamal Haasan had acted in many movies with Sripriya. They also managed to attract the audience.
Kamal Haasan and Jayapradha shared screenspace in Ninaithale Inikkum, Sagara Sangamam, Dasavathaaram etc. Their romance in Sagara Sangamam is very cute for all its naïve exploration.
' Revathi'
During the time when Kamal was hailed for his acting prowess, Revathy was an actress who was hailed in the women gender. She shared screenspace with Kamal in Oru Kaithiyin Diary,Punnagai Mannan, Thevar Magan and Magalir Mattum.
' Urvashi'
It is a well known fact that Urvashi is a wonderful actress, mainly in comedy. And when she joins hands with Kamal in tickling your humor bones, it is only a treat. Who can forget their lovely onscreen chemistry in Michael Madhana Kama Rajan? Earlier they had worked on Andha Oru Nimidam. Later though Urvashi was not paired opposite Kamal Haasan she was seen in some of his flicks including Panchathantiram,. Manmadan Ambu and Uttama Villain.
This Bollywood hottie had acted in two films of Kamal Haasan namely Saagar (Hindi) and Vikram. Their pairing was quite good.
Gautami was at her best in Kamal's movies. Be it Thevar Magan, Nammavar or Kuruthipunal she showed that she is not just a glamour doll. Her role in Thevar Magan was very much appreciated and she also shared a good chemistry with the romance king. And now, in her latest flick Papanasam, she returned with a bang to the film industry as the lovely wife of Kamal Haasan. And yes, her return is worth the wait.
' Sukanya'
I would not lie that none could have done justice to the role done by Sukanya in Mahanadhi but there is no denying that she proved a perfect match for Kamal at that time. She showed matured performance in that film and later Kamal and Sukanya joined hands in Indian. The song Kappaleri Poyachu is indeed a remarkable piece in their career and their chemistry was just fabulous in it.
' Khushboo'
Kamal Haasan had worked with Kushboo in Micheal Madhana Kama Rajan and Singara Velan. Singara Velan is one of the films of Kamal in which the lead actress was also given more importance. The pairing of Kamal and Khushboo in Michael Madhana Kama Rajan was indeed charming.
' Simran'
Simran was a perfect pair for Kamal Haasan. Her spontaneous style of acting, coupled with confidence (the confidence seen in Sridevi), while acting with Kamal, is indeed alluring. She has acted with this Kadhal Mannan in two flicks including Pammal K Sambandham and Panchathanthiram.
This bubbly actress acting with Kamal in two flicks namely Thenali and Vettaiyaadu Vilaiyaadu. Well, she did carry herself well in these flicks.
This svelte beauty had worked with Ulaga Nayagan in Manmadan Ambu. Now she is sharing screenspace with him yet again in Thoonga Vanam. Well, they were quite a nice pair..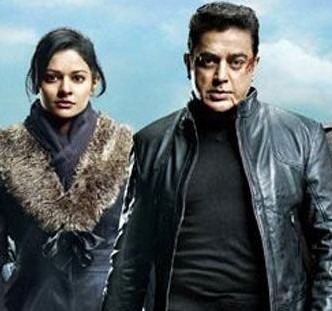 Pooja Kumar is always in awe of Kamal Haasan. She just did an unnoticed film Kadhal Rojavae but striked the jackpot with the flick Vishwaroopam where she shared screenspace with the Ulaga Nayagan. Later she went on to do Uttama Villian again with him. And well, she did a decent job in both these flicks.
The leading actresses of Vishwaroopam were recast in Uttama Villian. Yes Andrea was cast in both these flicks along with Pooja Kumar. Though she had a small role in Vishwaroopam, Andrea compensated for it in Uttama Villian.