When you think of Rajinikanth what is the word that's comes to your mind? Indomitable? Humble? Simple? Well, whatever word comes to your mind, he has a special place in Tamil Nadu throughout his entire career. A villain to a lead actor, a lead actor to a superstar with mass appeal..doesn't this transformation sound adorable? When his colleagues (except Kamal Haasan Kamal Haasan is the most versatile actor that Indi >> Read More... ) have wisely shifted their career choices to supporting roles, Rajini is one actor who still excels in lead roles. There were days when he had the Midas touch and all his movies worked wonders at the box office. In fact, when his film released, the fans would go crazy and run to the theatres. And in theatres too they would whistle for their thalaivar with much gusto. Such is his mass appeal. Art is one form which has the specialty of leaving an indelible impression in the minds of the people. Through art your favorite star's work remains in your hearts forever. So the crux is that the work should speak for the actor.
•Rajinikanth, born on December 12, 1950, was able to reach great heights and carve a niche for himself. People could relate with him in the movies and that is one of his main strengths.
...
• Rajinikanth doesn't endeavor into endorsements mostly. Also he doesn't get himself involved in doing many films but takes time to do his films. But when a Rajini's film releases then it is like a festival to his fans.
• One may wonder how a person who is not a Tamilian was able to make it big in Kollywood. That would have been mainly due to the reason that Rajinikanth did what the director wanted him to do with great dedication.
• The simplicity of Rajinikanth can be seen from the fact that he does not take effort to cover his bald head in real life. He is mostly seen wearing white pyjama and kurta.
...
Even a school kid of this generation knows that Rajinkianth had a humbling beginning in his career. His father Ramoji Rao Gaekwad worked as a police constable. Rajinikanth completed his schooling in Bengaluru and worked in several jobs in Bengaluru and Chennai. Well, his story of becoming a carpenter and a bus conductor would be racing your mind now. And then he participated in stage plays. Later he got himself associated with the Madras Film Institute, to the dismay of his family. It was during one of his performances in the institute that ace director K Balachander observed him and requested him to learn Tamil; Rajinikanth did this with great earnestness. And then Apoorva Ragangal happened and the rest is history.
Rajinikanth has also acted in Hindi films and gained recognition. His comic stint in the superhit Chaalbaaz, alongside the ever-gorgeous Sridevi, was a major hit. He had also shared screenspace wiht the legendary actor . He shares a good rapport with this iconic actor. He is one of those few actors from southern film industry who has carved a niche for himself in Bollywood.
...
Earlier, after completing every film, the superstar used to go to Himalayas and take his much-needed break there. This actor is famous for his simplicity and good rapport with everyone. Well, ace star like Shah Rukh Khan Shah Rukh Khan or also known as SRK is a prominent >> Read More... is in so awe of Rajinikanth that he showcased that in screen through ai dance in Chennai Express Click to look into! >> Read More... . Just a small gesture from our superstar and that becomes the talk of the town.
...
Well, it is no surprise that Rajini is in the list of top paid 5 actors in India. Still he is down-to-earth and humble. And just as a glaring proof of his astounding fan base he got over 150000 likes in Twitter just in the first day of him getting into Twitter! One may not be aware of this but Rajinikanth is the forerunner in India to have endeavored in movies making use of distinct camera technologies including colour, black-and-white, 3d etc. Earlier M G Ramachandran was considered as a demigod and Rajini's status is also something akin to that. Rajinikanth leaves an indelible impression the minds of the audiences through his witty sense of humor and distinct style of acting. He was honored with the Padma Vibhushan Award on April 2016.
...
Well, one would wonder that for such a man of mass appeal, what is the role of content in his films? Some of his films like Murattukalai, Annamalai, etc. showed him as a person who rose from a humble beginning to dizzying heights. During his later stage only Rajinikanth started acting in mass entertainers. In his initial years he also did critically acclaimed flicks.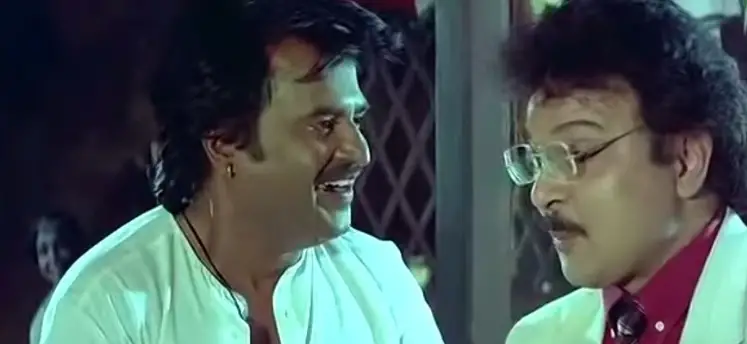 ...
Thalapathy was a film in which the superstar joined hands with the ace director Mani Ratnam Mani Ratnam is an Indian filmmaker deeply rooted t >> Read More... . And his performance in the film, which is a blend of emotions and indifference was embraced by all. Baasha is yet another memorable film of the superstar wherein he mesmerized us with his dialogues, style and yes acting…and everyone knows that the movie was telecast in television many a times….
Kabali was released on July 2016. Audiences expect a Rajini's film to have long dialogues. There was no dialogues that were specially created for getting whistles, the way in which Rajinikanth utters "Kabali Da" is something that is enough to satisfy his fans. In fact, Kabali had a flashback sequence in which the superstar was supposed to give a young look, and yes, he did that in a seamless manner. Kabali also created a huge sensation in social media. The flick revolves around Rajinikanth, a Malaysian gangster and mostly it was filmed in Malaysia. The flick was also dubbed in Telugu, Hindi and Malay. Kabali had created ripples since the release of its teaser and the song "Neruppu Da" became a huge hit. An interesting thing is that Kollywood Café, was started in June 2016 before the release of Kabali. It is a café that is dedicated to the stylish actor. The café has the movie poster, valuable info mouthed by the actor, and much more; you get the trivia related to Rajinikanth.
...
If one analyses why Rajinikanth is so famous then one can come to a conclusion that it is his inimitable style and dialogue delivery that draws him to the audiences. In Endhiran, Rajinikanth essayed the role of a genius scientist and his robot product Chitti. Apparently his yet-to-be-released 2.0 deals with the additional adventures of the robot Chitti. Besides Rajinikanth 2.0 also has , , Sudhanshu Pandey Sudhanshu Pandey was born on 22nd August 1974 in L >> Read More... and Adil Hussain Adil Hussain is a prominent Indian television, fi >> Read More... . Music is composed by the music wizard A R Rahman. The first look of 2.0 took place in Mumbai and the Superstar was dressed modestly. 2.0 had created great expectations since the cast is outstanding and the budget is a whopping amount. But that is what a Shankar film is mainly about. And during the event the two actors, Rajini and Akshay only had words of compliments for each other. The iconic Amitabh Bachchan, who is also a pal of Rajnikanth, attended the event. And Salman Khan was generous enough to spare some time for this great event. Filmmaker Karan Johar also attended the show.
If reports are to be believed Rajinikanth will join hands with Pa Ranjith, who directed him in Kabali, again and the movie will be bankrolled by Dhanush, the superstar's son-in-law. Rajinikanth will apparently start working on this movie soon.
Rajinikanth found a special place in the heart of the masses through his unparalleled style and dialogue delivery. And now the real test of him is to win the audiences' heart with films that are content-driven. But again, nowadays many actors are doing mass entertainers and are even doing well. He would have been surely an inspiration to such actors. After all, the real credit for an actor is by re-inventing himself continuously and satisfying every set of audience. And for an actor of Rajinikanth's caliber we are sure he would do that.