While Tamil cinema has produced several great movies, it has also produced some not so good and very few bad movies too. We list the worst Tamil movies of all time based on their IMDB ratings and box office expectations and performances.
1. 'Sura'
...
This was actor " Vijay As they always say, "it runs in the blood", the sa >> Read More... "s 50th movie, and there were huge expectations. Due to the weak storyline and clueless acting, the movie became his not-so-memorable-flop in his career.
2. Alex Pandian Click to look into! >> Read More...
...
Any sense of reason and logic was not appreciated in the movie. The story is about a gang kidnapping chief minister's daughter and eventually the hero looking to thwart the same operation. Due to heavy marketing as a mass movie, the movie could not meet its expectations.
3. 'Osthe'
...
The supposed remake of Dabangg in Tamil. The movie became a nightmare for audience due to the irritating slang of actors and incompetent screenplay.
4. ' Mugamoodi Click to look into! >> Read More... '
...
This is the overhyped first indigenous superhero movie of Kollywood. Due to poor execution and screenplay, the movie was not received well by the audience.
...
5. ' Rajapattai Rajapattai is an interview-based tv show to be air >> Read More... '
...
The movie with the combo of Chiyaan Vikram Vikram is from the Tamil family. His father is Chr >> Read More... and ' Suseenthiran Suseenthiran was born in 1978 and his parents name >> Read More... ' was expected to be a superhit. With a racy story on land grabbing and political mafia, the movie was all set for box office hit. Poor screenplay and lack of any suspense factor made this movie just a poorly executed commercial masala.
6. 'Sakkarakatti'
...
The only face saver for the movie was the music of ' A R Rahman A.R.Rahman is a Legendary Music Composer, prominen >> Read More... '. This marked the debut of the actor Shanthnoo Bhagyaraj. Critical reviews for the movie film included comments like the hero does nothing in the movie except, hanging out with friends and cuddling the heroines.
7. 'Thiruthani'
This movie flick became a disaster mostly because the director of the movie wanted to try his hands in music composition as well. Directed by ' Perarasu Perarasu is a famous Tamil director, who is known >> Read More... ' and lead action by Bharath Srinivasan Bharath Srinivasan is a popular star in Tamil and >> Read More... , the movie revolves around taking vengeance for his family's troubles. Moviecrow rated this movie as a Must-miss.
8. Irandam Ulagam Click to look into! >> Read More...
A movie, from Selvaraghavan combining two stories happening on two different planets. This was a bad mixture of romance and fantasy. Though it was a very ambitious and challenging theme, the film was devoid of passion and maybe even abstruse.
9. Thambikku Indha Ooru
This is a box office bomb from actor Bharath Srinivasan and director Badri. A template Tamil movie on revenge coupled with clueless acting, poor performance, and mediocre music made this movie a big flop than expected.
10. Onbadhule Guru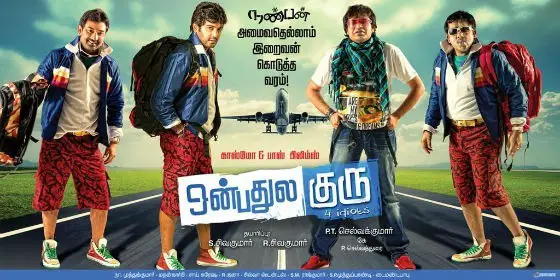 Behindwoods rated this movie 0.5 / 5. This is a bad movie which no one understood whether it is a comedy or a spoof. Though the box office performance was not a disaster, the movie is like a collection of comic scenes and endless and tedious lambasting of other movies and artists in the industry.