1. Punjabi House (1998):
Director: ' Rafi' and 'Mecartin'
Actors: ' Dileep', ' Lal', ' Mohini', Cochin Haneefa, Neena Kurup, ' Janardhanan'
Punjabi House tells the story of a man running from debt collectors who is mistaken to be deaf and dumb and ends up working for a rich household. It is an all-time favorite among Malayalis of all ages and is known for its witty dialogues, hilarious shenanigans, and the comedic element that only Dileep could bring in a movie during those days.
2. 'Nadodikkattu' (1987):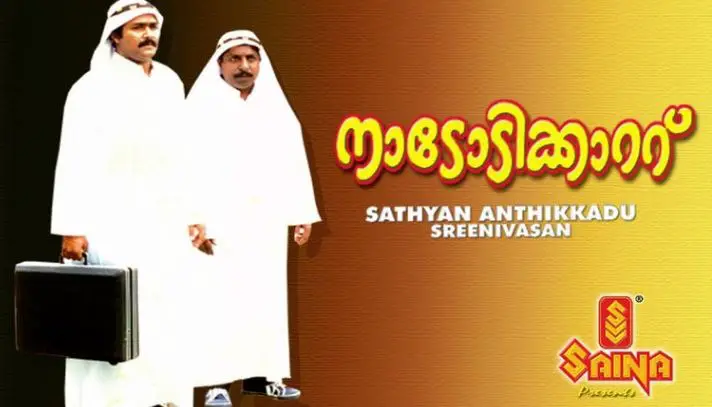 Director: Sathyan Anthikad
Actors: ' Mohanlal', ' Sreenivasan', ' Thilakan', Innocent Vincent, Shobana Chandrakumar Pillai, ' Mamukkoya', Janardhanan.
This satirical comedy tells the story of two unemployed men who, like most Keralites in those days, were in the search for job opportunities in the Middle East. They end up in Tamil Nadu instead, and the hijinks that ensue from then on are as heartwarming as it is hilarious. Due to its popularity, two more sequels were released with this duo- Pattana Pravesham (1988) and Akkare Akkare Akkare (1990).
3. In Harihar Nagar (1990):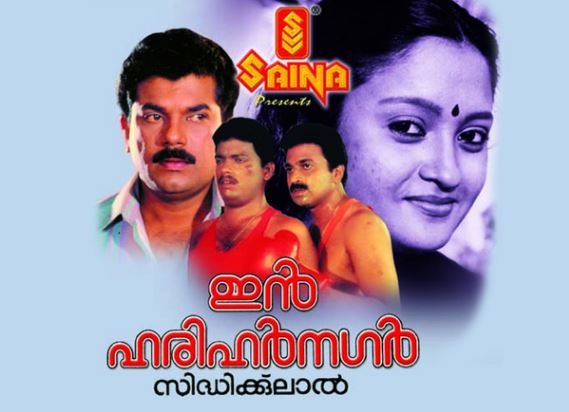 Directors: ' Siddique' and Lal
Actors: 'Mukesh', Siddique, ' Jagadish', ' Ashokan', Geetha Vijayan.
A timeless comedy in Malayalam cinema, In Harihar Nagar tells the story of four young men who try to woo the new girl on the block, but end up getting tangled in a mess that they did not anticipate. Consistently funny and engaging, this movie is said to be a part of the golden age of comedy in Malayalam cinema. The popularity of this film gave rise to two more sequels- 2 Harihar Nagar (2009) and In Ghost House Inn (2010).
4. 'Kilukkam' (1991):
Director: ' Priyadarshan'
Actors: Mohanlal, Jagathy Sreekumar, ' Revathi', Thilakan, Innocent Vincent
Hilarity ensues when two desperate tour guides find themselves taking care of a mentally challenged girl with a questionable past. One of the highest grossing films of its time, Malayalis can still quote some of the movie's famous dialogues, and it is considered to be a cult classic with its memorable scenes and jokes.
5. Ramji Rao Speaking (1989):
Directors: Siddique and Lal
Actors: Mukesh, Innocent Vincent, ' Saikumar', ' Rekha', ' Vijayaraghavan'
Three unemployed men get tangled up with a local goon when they try to resolve their financial problems by getting involved in a kidnapping scheme. This movie is full of hilarious scenarios and impeccable comic timing and marks the directorial debut of the Siddique- Lal duo. Its sequels are Mannar Mathai Speaking (1995) and Mannar Mathai Speaking 2 (2014).
6. C.I.D Moosa (2003):
Director: Johny Antony
Actors: Dileep, Harisree Ashokan, Jagathy Sreekumar, Cochin Haneefa, ' Bhavana'
This slapstick is an all-time favorite among the Malayali youth and contains one of the most laughter-inducing scenes and dialogues in the 21st century Malayalam cinema. The adventure of C.I.D Moosa is almost like a Malayalam version of Johnny English and is considered one of the most popular films in Dileep's career.
7. ' Godfather' (1991):
Directors: Siddique and Lal
Actors: Mukesh, Jagadish, Innocent Vincent, ' N N Pillai', ' Philomina', ' Kanaka'
When two youngsters from rival families fall in love in a Malayali neighborhood, what more do you need for comic situations and laugh-out-loud scenarios? Cleverly written with witty dialogues, it is no surprise that this winner of the Kerala State Film Award for Most Popular Film was one of the highest grossing films of the time.
8. Melaparambil Aanveedu (1993):
Director: ' Rajasenan'
Actors: Jayaram, Jagathy Sreekumar, Shobana Chandrakumar Pillai, Narendra Prasad
This movie follows the hilarity that ensues when a woman walks into a family full of bachelors and happens to be secretly married to one of them. With a humorously written script, twisted situations, and perfect casting, Melaparambil Aanveeduis one of the funniest movies ever produced in the Malayalam film industry.
9. Sanmanasullavarku Samadhanam (1986):
Director: Sathyan Anthikad
Actors: Mohanlal, Sreenivasan, ' Karthika'
A landlord who is neck deep in debt tries to evacuate his tenant, who refuses to leave. The movie is full of their shenanigans as they try to get back at each other and eventually fall in love. It is written hilariously with appealing characters and plot development.
10. Ponnmuttayidunna Tharavu (1988):
Director: Sathyan Anthikad
Actors: Sreenivasan, Innocent Vincent, Jayaram, ' Urvashi', Jagathy Sreekumar
This is a slice-of-life comedy that depicts the lives of characters in a small town full of rumors and misunderstandings. The jokes are genuine, and the situations are true-to-life in this critically acclaimed as well as commercially successful movie.