1. Kabani Nadi Chuvannappol (1975):
A directional debut by 'P. A. Backer', produced by 'Pavithran', and starring ' T V Chandran T. V. Chandran is a Malayalam film director whose >> Read More... ', Shalini, ' Raveendran Raveendran is an Indian actor and television ancho >> Read More... ', and 'Siddiqui' in the lead roles. The film landed itself into controversy for having released during the Emergency time. It was branded as a leftist political drama and was labeled by many as to being promoting Naxalism and a superstar of the time even organized protests against the film alleging that it misguided youths.
...
2. Lekahayudey Maranam Oru Flashback (1983):
Lekahayudey Maranam Oru Flashback, is a ' K G George K G George is a renowned movie director in Malayal >> Read More... ' directed Malayalam movie with Bharath Gopi Bharath Gopi was the evergreen pride of Malayalam >> Read More... , ' Nalini Nalini or Rani in real life is a South Indian actr >> Read More... ', ' Mammootty Muhammed Kutty Ismail Paniparambil is the original >> Read More... ' in the lead roles. The film closely resembled the life of actress ' Shobha Shobha was a famous South Indian actress who worke >> Read More... ' who had committed suicide after her relationship to director Balu Mahendra Balanathan Benjamin Mahendran was born in a Sri La >> Read More... . It also portrays the life of a young girl who rises to stardom in an industry that was too corrupt, her affair with a married man and suicide at the pinnacle of her career.
...
3. 'Mughamugham' (1984):
...
Written and directed by Adoor Gopalakrishnan Born into a family in Kerala, Adoor Gopalakrishnan >> Read More... , the film landed itself into controversies over its political content. Some saw the film to have questioned the achievements and accomplishments of the Communist Party, and the film marked one of the greatest political stirrings in the state.
4. 'Uppu' (1986):
...
Directed by 'V. K. Pavithran', Uppu was too controversial because the film revolved around the Muslim act of male polygamy. With 'P. T. Kunju Muhammed', 'Jayalalitha', Vijayan Kottarathil and 'Madhavan' in the lead roles, the film was faced with massive criticisms from the Muslim masses.
5. ' Agnisakshi Agnisakshi is being telecast on E TV at 8 pm from >> Read More... ' (1999):
...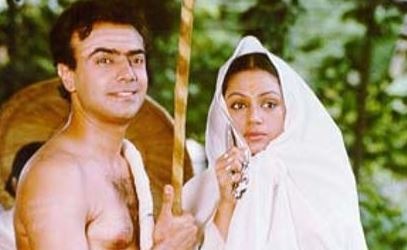 A 1999 ' Shyamaprasad Shyamaprasad is an eminent screenwriter, director, >> Read More... ' film based on the novel by the same name by Lalithambika Antharjanam. It starred Rajiv Kapoor Rajiv Kapoor is a well-known personality in the In >> Read More... , Shobana Chandrakumar Pillai Shobana Chandrakumar Pillai known by the short nam >> Read More... , ' Sreevidya Srividya was a versatile actress who balanced her >> Read More... ', '', ' Madhupal Madhupal Kannambath popularly known as Madhupal is >> Read More... ', and 'Madambu Kunjukuttan'. Agnisakshi received numerous awards thereby succumbing many controversies since it glorifies spiritualism and Hindutva. Many CPI(M) ministers of the then ruling government alleged that the film propagated wrong ideologies among the masses.
...
6. 'Pathram' (1999):
...
A political thriller scripted by Renji Panicker A firebrand script-writer, actor, director, and pr >> Read More... and directed by ' Joshiy Joshiy is an Indian film director known for his wo >> Read More... ', Pathram starred Murali Malayalam Murali is a well-known Malayalam film actor who ha >> Read More... , Suresh Gopi Malayali by birth, Suresh Gopinath, also known as >> Read More... , Manju Warrier Manju Warrier is a South-Indian film actress, born >> Read More... , ' N F Varghese N.F. Varghese was born on January 6,th 1949 in Ker >> Read More... ' and Biju Menon The tall, dark and handsome Biju Menon started his >> Read More... in the leads, ran into controversies, for it raised voices at the bitter rivalries between two of the biggest Malayalam newspapers. The greatest challenge faced by the movie makers was to get the film certified as the then Chairman of the Kerala Press Academy had filed a complaint against its release.
7. Crime File (1999):
The year 1999 was a fruitful year for controversies. Being penned based on the infamous Sister Abhaya Murder Case, Crime File was sure to land into controversies for the sensitive content it portrayed. The film evoked many protests from the Church as it pointed fingers at the clamorous corruption by the clergy.
8. 'Thirakkatha' (2008):
Alleged to have been based on the life of the late Malayalam actress Sreevidya, the film ran into controversies over defaming her memory. It also portrayed Sreevidya's failed relationship to actor Kamal Haasan Kamal Haasan is the most versatile actor that Indi >> Read More... which also raised many eyebrows. The director who had initially stated the film as a tribute to Srividya later had to call up a press conference and claim that the resemblance was only coincidental.
9. Left Right Left(2013):
' Arun Kumar Aravind Arun Kumar Aravind is a renowned producer, directo >> Read More... 's "Left Right Left" had a lot of questions to ask to the communist realm of the state and was pulled out of the theaters within weeks of its release. Although the party leadership claims to have no hands in this, many leaders had criticized the film for its daring content. The film had many resemblances to real life leaders of the left party which was more than enough to stir them.
10. 'Kathakali' (2016):
Kathakali is a 2016 Malayalam movie directed by Sijo Kannanaikal that ran into controversies owing to scenes of nudity. The Censor Board refused to certify the film without the removal of some proposed scenes. The director had to move to the court wherein the CBFC issued A certification for Kathakali.