There is no clear reason as to why the Indian movies are male dominated. Sandalwood is also no exception to this. However, the Kannada filmmakers have not refrained from doing woman-oriented movies. Here is a list of Kannada movies that are women-centric. 
Gejje Pooje

Puttana Kanagal, who is known for giving women-oriented films, has directed this 1969 film. This movie focused on the Devadasi tradition. Kalpana, a noted Kannada actress, essayed the lead role. Kalpana gave a very convincing performance as a woman who finally succumbs to being a Devadasi (she becomes a prisoner of circumstances).
 
...
Kappu Bilupu

This 1969 film is adapted from a novel with the same title. The film centers on the behaviors of identical twins who are contrasting in nature. At that juncture when many male-oriented films were made, Puttana Kanagal, the director, experimented with a women-centric film and eventually succeeded. The problems of a rural and urban woman were shown beautifully in this film. 
 
Benkiyalli Aralida Hoovu Click to look into! >> Read More...
...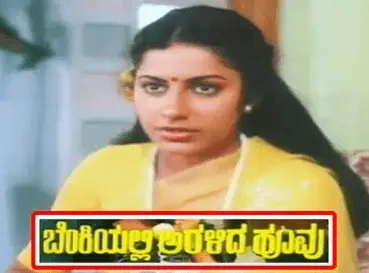 This 1983 film is a gem of veteran director K Balachander. With ' Suhasini Maniratnam Suhasini Maniratnam was born on 15th August 1961 i >> Read More... ' playing the protagonist this film deals with the life of a woman who has to look after her family. This is because the father has forsaken the family when Suhasini was very young. Suhasini gave a power-packed performance in the film and went on to win a Filmfare award.
 
...
Gruha Pravesha

Which woman doesn't have dreams? Some dreams are untold and suppressed while some are made a reality. Gruha Pravesha, a 1991 movie bravely spoke against several concerns including sexual torture towards women. This film also dealt with dowry harassment. The film was appreciated for its relevant theme. 
Thaaye Saheba
...

This 1997 film revolves around a Brahmin family, before and after independence. This film garnered several awards including the best actress award for Jayamala. Jayamala, who is usually known for glamor quotient, was a revelation in this film; she played the role of a strong woman with perfection. The climax of the movie is its special attraction
Kanooru Heggadithi
...

This 1999 film was directed by the talented Girish Karnad Born on 19th May 1938, Girish Raghunath Karnad is >> Read More... . Tara became very famous after her portrayal of the titular role. Kanooru Heggadithi is based on a novel of the same title. This film is considered as a gem in Sandalwood. Tara plays the third wife of Girish Karnad and after his death, she avenges the wrong doings. Tara's performance was the backbone of the movie.
 
Deveeri
...

This is also another woman-oriented film in 1999. This film was adapted from a novel named Akka. Nandita Das Nandita Das is an actress and director extremely p >> Read More... played the protagonist, and she was at her usual best in this movie. The film went on to fetch the Best Film Award. The bond between a loving sister and brother was told in a convincing manner in this film.
 
...
Ragini IPS Click to look into! >> Read More...

Ragini Dwivedi Ragini is born and brought up in Bangalore. Ragini >> Read More... played the titular role of this women-oriented movie of 2014. It is just like any other police movie with the typical elements of good over evil. This film was released at a time when very few women-oriented films were made in Kannada. Ragini's performance was very much appreciated in this movie.
 
Moggina Manasu

This 2008 movie with Radhika Pandit Radhika Pandit another example of a home grown act >> Read More... and Shubha Poonja Shubha Poonja is an Indian actress and a model,bor >> Read More... playing the lead roles showcased the problems faced by teenage girls with conviction. The film was well-received by critics and was also a success at the box office. The film also won awards in different categories.
 
Abhinetri

This 2015 movie revolves around the life of yesteryear actress Kalpana. It had Pooja Gandhi Pooja Gandhi is a famous actress in the Kannada fi >> Read More... playing the protagonist and became famous for the controversies it created.