Sandalwood has produced many great actors and actresses who were instrumental in the success of a flick. Here then, certain actors and actresses share a good onscreen chemistry. In fact, it is this chemistry that even made certain movies work in the box office. We like their onscreen chemistry a lot and would only want to see them share screen space again. Here is a list of the much liked onscreen Jodi of Kannada cinema.
' Vishnuvardhan Vishnuvardhan was born in Mysore. He attended high >> Read More... ' and Suhasini Maniratnam Suhasini Maniratnam was born on 15th August 1961 i >> Read More...
...
This reel couple had given many hits in Sandalwood including Maathaad Maathaadu Mallige, Bandana, and Master. 
Dr. Rajkumar and ' Leelavathi Leelavathi is a popular south Indian film actress >> Read More... '

Dr, Rajkumar-Leelavathi is one of the beloved onscreen Jodi of Kannada cinema. They have worked in some of the timeless romantic movies of all time.
...
' Anant Nag Anant Nagarakatte was born in the year 1948 on 4th >> Read More... ' and Lakshmi Narayan Lakshmi or Lakshmi Narayan is an Indian film actre >> Read More...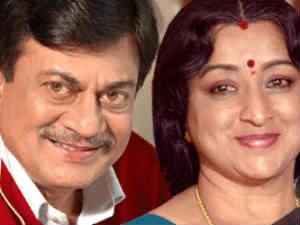 ...
They are indeed one of the good pairs in Kannada cinema. Olavu Moodidaga, Chandanada Gombe, and Naa Ninna Bidalaare Ever imagined what it would feel like for someone >> Read More... are some of the great flicks of this duo. In fact, this hit Jodi didn't produce a single dud at the box office.
' Sunil Sunil was one of the famous and talented actors of >> Read More... ' and ' Malashri Malashri is an Indian actress in the Kannada film >> Read More... '

The 90s saw the hit Jodi Sunil and action queen Malashree producing several hits.
 
...
' Sudeep Sanjeev Sudeep, known by the short name, Sudeep is >> Read More... ' and Divya Spandana Divya Spandana, born on November 29, 1982, known >> Read More...

The audience has undoubtedly embraced this onscreen Jodi. Just Maat Mathali, Ranga SSLC, and Kiccha Huccha Click to look into! >> Read More... are some of the films in which this Jodi rocked.
...

Puneeth Rajkumar Puneeth was born on 17th March 1975 in Madras, Tam >> Read More... and Bhavana Menon Bhavana, a Malayalam Actress, was born in Thrissur >> Read More...
...
Puneeth Rajkumar, who rarely works with the same actress again, somehow collaborated with Bhavana Menon in two flicks. These flicks did well, and Puneeth and Bhavana were considered to be a lucky pair. Bhavana even made a cameo in Puneeth's Mythri.
 
...
Sudeep and Ragini Dwivedi Ragini is born and brought up in Bangalore. Ragini >> Read More...
Ragini is also the correct fit for the female lead in Sudeep's movies. Veera Madakari Click to look into! >> Read More... and Kempe Gowda Kempegowda is an Indian actor who has primarily wo >> Read More... are a couple of films in which this onscreen Jodi worked wonders.